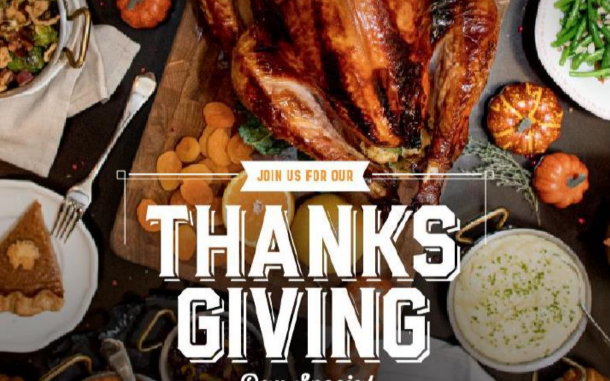 Thanksgiving is a holiday that is all about food and family. Let your family enjoy a day together while someone else does all of the cooking. We have put together a list of some of the best options to enjoy you Thanksgiving day somewhere other than your house.
Sycuan Casino and Resort located in El Cajon, just outside of San Diego, is home to Bull and Bourbon steakhouse.
For $29 Bourbon and Bull is serving up a classic three course Thanksgiving Day meal. You start off with a very seasonal fall green salad that comes with spiced walnuts, goat cheese, prosciutto figs and apple cider vinegar. It wouldn't be Thanksgiving with turkey and Bull and Bourbon has oven-roasted turkey breast with con fit turkey thighs along with turkey stuffing, mashed potatoes and gravy along with cranberry sauce. To finish off your Thanksgiving meal you will be treated to a slice of pumpkin pie and vanilla whipped cream.
For more information, visit: Bullet and Bourbon
H&H Brazilian Steakhouse, located downtown Los Angeles, has quickly become a favorite spot in Los Angeles due to their mouth-watering grass fed steak servings, but also because they are the only organic Brazilian steakhouse in the United States. On Thanksgiving they will be open all day, from 11 a.m. to 10 p.m., and will be serving their Friendsgiving menu along with their All you can stuffing menu. Start you day off with the included French Champagne toast and then head over to the turkey carving station and add in some sweet potato casserole along with many, many other great Thanksgiving dishes. For more information, visit: H&H

Not in the mood for cooking this year? Spend a hassle-free Thanksgiving harborside at Marina del Rey's beloved restaurant Cafe del Rey. Enjoy stunning Marina views paired with three courses by Executive Chef Job Carder, with a special menu featuring favorites like the Sweet Corn & Scallop Chowder,  Lobster & Asparagus, and  Treviso "Wedge" Salad to start; and a choice of mains including Roasted Turkey Breast with all the traditional fixings, Braised Lamb Shank, and a Cedar Plank Roasted Salmon. Top off the indulgent meal with the Chocolate Pumpkin Cheesecake or Pecan Torte for dessert.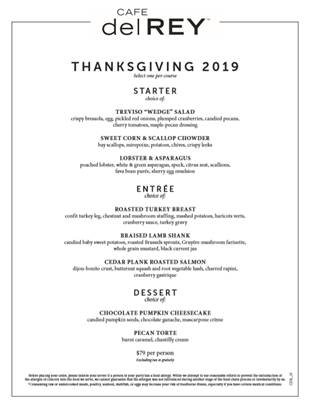 What better way to eat, drink and give thanks in honor of the holiday festivities?
7th Annual Turkey Trot Los Angeles 5k and 10k, Presented by UAE-USA United, Gobbles Into Downtown LA and Grand Park Thanksgiving Morning
Turkey Trot Los Angeles, presented by UAE-USA United, returns to Downtown Los Angeles on Thanksgiving morning, November 28, 2019. The popular turkey day charity run aims to raise $50,000 for those in need through The Midnight Mission. Runners dressed as Thanksgiving turkeys, pilgrims and pies will start and finish in front of historic Los Angeles City Hall. The route will take them around Grand Park, pass the world-famous Disney Concert Hall, the Broad Museum and the Museum of Contemporary Art, and down historic Spring Street, one of the oldest streets in Los Angeles. This year's event will be hosted by model and actress Joy Corrigan who will blow the air horn to kick off the race and is sponsored by UAE-USA United, Toyota, Capital One and Clif Bar. In addition, Bombas will be donating over 1,500 socks to The Midnight Mission. Participants are encouraged to donate money or bring blankets and towels. Funds raised will help people who are experiencing homelessness by providing accountability and structure to help them rejoin their communities. "We created the Turkey Trot LA for all Angelenos to join as friends and partners, and Be Grateful Together on a personal, civic and global level," said Generic Events Co-Founder Brennan Lindner. "All runners, walkers and fans will experience an amazing community event and have a direct impact on the continued epidemic of homelessness in Los Angeles. This year, we have expanded our partnership with The Midnight Mission to collect supplies and hygiene kits." "We are delighted to partner with Generic Events, The United Arab Emirates and Toyota for this year's Turkey Trot," said Mike Arnold, President & CEO of The Midnight Mission. "Here at The Midnight Mission, we help people regain self-sufficiency and combat the issues surrounding homelessness and gratitude in action will help create bridges to significant transformation. We are honored to be partnering with these extraordinary groups to raise awareness of the people who are living on our streets, hungry and without a home." Families can bring little ones for the Widdle Wobble"(ages 2-12), a fun run around Grand Park, featuring a fantastic kidzone with face-painting and kid-friendly fun. Participants can also enjoy memorable photo opportunities with the 20-foot tall turkey in front of the City Hall finish line. This year, Turkey Trot LA runners will fill Grand Park for a feather-ruffling post-event festival with music by DJ Cable. Participants can purchase raffle tickets to help raise additional funds. Prizes include roundtrip airline tickets departing from LAX donated by Etihad Airways, Dodgers tickets, and more. After the race, participants will be treated to nutrition bars from Clif Bar, water from Whole Foods Market, and tasty treats from Capital One Cafe. Events begin at 6:45 a.m. and end with the Widdle Wobble at 10:15 am. The cost to register is $20-$70 and includes a Turkey Trot LA T-Shirt and a unique Finisher Medal. For more information and to register, please go to www.turkeytrot.la.