Leonard Bernstein, the great American musician, has compiled a musical show Candide, which is part opera, part musical comedy, partly absurd, more philosophical than it seems, and mostly entertaining. I believe LA Opera has succeeded in bringing forth these diverse and eclectic elements of a show that is both in its time and way ahead of its time.
From the first notes of the fantastic overture, the excitement begins! James Conlon and the LA Opera Orchestra bring out all the dizzying turns in this thrilling piece. This is some of the most exciting music – with parts of it recognizable themes from television shows, and melodious romantic parts too. The overture was created by Bernstein after the rest of the music as a kind of compilation of all the various aspects and approaches to the music in the show.
Bernstein wanted to create something that was classical and yet included elements that were very American. Aside from the music of Native American culture, which has mostly been lost due to their genocide by invading Europeans, there were early hymns which were widespread in early America. And then of course there was jazz.
Candide opened on Broadway in 1956 and was cancelled after 62 shows. Bernstein mourned that it was a flop. Yet how many operas have ever had so long a run?
Candide is based on a play by the French philosopher Voltaire. Voltaire created it as a satire of a lesser known philosopher of his day, who believed that all was for the good, no matter how awful life seemed. Lyrics to this production were originally provided by Richard Wilbur and later enhanced by Leonard Bernstein, Dorothy Parker, Lillian Helman, John La Touche and Stephen Sondheim
To counteract that simplistic philosophy, Voltaire created a fairy tale of  a philosopher who ends up, along with his optimistic students, experiencing many of the great tragedies of mankind: war, inquisition, rape, earthquake, robbery, squalor, prostitution, betrayal, blackmail, exploitation and ignorance. Candide is kind of an Alice in Wonderland – who is really in Hell.

For most of the story, the optimists cling to the belief that all is for the good no matter what. The quick-paced scenes go from one outlandish scenario to another and move from country to country and even across the globe. The antics of the cast reminded me of a show of a well-trained improvisation group. Audience members throw out crazy mismatched ideas, and the troupe has to come up with a cohesive story somehow.
But this show predates such modern contrivances. Some of the comedy is reminiscent of Mel Brooks (whom it predates), such as the shocking but hilarious song "A Wonderful Day for an Auto-Da-Fe'"(a burning at the stake). This delicious song was boldly sung by the chorus as it was being acted out by cast members.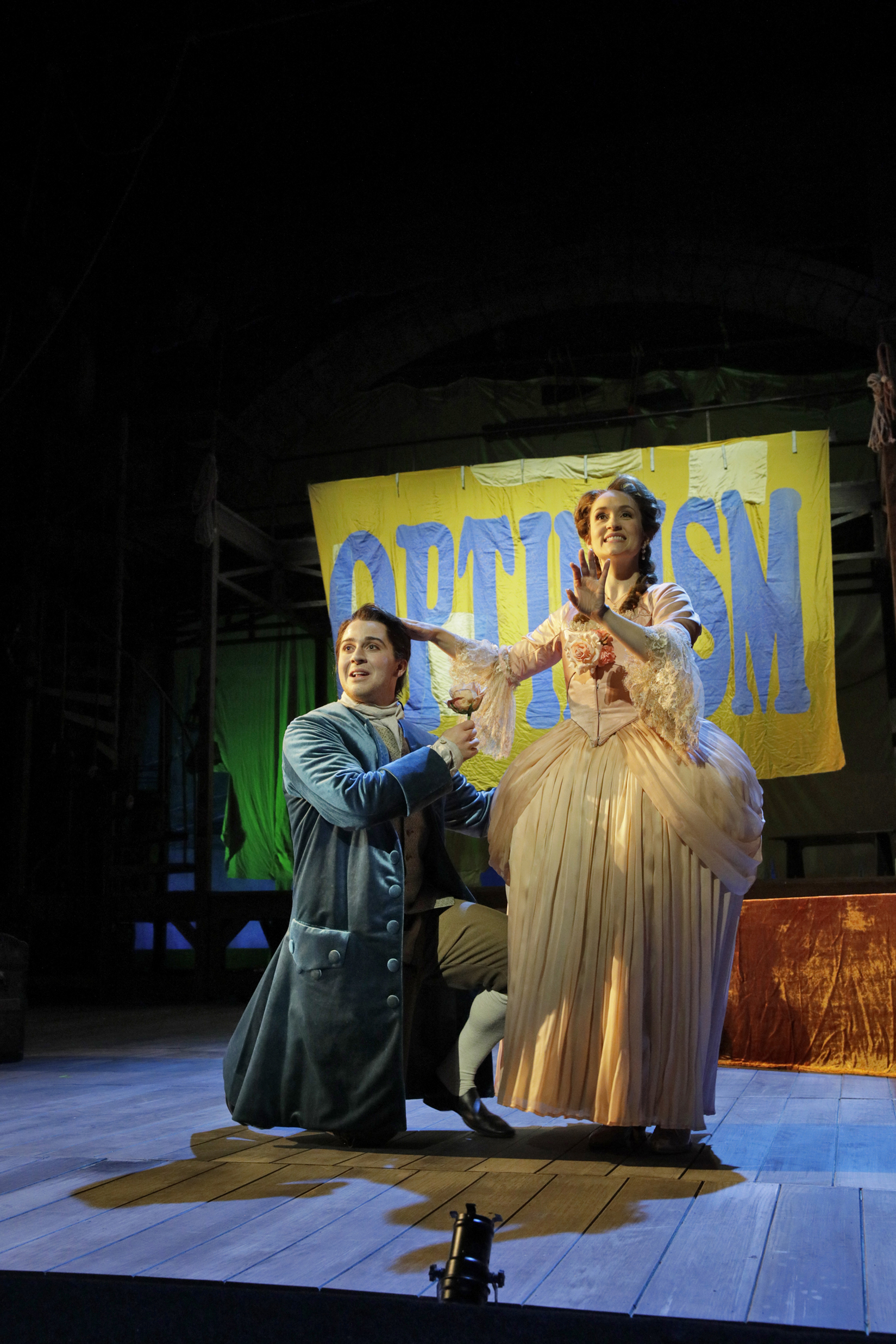 "Oh Happy We" is a simple but ironic romantic song of the open-hearted Candide, tenor Jack Swanson, and his freshly fiancéd Cunegonde, soprano Erin Morley. They are both thrilled to be getting married, although for diabolically opposed reasons.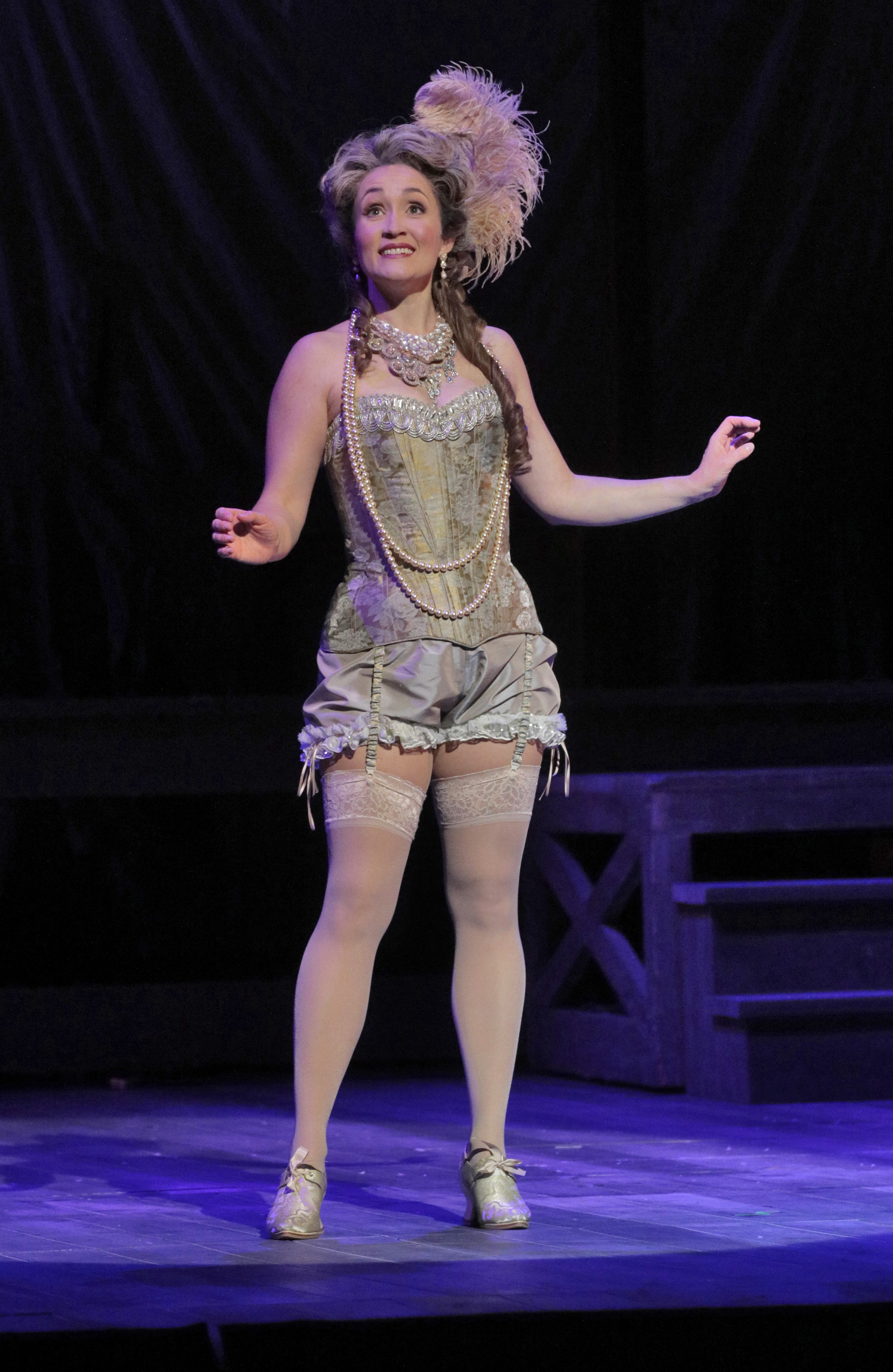 Other pieces that stood out as showstoppers included "Glitter and Be Gay" sung sumptuously by Cunegonde, played to a tee by Morley as she makes love to diamonds and pearls and all the jewels she can get her hands on.
Christine Ebersole may have garnered the most laughs as "old Woman," who played a kind of New York-y Jewish whiner. Her clever tune "I Am Easily Assimilated" had the audience (almost) rolling in the aisles.
At one part of the story the hero ends up in El Dorado, land of the Incas, where the streets are paved with gold and the people are blissful. Beautiful hymn-like music "Alleluia" and "Ballad of El Dorado" with the chorus are stunning.
Another standout was the gorgeous voice and comedy acting of Taylor Raven as the cheerfully lying and robbing Vanderdendur, who steals Candide's wealth.
The catchy song "What's The Use?" is strong in its performance and also thematically. It signals the beginning of the turning point for hero Candide as he has endured so much – and can only take so much! It's sung by strung-out defeated character Martin, played grandly by bass-baritone Matthew Scollin.
The production would never have been the same without the comedy of Kelsey Grammar – both as narrator Voltaire and philosopher-teacher Pangloss. He has the acting chops to play the opposing roles, and, it turns out, also has the voice to keep up with the trained opera singers in his troupe.
There is so much to like. Candide is more than a show – it's a memorable  event.
Georja Umano is an actress and animal activist.
Photos by Ken Howard.
LA Opera – 3 more performances:
Thursday

February 15, 2018

07:30 PM

BUY TICKETS

Best Weeknight Availability!

Saturday

February 17, 2018

02:00 PM

BUY TICKETS

Added Performance – Tickets from $18!

Sunday

February 18, 2018

02:00 PM

BUY TICKETS