I had the pleasure of seeing Gobsmacked! Opening night on December 5th. Although it was in Chicago for only a limited five-day engagement from December 5-10, you can catch it in another city near you.
I wasn't sure the show would be like in that Gobsmacked! proclaims itself as "The World's Best A Capella and Beatboxing Show." I had also read beforehand that the show " weaves stories through all forms of a cappella from traditional street corner harmonies to cutting-edge, multi-track live looping." I am a fan of a cappella music  and in recent years it has become popular through television shows and films based on a cappella groups. I was looking forward to seeing what the show would showcase.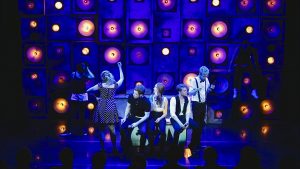 The international cast is made up of Marcus Collins (The Chap), Monika Sik-Holm (The Girl), Ball-Zee (The Engineer), Emilie Louise Israel (The Woman), Nick Hayes (The Man), Joanne Evans (The Diva) and Ed Scott (The Boy), all very talented singers. They sang many familiar and recent songs such as Mr. Brightside by The Killers, Back to Black by Amy Winehouse, Shape of You by Ed Sheeran, Titanium by David Guetta featuring Sia, Telephone by Beyonce and Lady Gaga among others. I was impressed by all the performers, especially Ball-Zee. I was not familiar with beatboxing, only the fact that he could make footstep sounds, text message dings and heartbeats among others. He was rightfully given a solo during the second act of the show. Very skilled, the beatboxer could have his own show to showcase it.
While Gobsmacked is supposed to tell " an urban tale of love loss and redemption", it didn't translate during the show for me. I felt that if there was a story to be told, it was lacking emotion and maybe some more action to get it across to the audience. Other than realizing that Ball-Zee was what he cast as- The Engineer, leading the performers through the show; I wouldn't have known what the other parts were. I had to reference my program to see who was playing who. The first act started off somewhat slowly but with the performance of Gobsmacked! ending the first act, it picked up during the second act. At the end of the show, the cast performed an encore of The Beetles's Hey Jude with the audience singing along.
The Broadway Playhouse is a small space in comparison to other theatres where Broadway shows are played but was perfect for this show. The performers could showcase their vocals.
I enjoyed the show. If you appreciate a cappella and beatboxing-I think you will too. The performances were great and I was left gobsmacked once or twice.
Gobsmacked! Played at the Broadway Playhouse at the Water Tower Place. For more information, visit www.BroadwayInChicago.com. For more information about Gobsmacked! Which runs an 1 hour and 50 minutes with an intermission,  visit www.gobsmackedtheshow.com