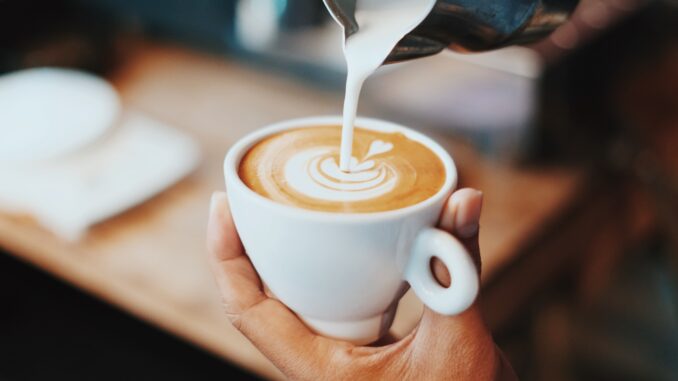 Before National Coffee Day passes us by, let's take a moment to pause and reflect upon our daily cuppa and enjoy a little bit of information about Coffee Roasts- an idea suggested by our friends at STEEPED Coffee. For any who read my posts on a regular basis about coffees and teas, you'll know the STEEPED team is comprised of innovators who provide a completely portable coffee making system in the form of an organic infusion bag. They offer a wide variety of beans choices, too, via product partnerships with some of the best and most popular coffee roasters on the planet. Their self-brew sachet-type bags require nothing but a container of hot water to make the java- no dripper, French press, no nothin'… and, gosh, is that appreciated when you're stuck on a plane or crawling out of your camper van, late for a meeting…
If you're like I was when I first stepped foot into a Philz Coffee while at grad school and didn't know what I was ordering (I accidentally thought a "light" roast would have the least amount of caffeine- whoops! talk about an easy "all nighter" of studying), here's some information that I hope will help and, maybe, also make some great cocktail party conversation.
Most of the time we talk about the origins and the quality of the (green) coffee beans, themselves when we consider what kind of coffee to use for our personal brew. But the roasting as well as the brewing greatly impacts that delicious flavor, aroma, body, overall enjoyment (and caffeine content!) of the cup you will enjoy.
The roasting is critical- imagine a burnt roast! A food crime, for sure! When those beans are in the hopper and being heated, the roasters must keep a sharp eye on the timing. Like vintners with crushed harvest grapes, the roasters are one part scientist, one part flavor magician as they watch for changes in the raw green bean color to various shades of roast.
Although we've come to know coffees by way of descriptive words that are derived from the final bar service names of our favorite cuppas- like "espresso," or "latte," or even "French Roast" or "Viennese Blend," there are really only three main categories of coffee. These have to do with the degree of roasting: "light," "medium," and "dark." Some, lately, also include a "medium-dark," something I'm going to be exploring next because I prefer the caffeine level of a medium roast but also enjoy the robust flavor and body of some dark roasts. Further, coffee aficionados have also presented a case for roastings in between these basics so as to expand the types to include roasts arising within these categories including Cinnamon roast, City roast, Full City roast, Continental roast, High roast, and New Orleans roast. I'll cover these in a future piece. For now, let's stick to our main category of roasts here:
Light Roasts: Some of the names you'll see are Light and Blonde. These roasts have the most caffeine and acid of all three roast types. Some of the tasting notes one might expect from a light roast include citrus-y and toffee-like flavors. See? Just like wine!
Medium Roasts: Some of the names you might recognize are Starbucks "Breakfast Blend," and STEEPED's "California Blend." Tasting notes one might expect from a Medium roast include nut-like and chocolate flavors. These roasts have that carmelization factor that is lacking in light roasts, and so they are the most popular.
Dark Roasts: You probably already know most of the categories of dark roasts, including "Espresso," "French," "Viennese," and "Italian." Tasting notes run to the bittersweet and savory, however it is the aroma of these roasts that can be so incredibly seductive!
Like all food and beverage products we consume into our bodies, we would do well to look for beans that are "organic," this is to say that the plants, fruit, and eventually roasted and ground beans have come in contact with no pesticides or "natural" pesticides. Some of the major player coffee purveyors who have boldly risked the expense and stepped up to the plate of saving the planet while also running a business include Peets and Starbucks (with the caveat that organic coffee is not available at their cafes on a regular basis), STEEPED, in conjunction with their coffee "partners," as well as a new player in the coffee game Purity. This company is making available a product which is roasted to maximize the levels of "pyrocatechol" contained in beans, a powerful anti-inflammatory discovered to be effective in suppressing neurodegenerative disease (more on Purity in a later post, most especially since Dr. Austin Perlmutter is endorsing this!).
For my coffee loving friends, here are a couple of excellent deals on some great coffee:
Purity Coffee is offering 30% off on all orders 9/29-10/2 – This is a special offer being promoted by some of their VIP partners and not listed on their website, but we've been given a special code for our audience: CodeSPLASH30 will give 30% off on all orders!* Those in the United States will also receive free shipping. This offer is available on all orders until midnight October 2nd. This link will automatically apply the discount to the cart at checkout: https://puritycoffee.com/discount/SPLASH30.
Purity is also offering to donate $2 from each bag sold to the Women's Alzheimer's Movement at Cleveland. – This donation only applies to sales from their Founder's Roast: Alzheimer's Awareness: https://puritycoffee.com/collections/whole-bean-coffee/products/founders-roast-alzheimers-awareness-2023
STEEPED Coffee is offering 20% off on all purchases from 9/25-9/30 if you use the code "COFFEEDAY." Visit https://steepedcoffee.com/ for more information, recipes, and more.
Tell'em Michele at Splash sent ya… and have a great National Coffee Day!
Sending out a huge "thank you" to my local barristas Trudy, Jason, Colby, Caroline, and Austen and team who make my latte every day, turning that frown of concentration on my face as I peer at my laptop screen into a big 'ole smile.
Photo credits to Unsplash. Many thanks!