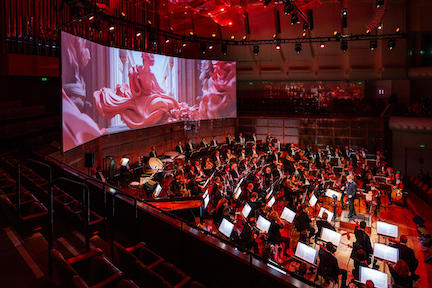 By Lynnette Jackson and Jack Marquez
The San Francisco Symphony may have opened its 2023-2024 concert season against
the backdrop of a high-stakes labor dispute with its musicians, but on the evening of Friday,
September 22, that backdrop was adorned with the red carpet and cyberpunk-inspired scenery
of its Opening Night Gala 1 . On the opulent terraces of Davies Symphony hall, wealthy donors
dressed in tuxedos, designer gowns, and their ubiquitous Silicon Valley blazers sampled
cocktails and hors-d'oeuvres, pushing past dancers on stilts adorned with flashing LED-lit
costumes. While tickets to the concert itself sold in the hundreds of dollars, dinner packages
could be had for hundreds of thousands, which go towards funding the Symphony's education,
community, and artistic programs.
The night's concert was billed as "an exhilarating program interweaving music and
technology" and this became evident from the beginning of the symphony's performance of
Richard Strauss' Don Juan, Opus 20 (1889). As conductor Esa-Pekka Salonen led the
orchestra through the opening notes, an enormous screen behind them displayed the text,
"/imagine", followed by a description of emotions the piece would evoke. (AI art programs use
"/imagine" commands to generate a composite image from a vast library of other images it has been trained to identify.) These generated images, stylishly edited by 59 Productions, splashed
across the screen and blended seamlessly into the stage lighting surrounding the orchestra,
transitioning harmoniously with the movements of the musical performance. Subdued hues
accompanied somber strings, while intense colors accentuated triumphant horns. The images
themselves evoked the color palettes and visual texture of the impressionist paintings of
Strauss' time, though their compositions trended towards the psychedelic and abstract.
Although it's unclear if the text prompt displayed at the beginning of Don Juan was used to
generate all of the images projected during the piece, the message to the audience was clear:
isn't it incredible that artificial intelligence can visualize these classical compositions for us?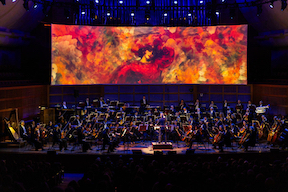 Perhaps this is a good time to disclose that this review has two authors, both of whom
attended the Opening Night Gala thanks to Splash Magazine. One of us is a scientist at a
Silicon Valley biotech startup and a black woman, and the other is a digital artist and a white
man. Our backgrounds meant that certain aspects of the production affected us in different
ways, both positively and negatively, and those negative feelings began to surface during the
evening's second piece, Songs of a Wayfarer (1883) by Gustav Mahler.
This piece comprised four songs: Wenn mein Schatz Hochzeit macht (On my love's
wedding day), Ging heut' Morgen übers Feld (This morning I walked across the field), Ich hab'
ein glühend Messer (I have a burning knife), and Die zwei blauen Augen von meinem Schatz
(My love's blue eyes). Baritone Simon Keenlyside passionately rendered Mahler's lyrics in their
original German, his performance guiding us through the protagonist's journey of heartbreak
and grief. The slideshow of generated imagery projected during Songs of Wayfarer, though, fell
much more squarely into AI-illustrated cliche: a woman's head and bust framed by various
nature collages. While several women were depicted throughout the piece, it struck us that all of
them were black–a creative decision that these reviewers feel was a more performative token
inclusion for the Gala's overwhelming white audience than a genuine effort at representation.
The irony of a slideshow fetishizing a black woman during a song titled "My love's blue eyes,"
was not lost on us, especially as pairs of decidedly not-blue eyes pointing in unsettlingly random
directions from inconsistently-proportioned faces reminded us that these image generators have
a disproportionately long way to go toward accurately rendering people of color.
When the evening's performance reached its midpoint with Anders Hillborg's "Rap
Notes," the competing themes of the Opening Gala were at their most discordant. Framed by
the Symphony as "featuring rappers squaring off against artificial intelligence-generated verse in
a piece highlighting both human creativity and technological prowess," the piece was divided
into two sections. In the first half, hip-hop artist Kev Choice and freestyle rapper Anthony
Veneziale performed a set with AI-generated lyrics, with the symphony providing backing
instrumentals via Hillborg's orchestral composition. On the projector screen, closed captions
struggled to keep up with Choice and Veneziale's rapid-fire delivery, with either a human
captioner or an automated speech-to-text program throwing out unintentionally hilarious
misheard non-sequiturs like "cinnamon spaghetti," and missing verses entirely. All of this
entertainment playing out on-screen, unfortunately distracted heavily from the orchestra's
flawless performance.
In the second half, the rappers asked the audience to provide keywords (selected:
peace, love, and hope) to prompt their own freestyle. As before, the scrolling text on the screen
was an unfortunate distraction, especially as it was this time intentionally obscured with a
stylized "glitch" effect, keeping just enough of the text legible to compel us to watch the screen
anyway. The last-minute introduction of soprano Hila Plitmann to the stage alongside the
rappers provided an entertaining twist, but her performance of Mozart's "Queen of the Night"
aria from The Magic Flute created some unintentional irony, replacing the original lyrics of
despair and vengeance with "peace, hope, and love."
Most disappointing, however, the lyrics themselves were painfully surface-level, pandering to
the tech exec crowd with vague allusions to themes of togetherness and shout-outs to Bay Area
cities that elicited cheers from some in the audience and eye-rolls from others. Rap is a medium
that can tell poignant stories of overcoming struggles and confronting hard truths, but this
performance was sadly aimed at pleasing instead of challenging an affluent, mostly white
crowd. During their freestyle, though, Choice and Veneziale did shout out their support to
striking actors and writers–the only time during the night when the performance directly
addressed the current labor crisis in the entertainment industry. It joined the audience's
scattered shouts of "Pay them!" and "Give them a raise!" during the symphony's introduction as
a rare moment of lucidity on a night that seemed otherwise blissfully ignorant of the looming
threat that AI presents to both commercial and fine arts.
As Salonen led the orchestra through the looping crescendo of Maurice Ravel's Boléro
(1928), the AI images on screen were striking: impossible sculptures of molten wax and marble,
depicting twirling dancers' bodies in a surreal art gallery of Escher-like geometry. Visually
interesting as they were, though, these images were by their very nature disposable: they'd
been generated in minutes, perhaps seconds, and yet they were being presented on equal
footing with real, human art in Bolero. On top of this, the symphony performing this piece is still
fighting for proper compensation, as their pay has yet to return to pre-pandemic rates even as
their cost of living continues to balloon in the already unaffordable San Francisco Bay Area.
Whether it was intentional or not, the Opening Night Gala made a statement with regards to
workers' rights against the specter of AI-driven obsolescence–a specter that casts a shadow
over not only the entertainment industry, but also the rank-and-file tech workers that provide the
labor behind the wealth of Silicon Valley's elite.
The San Francisco symphony has a phenomenal group of world-class musicians who
are truly masters of their craft–something timeless that the AI cannot yet match. From a
marketing and cultural relevance standpoint, the San Francisco Symphony's embrace of AI "art"
makes sense. The Symphony has used its talented musicians to elevate modern pop culture
before with its fantastic Film Series. The key difference, though, is one of artistic value–to
perform a live film score is to celebrate the work of hundreds or thousands of people that made
that production possible. To celebrate AI-generated content, however, is to endorse a system
that shortcuts the artistic process, leveraging the work of countless talented individuals to
instantly create something with little effort. AI programs are trained on images, music, and
writing created by talented people, but these artists are never credited or compensated for their
part in the training process. Looking forward into the Symphony's 2023-2024 concert season,
we hope that the creative decision makers behind the Gala's confused messaging choose to not
only focus on celebrating these talented individuals, but to allocate their fair share of the night's
donations so they can continue bringing joy to the Bay Area fine arts community.
References:
Aleksey, Allyson. "SF Symphony Musicians Demand More Money." San Francisco
Examiner, 20 Sept. 2023, www.sfexaminer.com/news/sf-symphony-musicians-kick-off-
season-demanding-more-pay/article_d205f63a-57fa-11ee-b8b2-bf968aa485d3.html.
Schedule and tickets for upcoming events at the San Francisco Symphony