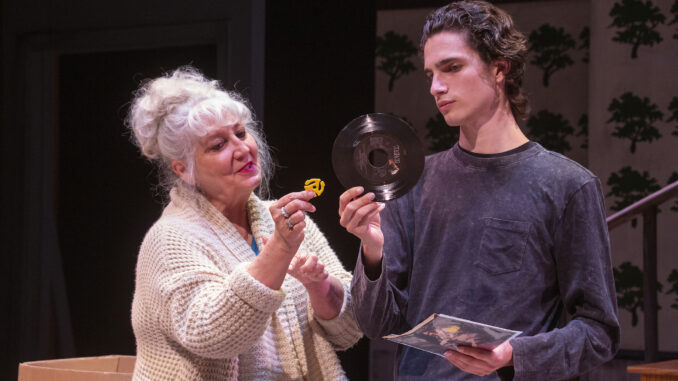 How do you find redemption after someone you love has committed a heinous crime? When playwright Wendy Graf tackled this complex question, little did she know that her investigation would yield a powerful, heart-rending drama which would win the coveted Moss Hart & Kitty Carlisle Hart New Play Initiative Gold Medallion award, beating out 1,241 plays from five countries and 43 states. Graf describes EXIT WOUNDS as "…a story of a scarred family learning to heal…tragically, the play is as timely as when I wrote it in 2016…I hope it will start conversations about why…(so that) change will become possible (August 25, 2023)." In 2023, the International City Theatre is proud to present the world premiere of EXIT WOUNDS.
Hayden Kharrazi and Suanne Spoke – Photo by Kayte Deimoa
The time is 2017 and the place is Connecticut. A depressed and shopworn Linda (Suanne Spoke) has become a hoarder, and her home reflects the chaos and guilt in her soul. She has retreated from the world and has been living a hermit-like existence for 25 years following an earth-shattering event many years ago. Her younger son Ryan took a gun to his high school, murdering and wounding multiple victims – and subsequently committing suicide. When her estranged older son Matt (Michael Polak) shows up at her front door – a man Linda never thought she would see again – Linda is not ready for his unplanned visit. Matt has a strange request – even stranger after 25 years of silence. He asks Linda for her advice about his son Danny (Hayden Kharrazi). It seems that the rebellious and nonconforming teen has resisted every effort to help him – and, to Matt's horror, may be exhibiting the same behaviors as Matt's brother Ryan. Could this be in the family's genes, a curse that will never end? Graf's story slowly unfolds as Linda and Matt dredge up old secrets and Linda and Danny interact in a halting dance as they grow closer.
Kudos are in order for everyone involved in this production, beginning with ICT artistic director caryn desai, who does a superb job helming this complex and nuanced play. The talented cast – Spoke, Polak, and Kharrazi – succeed in bringing their tortured characters to life as they reach out to the deepest fears in the audience. In fact, the mark of their talent might be measured by tears in the eyes of many audience members when the play ended. Yuri Okahana-Benson's scenic design was a perfect background for the eloquent and effective story. Donna Ruzika's lighting, Dave Mickey's sound, and Kim DeShazo's costumes were equally effective in bringing the play to life.
EXIT WOUNDS is a powerful and timely tale which is carefully and well written, superbly directed, and brilliantly acted – a play which clearly deserved its prestigious award for author Wendy Graf. This is a not-to-be-missed production which will appeal to audiences intrigued by family dynamics, individual's reactions to unbearable stress, and whether or not change is possible.
EXIT WOUNDS runs through October 10, 2023, with performances at 8 p.m. on Thursdays, Fridays, and Saturdays and at 2 p.m. on Sundays. The International City Theatre is located in the Long Beach Convention and Entertainment Center, 330 East Seaside Way, Long Beach, CA 90802. Tickets are $49. For information and reservations, call 562-436-4610 or go online.