They had me at the pink powder room, as I passed quaint, vintage vanities and heard my heels click on the black and white tiled floor to freshen up for the party. Yes, we were welcomed into Jay Gatsby's mansion with roaring 1920s jazz, a drink and a ringside table in the ballroom to see and participate in THE GREAT GATSBY, The Immersive Show, the UK's longest-running immersive production adapted and directed by Alexander Wright making its American and New York debut in Gatsby Mansion in the Park Central Hotel New York (870 Seventh Avenue), a Highgate managed hotel.
Gatsby Mansion in the Park Central Hotel New York space has been transformed into a new immersive nightspot. With its own private entrance on 55th Street and Seventh Avenue, visitors will directly enter Gatsby Mansion. A complete renovation covering over 16,000 square feet of the Park Central Hotel New York ballroom space will deliver audiences into a fully immersive and enthralling world of music, stories and wonders straight out of the 1920s. The all-encompassing experience may bring the unique chance to meet Mr. Gatsby in his exclusive bar. You may have the opportunity to follow the other guests into smaller rooms and spaces, with Mr. Gatsby himself, if you are so lucky! You need only interact as much as you are comfortable to – if you prefer to observe from the side-lines, please do. In fact, Mr. Gatsby often enjoys doing exactly that himself! 1920s dress code is encouraged but not compulsory.
For this reporter it really was a party! For starters, it was the birthday celebration of the friend accompanying me. And, like any good party, I ran into more. We both learned, and then danced the Charleston (I appreciated the lesson!). Then, later in the story, he became Gatsby's butler who helped ready the mansion for Daisy's first tea. Donning an apron and dust rag, he obeyed as Gatsby barked orders from the grand staircase.
As the actors performed the play, they also mingled and conversed with the audience. One of the most appealing facets of this production is how they would, then, invite audience members to follow them into another room to watch and take part in a scene. We made it to the gambling room with the character, Meyer Wolfsheim, a business partner and close friend of Jay Gatsby, whose fortune he helped make through bootlegging. It was great fun, but had me wonder about the construct of the piece at large, and about what happened in the other rooms? I gleaned the through-line of the narrative told the story no matter who and where you did, or did not visit. This reporter wished to have gone everywhere, the actors were so vibrant and the ambience so delicious.
The company of The Great Gatsby – The Immersive Show includes Joél Acosta as Jay Gatsby (Aloha Boricua), Rob Brinkmann as Nick Carraway (Oklahoma at Mac-Haydn Theatre), Jillian Anne Abaya as Daisy Buchanan ("Asleep, Awake"), Shahzeb Hussain as Tom Buchanan (Tammany Hall), Stephanie Rocío as Jordan Baker (Hurts to Hate You A Little at The Wild Project), Keivon Akbari as George Wilson (Tosca Tehran at Atlantic Theater Company), Claire Saunders as Myrtle Wilson (Importance of Being Earnest), Mya Rosado-Tran as Charlie McKee (Off-Broadway debut), Nicholas Caycedo as Joey (Good Morning New York), Kiki Burns as Lucille (Legally Blonde at CDA Summer Theatre), Anika Braganza as Gilda (singer, songwriter with The Braganza Sisters), Charlie Marcus as Meyer Wolfsheim (A Bronx Tale The Musical), Jeremiah Ginn as Owl Eyes (Murder For Two), and Stephanie Cha as Kitty Klipspringer (Mr. Holland's Opus at Ogunquit Playhouse), and stage managers Kristin Dwyer (Production Stage Manager), Giles T. Horne (Assistant Stage Manager), Emily Venezia (Assistant Stage Manager) and Rachael Wilkin (Assistant Stage Manager).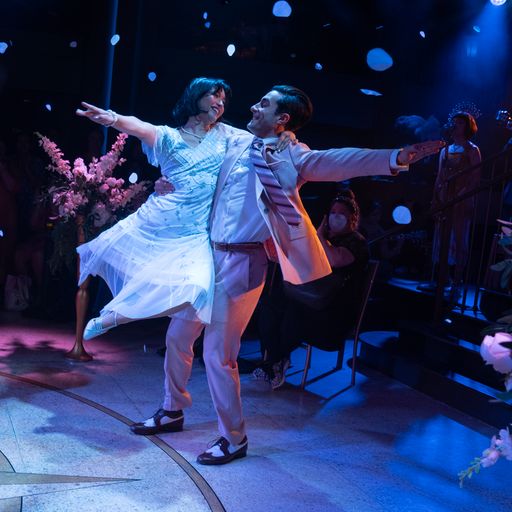 In addition to Alexander Wright, the creative and design team includes Tara Ocon (Resident Director), Holly Beasley- Garrigan (Choreographer), Casey Jay Andrews (Set Design), Shoko Kambara (US Art Director), Faye Armon-Troncoso & Lauren Helpern, Butter Designs (Set Decoration & Props), Jeff Croiter (Lighting Design), Phil Grainger (UK Sound Design), Peter Fitzgerald (US Sound
Design), Vanessa Leuck (Costume Design), Tom Schall (Fight Director), Claire McKenzie (Music Director) and The Casting Collaborative – Jason Styres & Gregory Jafari Van Acker (Casting). The original score was composed and produced by Glen Andrew Brown and Tendai Humphrey Sitima, with arrangements and additional composition by David Sims.
The original production was produced by the Guild of Misrule and created by Holly Beasley-Garrigan, Amie Burns Walker, Hannah Davies, Phil Grainger, Michael Lambourne, Thomas Maller and Oliver Tilney.
Don't miss this opportunity to dance your way back into the 1920s! For tickets please visit the website.