Based on beloved Grimm fairy tales that most of us treasured as we were growing up, INTO THE WOODS proved irresistible to famed music composer and lyricist Stephen Sondheim – and so it was only to be expected that, in collaboration with James Lapine, the iconic musical would be born. Intertwined among many of the most famous fairy tales of all time – "Little Red Riding Hood," "Jack and the Beanstalk," "Rapunzel," "Cinderella" – INTO THE WOODS weaves a fascinating new story from the remnants of the old. From the "happily ever after" ending trope, Sondheim explores reality vs. fantasy in his updated view of wishes and dreams. First produced in San Diego in 1986 – soon followed by its premiere on Broadway in 1987, INTO THE WOODS found an enthusiastic audience, running for hundreds of performances and winning three major Tony Awards. It is with anticipation that the Ahmanson Theatre in Los Angeles presents the latest revival of INTO THE WOODS in 2023.
The time is the distant past, and the place is fantasyland. Four main groups of fairy tale characters have their dreams. The baker (Sebastian Arcelus) and his wife (Stephanie J. Block) desperately want a child – but that is unlikely due to a witch's curse rendering the baker infertile following an incident where the baker's father stole vegetables from the witch's garden – including those infamous magic beans. The witch already kidnapped the thief's daughter, Rapunzel (Alysia Velez), and locked her away in a tower. While the baker and his wife ponder possible solutions to their dilemma, Cinderella (Diane Phelan) longs to go to the King's festival and find love, Jack (Cole Thompson) wishes his cow would give milk, and Little Red Riding Hood (Kathy Geraghty) needs bread to bring to her grandmother.
Gavin Creel as the Wolf and Katy Geraghty as Little Red Riding Hood – Photo by Matthew Murphy and Evan Zimmerman
But, as it turns out, there is a way to right all the topsy-turvy dreams the group has. To break the curse, they must give the witch a cow as white as milk, a cape as red as blood, hair as yellow as corn, and a slipper as pure as gold – in three days. And so off they go "into the woods" to follow their dreams. Will they succeed? Do dreams come true? If so, will they end up happy and fulfilled? Sondheim and Lapine have some very particular ideas on the subject – and the Brothers Grimm will soon find out what they are.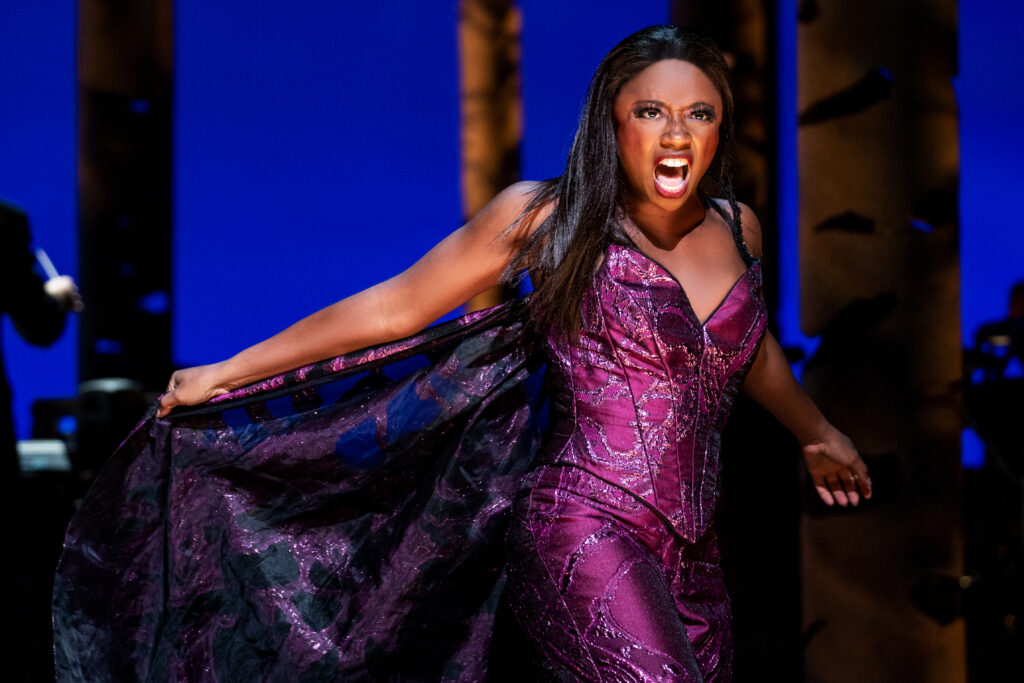 If it were possible to summarize this production of INTO THE WOODS, that word could easily be flawless. Skillfully helmed by Lear DeBessonet, this absolutely perfect cast make the play their own. Kudos to the huge, talented, and exuberant ensemble cast – each with a voice to charm the gods coupled with some pretty spunky dance steps choreographed by Lorin Latarro. They also excel in lots of nonverbal shenanigans to round out the picture. Music director John Bell and music supervisor Rob Berman breathe new life into Sondheim's score – as they serenade the audience center stage. And let's not forget some clever and quirky puppeteering designed by James Ortiz and executed by Kennedy Kanagawa and the puppeteer team (you've got to love Milky White and the goose who lays golden eggs – and how about the giant's boots?)
The production team is does a bang-up job of keeping the merriment going at a fluid and sprightly pace. David Rockwell's scenic design, Andrea Hood's costumes, Tyler Micoleau's lighting, and Scott Lehrer's and Alex Neumann's sound keep the show moving right along. Chuckles and guffaws abound as this clever, creative – and updated – look at wishes, dreams, and fairy tales holds the audience in its grip. Sondheim would definitely love this revived production of INTO THE WOODS – and the audience clearly felt the same way. This is a not-to-be-missed show with something for everyone.
INTO THE WOODS runs through July 30, 2023, with performances at 8 p.m. Tuesdays through Fridays, at 2 p.m. and 8 p.m. on Saturdays, and at 1 p.m. and 6:30 p.m. on Sundays. The Ahmanson Theatre is located in the Music Center, 135 N. Grand Avenue, Los Angeles, CA 90012. Tickets start to $40. For information and reservations, call 213-972-4400 or go online.