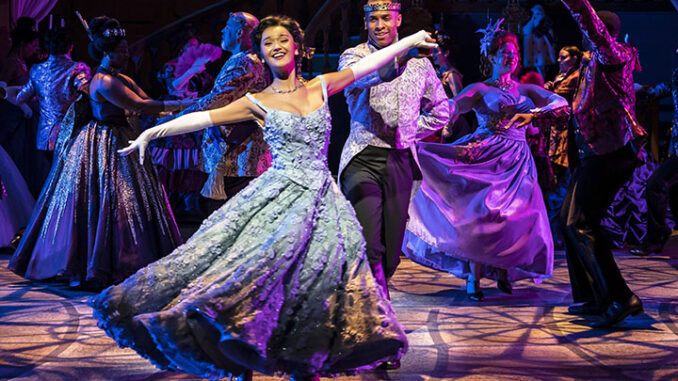 It's time for a family-friendly Christmas musical at the Paramount. This year, they are producing Rodgers and Hammerstein's Cinderella, which is a mess of a show. Created specifically for television in 1957 to star Julie Andrews, it has consistently delivered timeless songs paired with a muddled book full of contemporary jokes that don't necessarily land. The Lesley Anne Warren version in the 1960s was somewhat improved book-wise, but it's still not the quality you expect from a Rodgers and Hammerstein collaboration. And the Disney 1997 version starring Whitney Houston and Brandy, which many regard as the best of all, still has ghastly special effects and a still-clunky, but improved book. That final version is the one that was adapted by Tom Briggs to the stage and is essentially the version of the story you're going to see.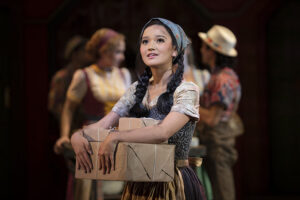 Even if the songs still have 1950s slang and unfunny jokes and the script is mired in the 1990s, you're not going to care. You're going to spend 2 hours with a group of darling, engaging performers singing and dancing their hearts out with great enthusiasm. And just let yourself get swept up into the magic of it because this production has some magic to deliver.
It especially shines in the ensemble numbers, which you are treated to from the very beginning, where the lovely Cinderella (Mikayla Renfrow) meets Prince Christopher (Marckus Blair) during the opening number (The Sweetest Sounds) which was added in 1997. It's a terrific establishing scene, where we get Cinderella's slave status and the Prince's wish to be a normal person. You're grabbed by Renfrow's grace and Blair's incredible voice right away.
After their meet-cute, cue the perennially lame (The Prince is Giving a Ball) with its unfunny 1950s jokes, but elevated here by Lorenzo Rush Jr. (as Chancellor Lionel) with his towering presence and resonant voice. He could not be more perfect for this part if he tried. He has the gravitas, comedy chops and voice to get through some of the worst holdovers from the original version of this show. But it's also in his part that you see this production's major flaw, they don't give a beat for the comedy bits to land. They're just rushing on to the next thing. Perhaps it's because the dialogue is so uneven and they don't trust it, but you can't even laugh at the actually funny jokes that are delivered well, because you'd miss additional dialogue if you did. (And I do question the absolutely insane clashing patterns on the villager's costumes in this opening scene. Because with them all being so loud, there's no contrast with Cinderella's stepmother or stepsisters. They don't look gauche or nouveau riche because everyone is wearing clamoring patterns here.)
Sarah Bockel does a nice job with Cinderella's stepmother, but again, she's a heavy comedy role and they don't let the pace breathe enough for her bits to land. Her broad flirting with Lionel is not given enough time when it's genuinely cringe and hilarious. I really wanted them to be given a minute to really lean into the banter.
The stepsister tag-team of Jacquelyne Jones (Grace) and Tiffany T. Taylor (Joy) are another of the best things in the show. They are hard-pressed not to steal every scene they're in and they absolutely slay their big number in the second act (Stepsister's Lament), while dancing with potted plants. And when they sing with Cinderella, you're truly sorry it doesn't happen more often because the ensemble singing in this show is absolutely stellar. The quartet in (A Lovely Night) is worth the price of admission alone.
It carries on to the duet (Boys and Girls) of Queen Constantina (Rashada Dawan) and King Maximilian (Michael Kingston) whose voices don't blend terrifically but who make a great comedy team and seem genuinely affectionate and like great parents.
And also to the duets with Cinderella and Christopher (Ten Minutes Ago, Do I Love You Because You're Beautiful?) And that's the show's real strength, when you have characters on stage interacting with each other, the magic really happens.
It's the same with the dancing. Paramount always has strong choreography and this by Director Brenda Didier and Tiffany Krause is the same. The ball is really wonderful to watch as are all the ensemble numbers. There are interesting things going on all around the stage, even when the principals are centered.
It's when Cinderella is left hanging out there by herself that you're sort of waiting for something else to happen. Renfrow is charming and has a childlike, clear voice, and is an exceptionally graceful dancer, but she doesn't have the presence to hold the stage alone somehow. So (In My Own Little Corner) is not the showstopper it usually is. But as soon as you give her someone to interact with, she's remarkably better. And when she sings harmony, she's glorious.
And what would Cinderella be without magic? From scenery (Angela Weber Miller) including the vine-like fairy tale proscenium that lights up at important times to the very interesting and quite modern take on the Fairy Godmother (delightfully portrayed and sung by Jerica Exum), to Cinderella's magical dress transformation, this show delivers the special effects very well. Lighting by Victoria Bain, costumes by Theresa Ham, and some atmospheric effects combine to genuinely transport the audience in surprising ways. There is nothing to fault here.
The ball, itself, is as grand as you can imagine, and when you leave the theatre you feel as if you've been to an event. And what more can you ask of any production of Cinderella? This one is perfectly charming.
Tickets are available at the Paramount Box Office.
All photos by Liz Lauren.