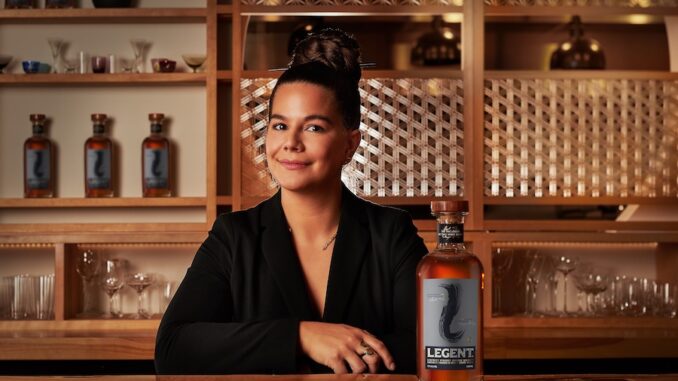 Have plans this Thursday Night? Want to attend a unique experience? Join a one-night-only FREE pop-up sipping and food experience in Chicago on October 7th with famed local mixologist of Kumiko in the West Loop, Julia Momose.
Introducing a new way to experience bourbon cocktails, leading mixologist, Momose, will present three courses of craft bespoke drinks with Legent specific to guest's particular taste preference for this unique spin on omakase, a Japanese style of service most popular in the US for sushi dining. It will be paired with light American fare with Japanese inspiration.
I had the opportunity to ask Julia Momose about this omosake experience and Legent bourbon. Read her thoughts below and some tips on creating your our cocktails.
What makes bourbon cocktail omakase unique? Why should someone try it?
Legent bourbon omakasé is unique for two key reasons. The first is that it takes a Japanese concept most commonly associated with food, and brings it to the cocktail landscape. The second is that it takes the popular concept of dealer's choice, but brings a more personalized experience. Dealer's choice is what the dealer wants to share. Bourbon omakasé is about the guest sharing their preferences with the bartender before their drinks are selected. Bourbon omakasé is the chance to try a unique cocktailing experience and to experience the surprise and delight of a dealer's choice cocktail, but with drinks built specifically for you.
When creating the cocktails, what do you look for in inspiration?
I am most inspired by people. Whether they are guests through the years with fun requests, or stories I overhear at the bar, I love to make cocktails for the moment, and embrace how fleeting those moments may be, allowing for constant inspiration.
For someone like me that follows recipes rather than creating, how would you suggest putting together a cocktail with Legent? How do you create balance in a drink? Should you go based on the food menu?
When I make drinks, I like to think about the purpose for which it is intended. Is it an aperitivo, a pairing cocktail, something bright and bubbly that is just delightful and easy to drink… from there, it is about getting to know the spirit. Legent Bourbon showcases the precision of American bourbon distilling and the art of Japanese whisky blending. It has the deep, resinous, nutty notes of sherry and the fruity and spiced characteristics of a deep red wine. Both of these avenues provide inspiration for drinks that are shaken or stirred. I would invite you to try working off of your favorite cocktail template, but try including a splash of sherry or red wine to see how the drink evolves when made with Legent bourbon.
Making drinks for folks based on their personal preferences is one of my favorite things to do. I am so excited to be able to partner with Legent bourbon for the Bourbon Omakasé experience. Like Legent, I have origins in both America and Japan. I am part Japanese, born and raised in Japan, and I started my bartending career there. Having now moved to America to open my own bar, write a book on cocktails, and have the pleasure of serving folks cocktails of my mixed heritage day after day has been a dream. I love that the Legent Bourbon Omakasé experience has provided me the opportunity to do that in cities outside of my own, allowing me to meet other people who otherwise I may not have had the pleasure of meeting.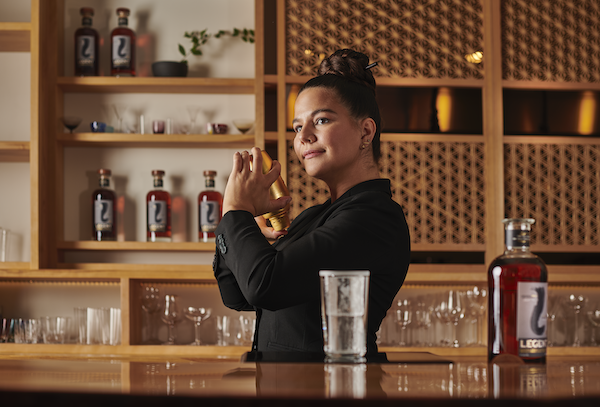 INFORMATION ON LEGENT:
Legent is a first-of-its-kind super-premium bourbon that brings East and West together, melding Kentucky distilling tradition with Japanese blending excellence.
It is a unique innovation that starts as a Kentucky Straight Bourbon and is aged in wine and sherry casks before being blended with more Kentucky Straight Bourbon, resulting in a perfectly balanced yet complex and layered whiskey with a bright, smooth, unexpectedly long finish.
Legent is a masterful collaboration between two celebrated whisk(e)y legends; expertly distilled by Fred Noe, seventh-generation Master Distiller of Jim Beam, bourbon's pioneering family, and artfully blended by Shinji Fukuyo, fifth-ever Chief Blender of Suntory, the founding house of Japanese whisky.
Legent is a unique offering for both frequent bourbon drinkers and discerning sippers looking to try something new. The highly versatile bourbon is best enjoyed neat, on the rocks or in a classic or new-age bourbon cocktail.
Photos by : ANTHONY TAHLIER. Courtesy of ARTICULATE
Article updated 10/8/21