August is Hair Loss Awareness Month and Splash Magazines Worldwide is going to be giving you a few tips and some of our favorite products to help you keep your hair and scalp healthy year round. Hair and scalp health should always be a priority, but right now more than ever as many of us are experiencing increased stress, which can contribute to hair loss or excess shedding.
When it comes to preventing and treating hair loss, no one has been doing it longer than Bosley. For over 40 years, Bosley has been a tried and true brand proven to specifically target, prevent and treat those that suffer from hair thinning or hair loss. For the past few years, you've been familiar with a line of medical-strength products for consumers from Bosley Professional Strength, and come August, the two brands will be morphing into BOSLEYMD with an entirely new look and feel with new product introductions.
THE FACTS:
· Genetics is the primary cause of hair loss in men (about 95% of loss due to genetics)
· 38% of women said they started to notice the change around age 35
· 86% of women, when surveyed, said they would be concerned if they started to thin in their 30's
· By age 60 about 60-70% of men and about 50%-60% of women will have thinned
THE CAUSES:
· Genetics
· Extreme Stress
· Child birth
· Illness/Immune disorders/Medications
· Tight braids/updos, weaves and improperly applied extensions
We also have some great tips from BOSLEYMD expert Gretchen Friese, who recently joined BOSLEYMD and serves their brand Trichologist
THE SOLUTIONS:
· When hair starts to thin, it's important to address it early as it is easier to keep it than to get it back! Incorporate a small addition into your daily routine, like taking BOSLEYMD Healthy Hair Growth Supplements, formulated with DHT inhibiting botanicals plus Biotin, Niacin and Zinc.
· Washing hair regularly will keep the scalp clean from free radicals, and massaging the scalp helps with the blood flow and encourages healthy hair and scalp.
· As needed, treat the entire scalp skin with BOSLEYMD Rejuvenating Scalp Scrub. The Activated Bamboo Charcoal will help absorb excess oil and exfoliate to remove any build-up and debris
· Use a leave-in treatment such as BOSLEYMD Follicle Energizer to support healthy hair function. Botanical extracts help protect and strengthen for thicker, fuller-looking hair, while Biotin and panthenol help strengthen the hair.
· A healthy diet, rich in proteins and healthy fats promotes healthy skin (which includes the scalp) and helps strengthen hair follicles to encourage hair growth and prevent hair loss.
THE PRODUCTS
BOSLEYMD Healthy Hair Growth Supplements for Men and Women: (launching August 1 on BosleyMD.com and Amazon.com)
Thicker, healthier looking hair and scalp begin on the inside. This formula is exactly what men and women need to support healthy hair function, growth and improved hair strength. This proprietary, advanced formula also help to inhibit the triggers that can lead to weak or thinning hair, helping restore and nourish hair and scalp for thicker, shinier, healthier-looking hair.
BOSLEYMD Rejuvenating Scalp Scrub (launching August 1 on BosleyMD.com and Amazon.com)
For those looking to improve scalp health and hair appearance, this soothing and exfoliating charcoal-infused scalp shampoo detoxifies, moisturizes and invigorates a compromised scalp to help attain optimal scalp health. Gently removing debris and buildup from the scalp and hair, this energizing product is made with essential oils and Bamboo charcoal to gently cleanse, moisturize and balance for healthier-looking hair. To be used 2-3x a month, this product is designed to enhance absorption of Bosley Professional Strength hair and scalp treatments.
Bamboo charcoal to help remove compromising debris and purify the scalp and hair
Sunflower Seed Oil & Shea Butter to soothe & moisturize
Rosemary Leaf Extract rich in iron, calcium, and phytonutrients, provides vitality boosting anti-oxidant protection
Tea Tree Leaf oil soothes dry or itchy feeling scalp
Orange, Tangerine and Lime Oil, high in free radical protection for healthier hair & skin
BOSLEYMD Follicle Energizer (launching August 1 on BosleyMD.com and Amazon.com)BOSLEYMD Follicle Energizer, with DHT inhibiting Saw Palmetto, is an intensive, advanced leave-in treatment serum that helps support healthy hair function in areas of thinning. Botanical extracts help protect and strengthen for thicker, fuller-looking hair. Contains stimulating activators that assist in increasing cellular energy and microcirculation on the scalp, creating the foundation for healthy hair growth.
If you are looking to not only do something that will help your hair, but also the environment, Shambar is the shampoo lineup that you must give a try. Shambar is a high performance, solid bar, 2-in-1 shampoo and conditioner that amazingly replaces two single-use 18 oz shampoo and conditioner bottles. Shambar is a bar, but the lather is just as if you were pouring it out of a shampoo bottle with a little water. Shambar is sulfate free, phthalate free, paraben free and contains no synthetic fragrance and is cruelty free. The Awaken and Soothe formulas are vegan and Hydrate contains honey. Most shampoo bars (and liquid shampoos) are unnecessarily harsh and strip your hair of its natural oils (hence, the straw-like texture afterward). Shambar is milder and contains more moisturizing agents to protect the hair's natural luster. If you are looking for a gentle way to clean your hair and help the environment, Shambar is your new shampoo.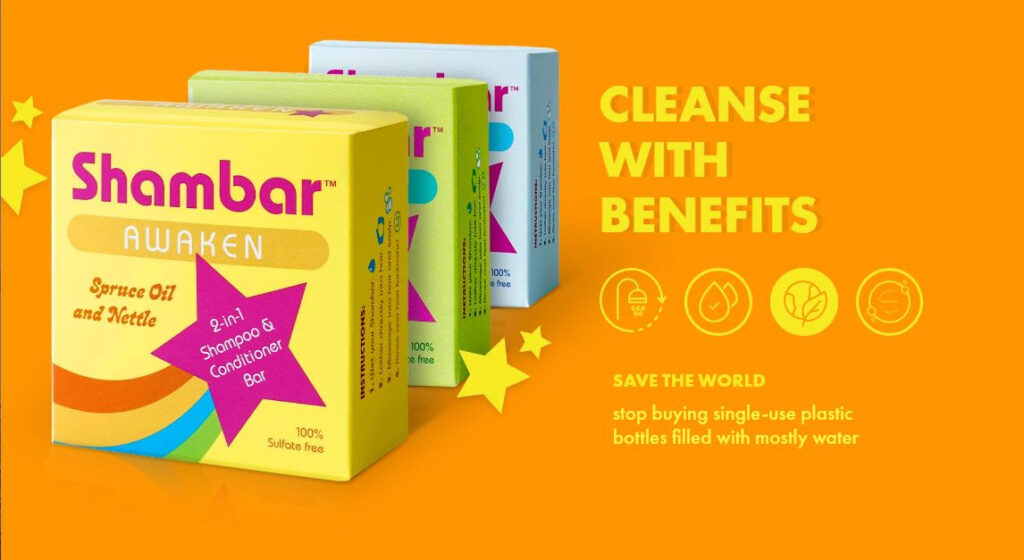 For more information, visit: Shambar