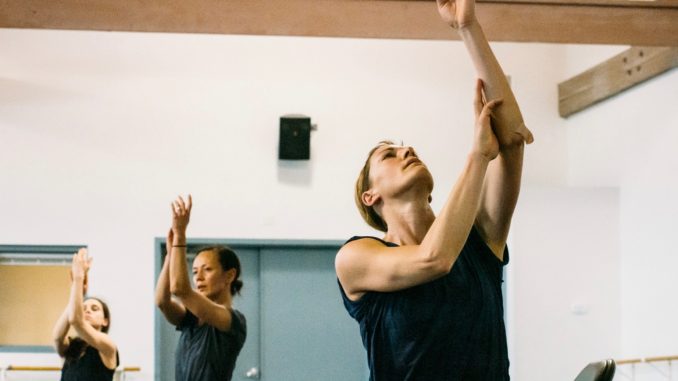 Robyn Mineko Williams and Artists, a new venture led by Chicago-based dancer and choreographer Robyn Mineko Williams, premieres Echo Mine in a special, one-night-only co-presentation with the Joan W. and Irving B. Harris Theater for Music and Dance on December 7, 2019 at 7:30pm. Echo Mine was inspired by and created alongside Chicago dance icon Claire Bataille, one of four founding members of Hubbard Street Dance Chicago and longtime director of the Lou Conte Dance Studio.
Performed by three Chicago-based artists who were mentored closely by Bataille, Echo Mine explores the nature of artistic legacy and lineage, as well as the inimitable qualities Bataille brought to her work as a dancer, choreographer, and teacher. In 2017, Bataille was diagnosed with pancreatic cancer and she passed away at age 66 on December 30, 2018. Joining Williams onstage for the work are Meredith Dincolo—like Williams a former company member at Hubbard Street — and current company member Jacqueline Burnett. Both dancers have collaborated with Williams on previous projects; Dincolo's credits include Fluence (2013) for Hubbard Street, while Burnett's include Recall (2012), Waxing Moon (2014), and Cloudline (2017) for Hubbard Street, plus Robyn Mineko Williams and Artists' ongoing series of site-specific performances, UNDER (cover) Episodes.
Robyn Mineko Williams shared: "Before she fell ill, Claire and I began a creative process together with the hopes of telling a story and uncovering more about the power and importance of artistic lineage. It is vital that this original intention remains a clear and guiding principle of the work. What defines the project for me is Claire herself — her past, her present, her future, her impact, her courage, and her grace. While I've always known her to be a force, this process, and the circumstances she faced, allowed me to see just how much strength knows no boundaries. I think this is important to celebrate and to share." With an original score by acclaimed band Califone, Echo Mine features scenic and projection design by Candy Stations (Deborah Johnson), lighting design by Eric Southern, and costume design by Hogan McLaughlin.
To purchase tickets, visit harristheaterchicago.org, contact the box office at 312-334-7777, or visit in person at 205 East Randolph Drive. Box office hours are noon to 5pm, Monday through Friday and on performance days. Acknowledgments Echo Mine is made possible with commissioning support from and presented in partnership with the Joan W. and Irving B. Harris Theater for Music and Dance, and supported in part by a 2018 Princess Grace Foundation–USA Special Projects grant and a 2018 DCASE Individual Artist grant. Original music for Echo Mine is commissioned by the Charles and Joan Gross Family Foundation. The world premiere of Echo Mine is sponsored by Jack and Sandra Guthman and partially supported by a grant from the Illinois Arts Council Agency. Echo Mine includes footage from Cobras in the Moonlight, created by Margo Sappington for and premiered by Hubbard Street Dance Chicago at the Auditorium Theatre, Chicago, Illinois, April 11, 1986. Footage courtesy of Margo Sappington. Additional footage by Cinema Libertad. The original score by Califone for Echo Mine is available on LP, CD, and digitally via Jealous Butcher Records.
About Robyn Mineko Williams and Artists:
After beginning her career at River North Dance Chicago, Robyn Mineko Williams performed for twelve seasons with Hubbard Street Dance Chicago, originating roles in numerous works by world-renowned artists including Jorma Elo, Sharon Eyal, Twyla Tharp, and Lar Lubovitch. Williams began choreographing at Hubbard Street in 2001 and has since created for Pacific Northwest Ballet, Malpaso Dance Company, Charlotte Ballet, Grand Rapids Ballet, Visceral Dance Chicago, and The Nexus Project, among others. Her work has been presented at venues worldwide including the American Dance Festival, the Jacob's Pillow Dance Festival, the Kennedy Center for the Performing Arts, and the Joyce Theater. Named one of Dance Magazine's "25 to Watch" for 2014, Williams was one of Northwest Dance Project's 2012 International Choreography Competition winners, received a 2013 Princess Grace Choreographic Fellowship, and was selected as an E-choreographer for Springboard Danse Montréal the same year. In 2015, she completed a Princess Grace Foundation–USA Works In Progress Residency at the Baryshnikov Arts Center, and received a Choreography Mentorship Co-Commission Award from the Princess Grace Foundation–USA in support of Mariko's Magical Mix: A Dance Adventure, her second program for young audiences and a collaboration with Manual Cinema. Chicago magazine recognized Williams as Best Choreographer in its 2016 "Best of Chicago" issue, and she has been listed twice among Newcity's 50 Players in the performing arts. To learn more, visit visit robynminekowilliams.comand follow the artist on Instagram @rmineko.
Watch a video of Echo Mine
About the Harris Theater for Music and Dance:
The Harris Theater is Chicago's primary residence for music and dance, connecting diverse audiences with outstanding artists from across the city, the nation, and the world. The Theater's activities fall under three central strategies: support for local music and dance companies, presentation of national and international artists, and community engagement and educational programs. Since opening its doors in 2003, the Theater has earned national recognition as a distinctive model for collaboration, performance, and artistic advancement.
All Photos: Chloe Hamilton