One of the great things about living in New York for more than thirty years is every time you think you've seen everything there is to see, something new comes along and smashes your illusion. Whether it be art, music, theater or, in the case of Tony Michale Estrada's Becoming Unfinished, a combination of all three.
As soon as you walk into the theater you can tell this is not going to be your average Off Broadway show. In the first place the author and star of the one man show (Tony Michale Estrada) is onstage welcoming you, asking how your day has been, even offering to get you a glass of wine.  He invites you to look at his artwork, which covers the stage, and offers to answer any questions you may have.  A handsome and charismatic man, Estrada is the brains, body and soul behind Becoming Unfinished.  An actor turned painter turned monologist, Estrada was born in Montgomery, Alabama and moved to New York in 1999.  Estrada's pronounced goal is to blend large scale mixed media paintings, writing, installation and performance with adult learning and development.  It's an ambitious goal to say the least but Estrada is working hard to make it a reality.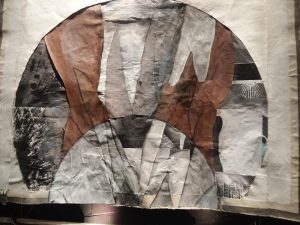 The show is presented in three segments, each told in a monologue. The first piece starts off with the Gallery Owner, who introduces us to the collection of an up and coming young artist by the name of Tony Michale Estrada.  (Estrada plats all the parts with the exception of an unseen Stage Manager who calls to him from offstage).  As the Gallery Owner tells us "The name of the gallery is Mmmmmm, in the center of the art world, New York City, New York, The United States, North America, planet Earth, the Milky Way, the Universe, the Mind of God."  This gives you a pretty good idea of the quirky nature in which the show is going to go.  The Gallery Owner gives us a few facts and details about Tony's life before transforming into one of Tony's idols Madonna (blonde wig and all) doing a pretty realistic rendition of "Express Yourself".  This seems to be a mantra for Estrada, both as a child and as an adult.Tony tells us upfront: "Some have told me that I jump around a lot.  That I have a hard time sticking with one thing.  That I have a hard time finishing."  Whether or not this is true about his life, it is certainly true about the show.  Estrada's story is not told in sequence, it hops around as if one thought inspires another thought which may or may not be linear on our time frame.  But while it requires attention to put the pieces of Estrada's jigsaw puzzle together, the effort is worth it.  What we are given is a complex examination of a person's life, in this case an actor and artist and young man coming to grips with his sexual identity, but the struggle he goes through for acceptance and the inner battle inside himself could be anyone's struggle.  Estrada is nothing if not brutally honest with himself and his audience.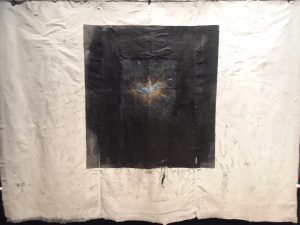 The second scene is Tony himself talking to the audience about the forces which drove him to his art.  He tells of the night his father died and how he still went to see a performance of Our Town that same evening, which deeply affected him.  A homosexual at an early age in a place and time it was not easy to be a homosexual, Estrada explains how things all came to a head for him when he was fifteen.  He was going to his prom with a friend when they got into an automobile accident which sent Estrada into the hospital and nearly ended his life.  That trauma convinced Estrada to be honest with himself and accept his homosexuality.  (Note that the story of his father's death and Our Town appears before the story of when he was fifteen, where his father is still very much alive.)  He goes through the intimate details of his first fling with a boy named Eric, and how he told his parents about his coming out.  They were accepting but considered it a phase and forbade him to have Eric in the house.  Shortly thereafter he ended his fling with Eric, as most sixteen year olds do, but his path for life was set.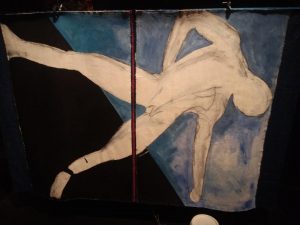 In the third scene Estrada plays his own father, Joseph Estrada, and while scenes one and two were testament to his writing skills, it's this third part where we get to see the real actor.  Joseph tells us: "Tony killed me three times in his life.  When he was in the eighth grade he wrote a poem called the Day he Dies in creative writing class. The he was me. I wanted to kill the sonafabitch.  Second time at grad school he created a one-man show called Bronx-Bound Train about a father who dies and the regret that follows the dancer son, who was not welcome at home because of his sexuality.  Tony claims it is not a firsthand account…..The third time my son kills me, persuading my wife to pull the plug on me, that I appreciated."  Obviously, the first two were fictional, the last one was not.  Joseph Estrada is about as far away from his son Tony as two people can be who share the same blood.  He grew up in New Orleans and while he distanced himself from black people, his skin was dark enough that he was often taken to be one of them.  He both practiced and experienced prejudice and it turned him into the man he would become.  He was fired from his job as a loan officer for falsifying documents and creating his own loan.  Years later he went to jail for a convenience store robbery.  Estrada gives us a portrait of a man who had nothing, who came from nothing, who made mistakes but never excuses.  In the end tried to improve his lot and be a better father to his son.  At this time in his life Tony Estrada is a lot closer in age to Joseph Estrada than the young man he portrays in the first two scenes and it's almost as if this were the real person giving us his story.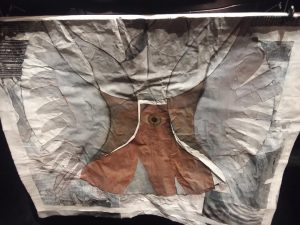 Becoming Unfinished is a complicated, enthralling, brutally honest account of a painter, novelist and playwright who is constantly exploring, constantly creating, constantly attempting to connect with himself and his audience as he steers his way through his career and his life.  If one has a quibble with the show it's that the large, fascinating artwork which provides the scenery is not incorporated more fully into the stories.  Still, it is worth going on the journey with Estrada to see where it will take him.  
All paintings are by Tony Michale Estrada.  All photos by T. Sportiello