By Kathy Carpenter
Coronado Playhouse Presents Mamma Mia. A true sense of energetic joy. At intermission the room was bursting with positive happy vibes  Overflow from such an incredible show happening on stage. You can't help but feel like a Dancing Queen. Fun , full of life and ready get get up and dance. After the show you'll be in such a good mood you might want to go home and…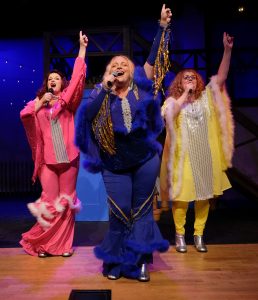 Mamma Mia ran for 16 years on Broadway. 5,758 shows making it the ninth longest running show. Book by Catherine Johnson it debuted in 1999. Originally conceived by Judy Craymer, the music and lyrics are by Benny Anderson and Bjorn Ulvaeus.This version is directed by Jennie Gray Connard, with music direction by Kirk Valles, and choreographed by Marc Caro and Jennie Gray Connard.
Mamma Mia is the story of twenty year old Sophie living on a Greek Island with her mom. She is about to be married and has one dream. To find out who her father is. Unbeknownst to her mom Donna she invites three to her wedding. A girl who seeks her father finds herself. Actually, more her mom Donna's story. But with over twenty Abba songs nothing but fun.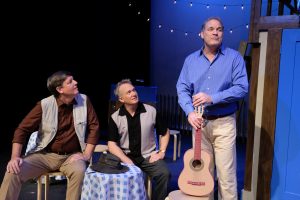 The cast imbibes enthusiasm Olivia Lucci, plays Sophie, with a sweet innocence everyone can warm up to. The is my fourth time to see Mamma Mia, usually I can not stand the person who plays Donna. I just don't connect her character. This time I love Chrissy Burns as Donna, she was so perfect for the role. Dawn Marie Zuniga-Williams, plays Tanya, always an audience favorite who flirts with Pepper, the smitten young pup, played by Tyler Kirk, so adorably.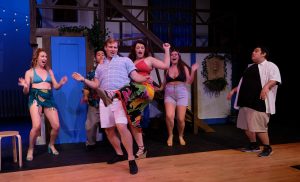 Donna's other friend and one more people an probably identify with, Rosie, is the kind of friend everyone wants, at least when portrayed by the delightful Heather Deerfield. Sam is played by Barron Henzel, didn't know he was a actor but he with the other two father candidates captivated the imagination of the audience. Harry was played Thomas Fitzpatrick, and Bill by Steven Jensen. Sky Sophie;s fiancee was played by Connor Boyd, not a star but an admirable job. The rest of the cast brought the Taverna to life. Thank you for bringing you A-game.
This is definitely one show that need an orchestra of great musicians to wow us with all those incredible ABBA songs. The Mamma Mia Band featured Kirk Valles as conductor and on piano, PJ Bovee guitar, Michael Farley and Robert Johnson on keyboard, Steve Jilka on bass, and Raynald Marte on drums. Thank you for the music.
If you could see the cover of the program you would see Sophie's exquisite Wedding dress. Thanks to costume designer Marcene Drysdale for bringing the sparkle. If you are ab Abba fan and have not seen Mamma Mia treat yourself.
Mamma Mia
November 8 thru December 15, 2019
Coronado Playhouse
1835 Strand Way, Coronado
619.435.4856
Matilda The Musical
Jan 17 thru Feb 23.  2020
Somewhere inside all of us us the power to change the world