On October 19th Open House Chicago (https://openhousechicago.org)offered a visit to two of the houses in Berger Park, and my friend and I went to see these turn of the century homes. We stopped in to see the Gunder House  which is detailed with Classical- style ornament influenced by Italian Renaissance precedents. In addition to the embellished architectural features, there was an impressive display of art work.  Chatting briefly with Cheri L. McGuire, I learned that there was an upcoming event in which she was involved. Cheri generously agreed to answer some questions about the event, the venue and her involvement.  Read on and find out why you want to come to Berger Park .
The Arts Showcase and the "Illinois Revisited" art exhibit  are scheduled to take place in Berger Park on November 23-24, 11a-5pm . 
What is the impetus for this event?
We had been wanting to have an art show at Gunder and when a rental fell through the park supervisor offered us the time with the added bonus that it would open with the Open House Chicago weekend, we were in.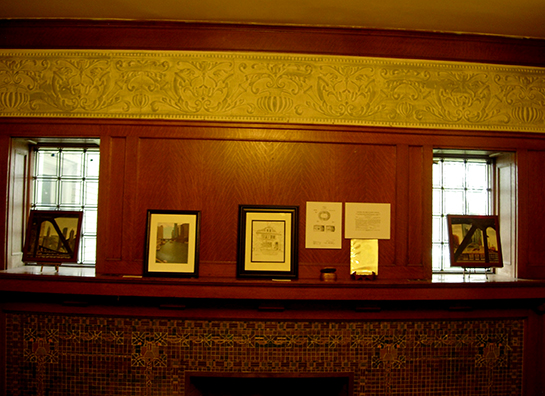 What are some of the highlights that visitors should look for?
The art especially those hung in the living room  area reflect Illinois, as do the rest of the show, but Lincoln, Obama, the classic back porches of Chicago and some turn of the century collage do highlight.
What is your role in this event?
As a member of the Berger Park Advisory Council I wanted to hold an event that made the Gunder House live a bit for the people touring as well as spotlighting the many artists in our community. I was one of three managers Dorothy Mason and I picked the artists and Shel Beugen along with us hung the show.
How does this event fit into the plans to develop Berger Park for special events?
The Gunder House is not yet open to the public on a regular basis. There are some music and theatre rentals but generally the public does not have access. We are beginning to restore the building so it can have more arts usage to the community and become a bigger part of the Berger Park Cultural Center. Motivating both Chicago Parks and the neighborhood to see the possibilities as repairs are slowly made helps us nudge the Parks and fund raise in the community. Lots have been done yet lots needs to be done to make it a viable space.
Participating local artists include: Dorothy Mason, Michael Thompson, Shel Beugen, Laura Friedland, Aaron Wooten, Tony Armendariz, Kevin Flynn, Diana Gonzales, Kathryn Gemperle, Robert C Anderson, Karen Mostek, Norman Baugher, Crystal Fencke, Cheri L McGuire, Allan Koss, Karen Vierneisel, Iris Marreck, William Carroll, Paul Whittaker, Constance Coultry.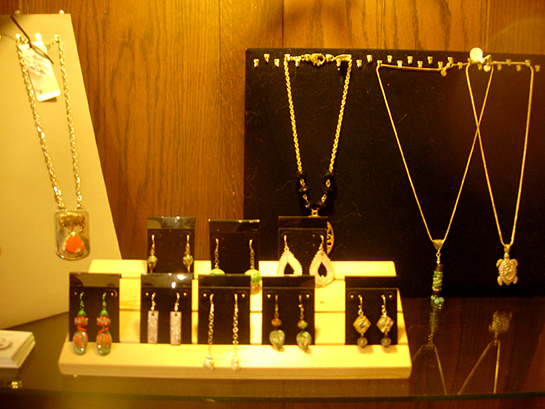 The day promises to be a treat. Two well-known instructors, Louis Franceschetti and Boris Popovic along with their students will be offering beautiful pottery and unique jewelry for sale in the Downey Mansion. Next door in the Gunder House , an art show featuring 20 Illinois artists where you will find vibrant, eclectic, intriguing and thoughtful artwork. Not to be missed the artists interpret their version of Illinois through photography, paint, ink and collage.
But let's not stop there. Bonus, there will be music, dance, and theatre performances to amuse during both days for free!
Mark your calendars now for November 23-24, 11a-5pm
Berger Park Cultural Center
6305 N Sheridan Road
(Parking available in the neighborhood or take the redline to Granville and walk 2 blocks east)
Chicago Architecture tells Burger Park's story
All Photos: Cheri L. McGuire