On Thursday, October 10, 2019, in a concert to be repeated October 11 and 12, Ukrainian Guest Conductor Kiril Karabits, Principal Conductor of the Bournemouth Symphony Orchestra, led South Korean pianist Sunwook Kim and the Chicago Symphony Orchestra in a concert of works by Prokofiev, Mendelssohn and Lutoslawski at Symphony Center, 220 S. Michigan, Chicago. For both maestro and soloist, this concert marked their debut with the CSO. 
The Program:
– Sergei Prokofiev Overture on Hebrew Themes, 1919, 1934
In his autobiography, (University Press of the Pacific, 2000), Prokofiev wrote about how "the Jewish ensemble Zimro", former pupils of his at the Petersburg Conservatory, came to the U.S. and asked him to write an overture, giving him "a notebook of Jewish melodies." Prokofiev goes on to write that he "chose a couple of nice melodies from it and began to improvise."
It's said that Prokofiev completed the piece in record time, selecting 2 melodies or themes- a joyous instrumental dance tune and a bittersweet Yiddish wedding song. At the world premiere of the Overture on Hebrew Themes in New York,  Prokofiev was guest pianist. Later, the original piece for 6 instruments was revised for larger ensembles, and it is that version that was performed so winningly in Orchestra Hall. 
Comprised of two moderately large musical segments, repeated in order, the Overture reveals a deferential handling of the underlying style of the folk tunes, creatively and individually adapted by Prokofiev. The delightful first section is woven around an infectious clarinet-based tune with a rollicking accompaniment. The second half is more broadly atmospheric, with a liturgical intonation. After the return, the piece closes in a sudden fascinating moment of mingled chords.
– Felix Mendelssohn Piano Concerto No. 1 in G minor, Op. 25, 1831
Maestro Karabits plunged into the brisk and energetic opening, Sunwook Kim beginning within the instant, and the audience was swept into a vivid cascade of flowing octaves and "elasticated rhythms." The Andante was performed with thoughtfulness and maturity, Kim expressing ardor and grace, a delicacy of technique coupled with firm control. The finale was emotional, ebullient, with Kim and the Chicago Symphony Orchestra bound together in a joyous riot of cascading notes interspersed with periods of reflective gravity.
– Felix Mendelssohn Capriccio brilliant in B Minor for Piano and Orchestra, Op. 22, 1832
The Capriccio brilliant is a charming and lyrical piece, and Kim gave a telling account of Mendelssohn's "pianistic art." The slow introductory Andante is comprised of a soft, simple and slightly sad melody, whose thoughtful, unhurried mood is immediately transformed via the Allegro con fuoco, starting with a  brisk, staccato cascade followed by a martial main theme, given and repeated. Next, in vivid contrast, in a burst of energetic musical ideas, the solo portion a showcase/display of technically demanding runs and octaves, the piece was brought home with a satisfying, lively finale. 
– Witold Lutoslawski Concerto for Orchestra, 1950-54
After the intermission, and lasting but half an hour, Lutosławski's Concerto for Orchestra was nonetheless the main event of this richly satisfying program. The dynamic and animated Karabits led a vivid high-spirited performance of exceptional playing, both individually and across the sections of the great Orchestra. As has been written recently, "He makes the most of the nuances of every Instrument."
The piece is harmoniously varied, comprised of austere as well as colorful moments, combined this evening in a natural, persuasive flow. The first movement contains a truly beautiful folk melody that seems to weave and meander to a sensitive pulse of percussive timpani. As the movement closes, the theme appears to be repeated forever in chords that are long held; yet Karabits encouraged the solo instruments in a well blended to-and-fro.
The second movement is comprised of complex, lively, splendidly colorful dynamics; at times I looked in vain for a synthesizer because the chiming clusters and bubbling scales seemed augmented! The whole was richly percussive without being actually rhythmic, and, particularly in the middle section, the famous Chicago brass came forth with an important and striking fanfare.
This wonderfully compelling piece's concluding movement is a dramatic wake-up call, seeming to launch into a vortex of sound. Here the wind instruments revealed a thoroughly impressive range as they tackled the unpredictable sounding technical maneuvers. The coda was just thrilling and brought the audience to its feet.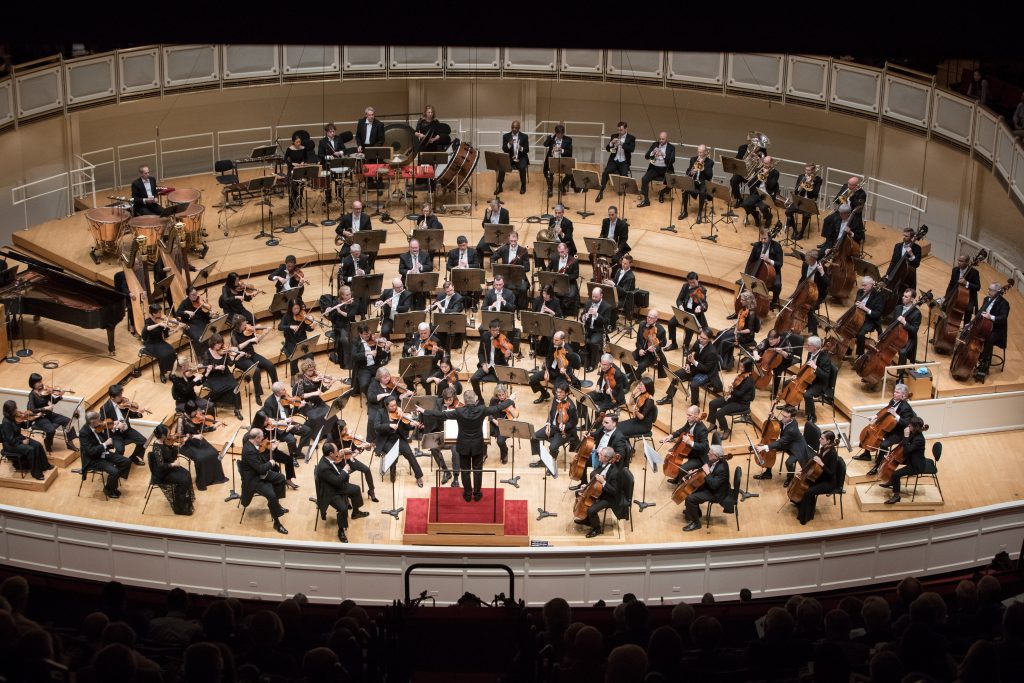 For information and tickets to all the great programming of The Chicago Symphony Orchestra, go to www.cso.org
All photos by Anne Ryan.