Visceral Dance Chicago (VDC) opened its 7th season October 4th and 5th at The Athenaeum, 2936 N. Southport, Chicago. The show was a triumphant comeback for Artistic Director Nick Pupillo's superb company, which replaced 7 of its members this year, only to emerge stronger and more spellbinding.
The program consisted of 3 Pupillo works already in the repertoire: Impetere, She Three, and Synapse, a duet extracted and revised from last fall's evening-length work, Pupillo's Keep, and a world premiere by Spanish choreographer Monica Cervantes, entitled Homage.
 – Impetere (2013)
This vibrant piece, its title taken from a Latin verb meaning "to attack/assault", inaugurated Chicago audiences to the original company's signature athletic strength. Performed last weekend, the newly constituted VDC seduced the crowd at the Athenaeum. In captivating black corset-like costumes by Maggie Jarecki, to the sounds of slightly eerie/offbeat music, five loose duets interspersed with solos and group arrangements bombarded the senses with the fluid shapes and the ultra-high energy buzz for which Pupillo's work is known. The VDC dancers were infused with a sense of purposeful joy that translated technical virtuosity into memorable moves.
– She Three (2015)
 In what has become a signature VDC crowd-pleaser, this gorgeously danced tender work opens with the stage curtain only partially raised to reveal a trio of exquisite ballerinas lying facedown on the stage. Slowly they emerge until fully risen to dance apart and entwined in ambient light, creating shades of relational images. VDC newcomer Michelle Meltzer was radiant in the sophisticated human montage. The artistry of Pupillo's choreography, firmly rooted in traditional ballet, is never more apparent than in this study celebrating the myriad graces of the female form.
– Keep, (2018-2019)
 Keep was begun as a duet embedded in the larger work TAKE; separately danced here it yet maintains the original incredible focus of the partners. Braeden Barnes and Meredith Harrill are breathtaking in the emotionality and physical grandeur of this piece. They appear for all the world like a couple out of myth, unable to remove glance or touch from the other. It's a stylized exercise in obsession, a demonstration of sensual co-dependency, a dream of romantic love given physicality and function. The sheer virtuosity and strength this duo exhibit as they embrace, spin, pull and lift is extraordinary.
– Homage, 2019
To the strains of what sounds like Spanish sitar music, through more traditional Latin melodies, Monica Cervantes' piece is a loving look-back  honoring her bereavement at the loss of a departed loved one. Like figures in historic tableaux, the VDC dancers exhibit the fullness of humanity: sadness, grandeur, hubris, reflection and celebration. The inimitable fluidity of founding member Caitlin Cucchiara stands out in this sensual diary of a life.
– Synapse, (2018)
The last piece on the program, "Synapse", is a showstopper; nothing could follow it without paling in significance.
Set to the insouciant, colorful percussive beat of 4 distinct segments of music by Darryl Hoffman, the triumphant full company of dancers clad in the devil's own red and ruthlessly sexy sparkling leotards play with light. 
Columns of white LED tubes descend from the ceiling to the stage. The dance opened with the full company surrounded by these elements. Flashing off the sequined bodies of the VDC athletes, themselves seemingly lit from within, the music fires the movement. The dancers are nerve-endings; they strut and flirt with each other and the light and the audience in a compulsively joyful show of technical precocity. The dance is euphoric, buoyant, the energy contagious. Morgan Williams' towering prowess in this piece was most compelling.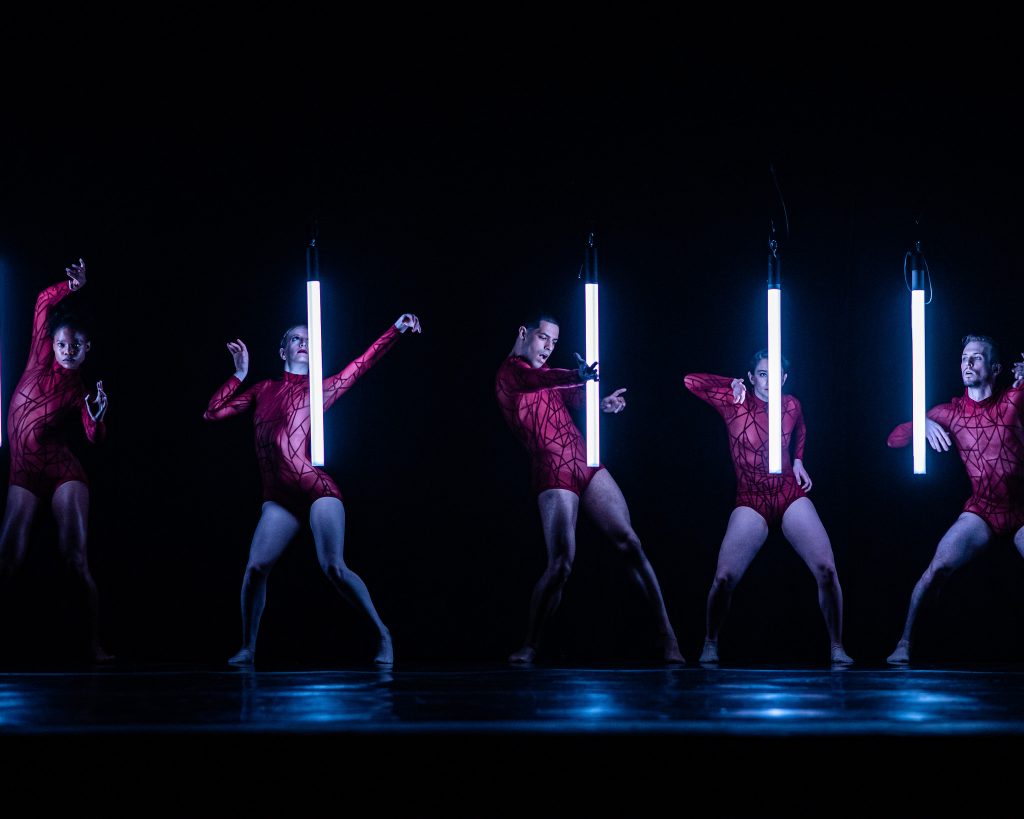 I had the opportunity to interview Braeden Barnes and Meredith Harrill about Pupillo's process in assembling the new VDC company, the obvious success of the program, and what it's like to devote one's life to this type of artistry. 
Barnes described his own sense of fulfillment in this way, "I personally feel blessed everyday. When you love the work that you do, and are constantly growing and exploring, it doesn't feel like a job." He further commented, "However, being a dancer for Visceral comes with a lot of responsibility. The work we do is highly demanding and very technical. Nick looks for dancers who are invested in Visceral and are intrigued about what we do. Commitment, modesty, and individualism are just some of the qualities that catch Nick's attention when we perform". 
Said Harrill, "When selecting dancers, Nick definitely values technical proficiency, but he also looks for someone who can capture attention and draw an audience in. He celebrates individuality and diversity, but staying 'on brand' looks for dancers whose movement provoke a visceral reaction. Our repertoire is very broad, so it's important for Nick to find dancers who can do it all and easily transition through the different styles on the program." 
She went on to explore how choreographic concepts are translated into a living work of art, "Both Nick and Caitlin Cucchiara, our rehearsal director, work extremely hard to clarify the movements and counts of each piece. Once we've grasped the major components of a piece, we are encouraged to let our personalities come through and individualize the movements without distorting the cohesive picture. Nick puts a great emphasis on making eye contact with our fellow dancers while on stage. When we are on the same wavelength and connected with each other, we are better able to connect with and entice the audience members."
About the success of the program at the Athenaeum, Barnes enthused, "I am very proud of what we accomplished last night. I believe that Visceral Dance is not just a family- it's a team. We all bring different but valuable qualities to the group. Last night was a great performance and an example of what we can do as a company."
Harrill agreed and added, "I felt very pleased with what we accomplished onstage as a company and humbled at the same time. The career of a dancer is fleeting and even though I currently do not see an end in sight, I try to live in the moment as much as possible. Every time I am on stage, I remind myself to enjoy every second, trust in my training and be present in the performance. I love allowing the sensations and emotions of movement to consume my body and it's overwhelmingly gratifying when the audience has such a positive reaction. You feel like you've made a connection. I dance because I love it, but it is so much more satisfying when shared with others."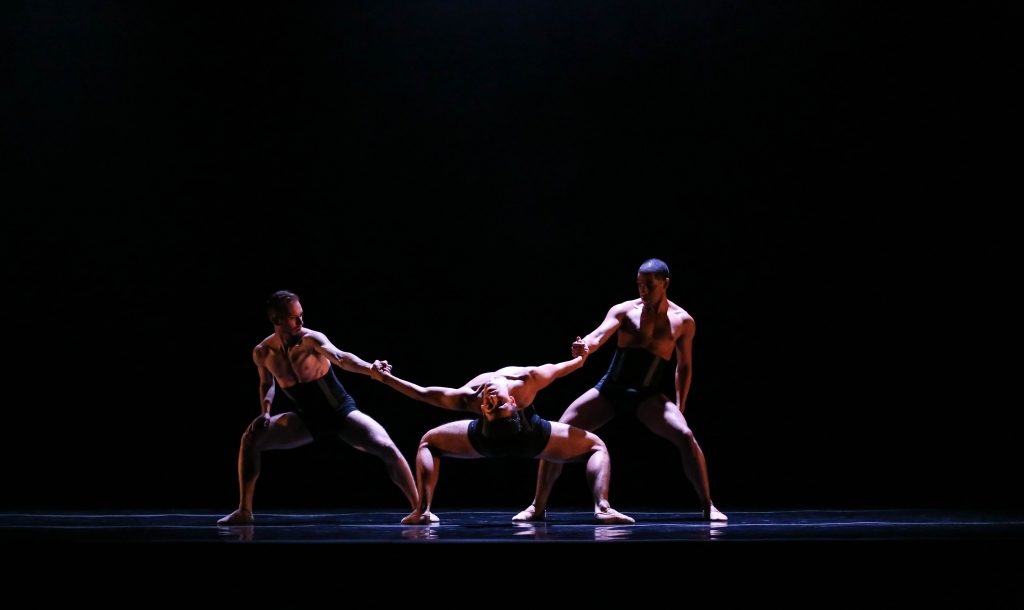 Kudos to lighting designers Brian Sidney Bembridge, Nathan Tomlinson and Collin Hellou for the glow; to costume designers Maggie Jarecki and Moriah Turner for the revelations; and to all the musical artists and sound engineers for the atmosphere.
For information and tickets to all the great programs and classes available through Visceral Dance Chicago, go to www.visceraldance.com
Unless otherwise noted, all photos by KTMILLER Photography