SEASON 7 – VISCERAL DANCE CHICAGO fall engagement, October 4 and 5, Athenaeum Theatre, 2936 N. Southport, Chicago
Visceral Dance Chicago celebrates their 7th  season at the Athenaeum Theater with an evening of works highlighting their power, diversity and passion. 3 proven audience favorites by Artistic Director Nick Pupillo will be reprised along with last fall's debut re-envisioned in a new form and with a new perspective. The Fall Engagement also features the world premiere of Homage by Spanish choreographer Monica Cervantes. 
The evening will begin with Impetere (2013), Pupillo's inaugural piece which introduced the company's strong technique and athleticism.
Pupillo's She Three returns to the stage, bringing three of Visceral's female dancers to the forefront in this technically masterful and harmonious work. Specific and intriguing lighting is featured throughout She Three, creating a formidable and tangible connection between the dancers onstage.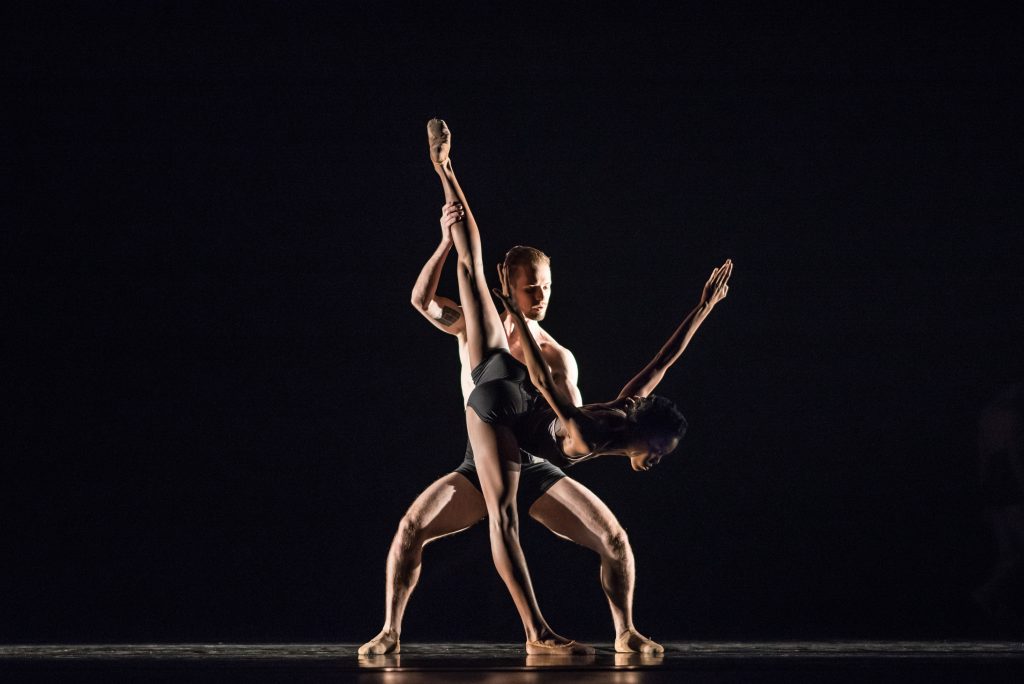 Pupillo's creation Synapse, originally commissioned for Visceral Dance Chicago by the Harris Theater for Music and Dance with support from the Pamela Crutchfield Dance Fund through the Imagine Campaign, is an LED-light immersive experience that has stimulated the Chicago audience with a responsive interaction of music, dance and lighting. Electrical energy joins together the driving house beat of Darryl Hoffman's work with the technicality and provocativeness of Visceral Dance Chicago. 
The duet KEEP (2018) by Nick Pupillo, is re-envisioned and brought to stage in a new form and perspective. This intimate duet suggests you can't take without giving and can't give without taking.
After the great success of Changes (2014), Monica Cervantes returns to create her second piece on the company. In the world premiere Homage, set to the music of several Latin composers, Cervantes explores the sensation of losing a loved one too soon and the nostalgic journey that follows. Homage is a wildly romantic, athletically robust and technically demanding full company piece.
Visceral Dance Chicago is a contemporary company dedicated to providing a comprehensive environment designed to cultivate dance education, creation and performance for choreographers, dancers and audiences. Visceral distinguishes itself by its commitment to the progression of diverse artists, programs and collaborations for our community.
Founder and Artistic Director Nick Pupillo has received various awards for his choreography, including "The Dance Chicago Outstanding Choreography Award" in 2005 and 2012 and "The Cliff Dwellers 2013 Choreographer of the Year." Pupillo is frequently invited to conduct master classes in the U.S. and around the world and has taught for the Jazz Dance World Congress, Chicago Dance Connection and Chicago National Association of Dance Masters. Pupillo is currently an artist in residence at Culver Academies. 
 In January of 2015, Visceral Dance Chicago was named one of Dance Magazine's 25 to Watch, recognizing the company's accomplishments and potential in the national community. "Visceral Dance Chicago breathes life into the Chicago arts community with their ability to intertwine complex human emotions with the raw beauty of dance and physical movement." (Chicago Stage Standard)
Visceral Dance Chicago company members: Braeden Barnes, Meagan Cubides, Caitlin Cucchiara, Eddieomar Gonzalez, Meredith Harrill, Alana Jones, Mathis Joubert, Michelle Metzler, Luis Vasquez, Samantha Weeks, Morgan Williams.
For information and tickets to all the great programs and performances of Visceral Dance Chicago, go to www.visceraldance.com