Michael Olszewski, formerly the owner of Grace, is enjoying his role as the owner of Onward Chicago, a restaurant located at 6580 Sheridan Road, across the street from his Alma Mater, Loyola University – in the spot where the Loyola Bookstore once stood. Michael shared with me that his daughter, Morgan, Onward's Operations Manager, selected the name. She attended Loyola University, and she selected University's fight song, "Onward" as the restaurant's name.  He also shared with me that the restaurant essentially "fell into his lap".  He had the opportunity to obtain a huge space that he could develop into his own vision and very likely influence the surrounding neighborhood significantly. In the eight months since it has been open, it has done just that. My husband, Leon, and I had the opportunity of having dinner here, recently.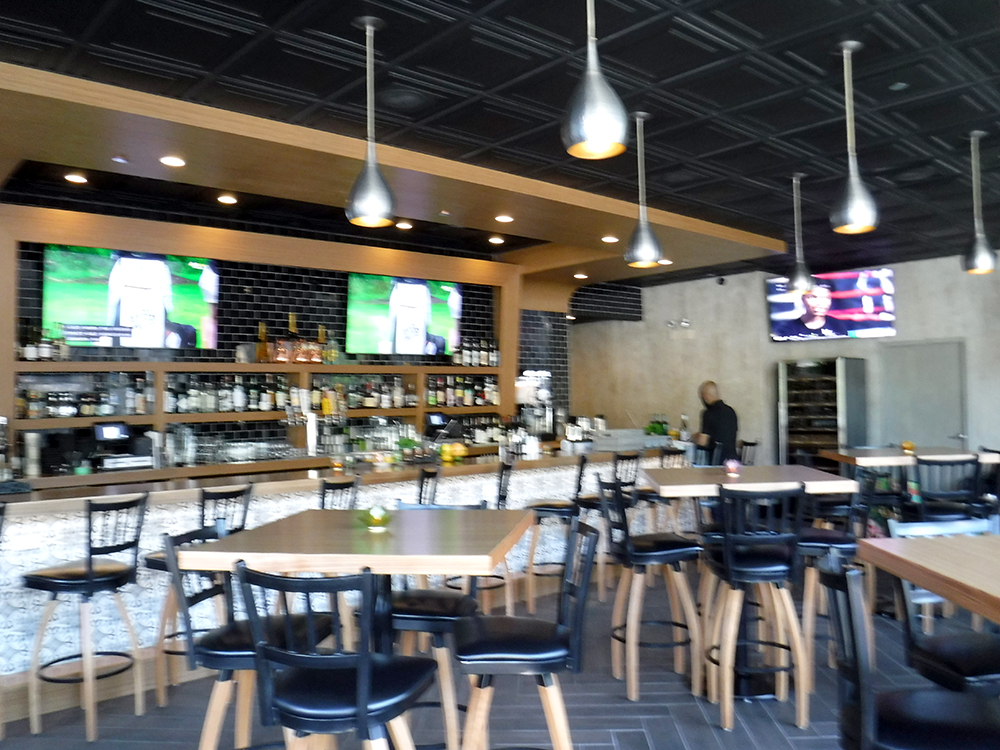 Before Onward, there was a fine dining desert between the North Shore and the West Loop. As a place where Chicago meets the North Shore, this restaurant is almost a pioneer.  I was very impressed to see that there was something for everyone; a carry out window, an extended patio that is great for dogs, a bar space that is unusual with a cozy corner and an elegant dining space with rental space for private parties behind it.  An unusual and intriguing aspect of Onward is that any part of it can be rented- the bar, the patio, the dining room and the party room.  My husband and I went to Grace for a very special occasion.  We will never forget our delight with the evening. Onward, though very different retains the charm and fine dining that we remember.
Michael's wife, Tammy has helped to create an environment that is at once welcoming, informal and elegant.  The main dining room is unique and beautiful. I noticed that the bar space with comfortable couches and chairs.
In addition to  MICHAEL OLSZEWSKI – OWNER/INVESTOR and  PATRICK RUSS – EXECUTIVE CHEF, the staff includes:  ROBERT WALOWSKI – SOUS CHEF, KEVIN MCCORMICK – PASTRY CHEF, and EMILY PRASSAS – SOUS CHEF / KITCHEN MANAGER.  Michael shared with me his great pride in his staff, from the front office to garbage detail. They work well together and have created a culture specific to the restaurant. Michael also noted that he is thrilled when patrons refer to Onward as their special place.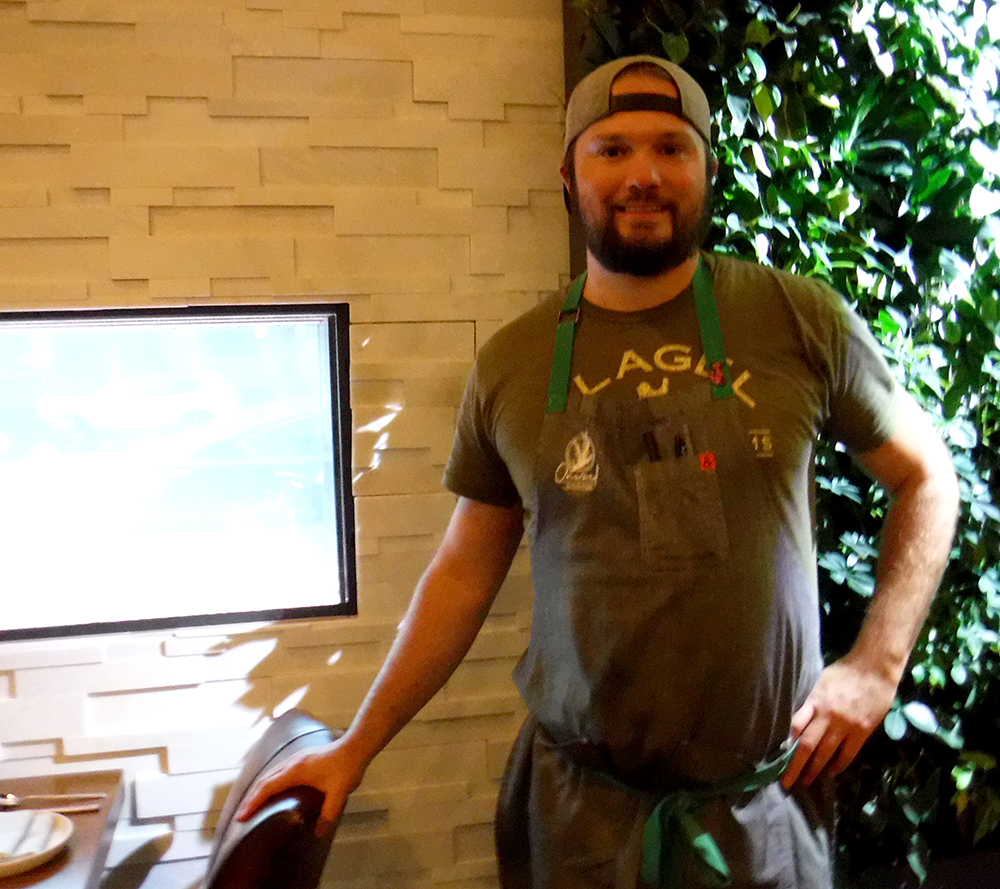 Executive Chef, Patrick Russ, provides the food for brunch, lunch and dinner.  His style is distinctive and fun. The website states, "He focuses on the reinterpretation of simple, rustic cuisine by practicing complex methods and playful presentations and by always emphasizing the importance of balance between flavor and texture and the importance of balance between flavor and texture " We found this to be an accurate description.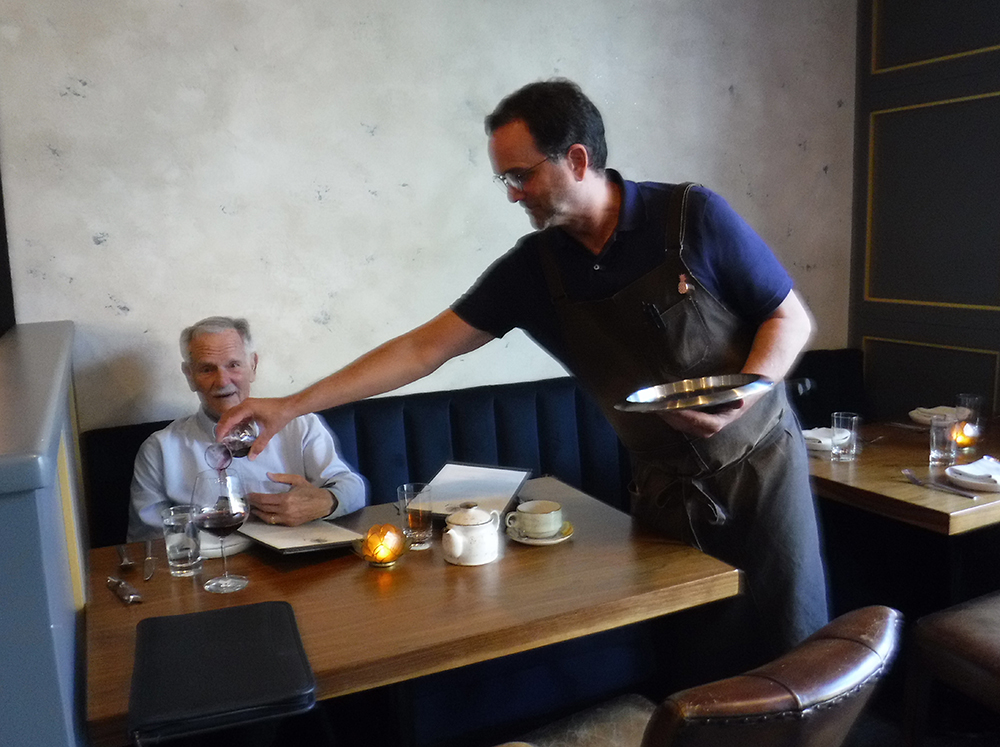 Our server, Todd, began our meal by serving Leon a lovely Ken Wright Pinot Noir from Oregon's Willamette Valley, which was delicious.
The menu offers snacks, small plates, large plates, notables and specials.
I selected the Gigante Bean Salad-Roasted Turnip, Haricot Vert, Harissa and Sunflower. This was an amazing blend of texture and flavor and very filling. I love Gigante but this was a very unusual presentation with flavors that were subtle and complex with a little "kick".
Leon began his meal with the Blackened Diver Scallops – Aji Amarillo, Sweet Potato, corn nuts, citrus. The scallops were perfect and very flavorful. He loved the sweet potato pancake and liked the chili sauce. It was beautifully presented and delicious.
From the Large plates, I selected Roasted Cauliflower- Quinoa, Black Garlic Soubise, Strawberry, Greek yogurt. What a blend! It was rich and filling, with contrasts of every kind: the cool yogurt and warm cauliflower, presented almost as slices of meat with flavors of mint, dill and other flavors A taste sensation.
Leon selected the market fish which was Pike – Miso Dashi, Manilla Clams, Chinese Broccoli, Scallion. The clams were juicy and flavorful and complimented the fish which was coated and in a broth. The Chinese Broccoli added to the flavor and texture.  And when all "good parts" had been enjoyed, a delicious broth remained to also be enjoyed.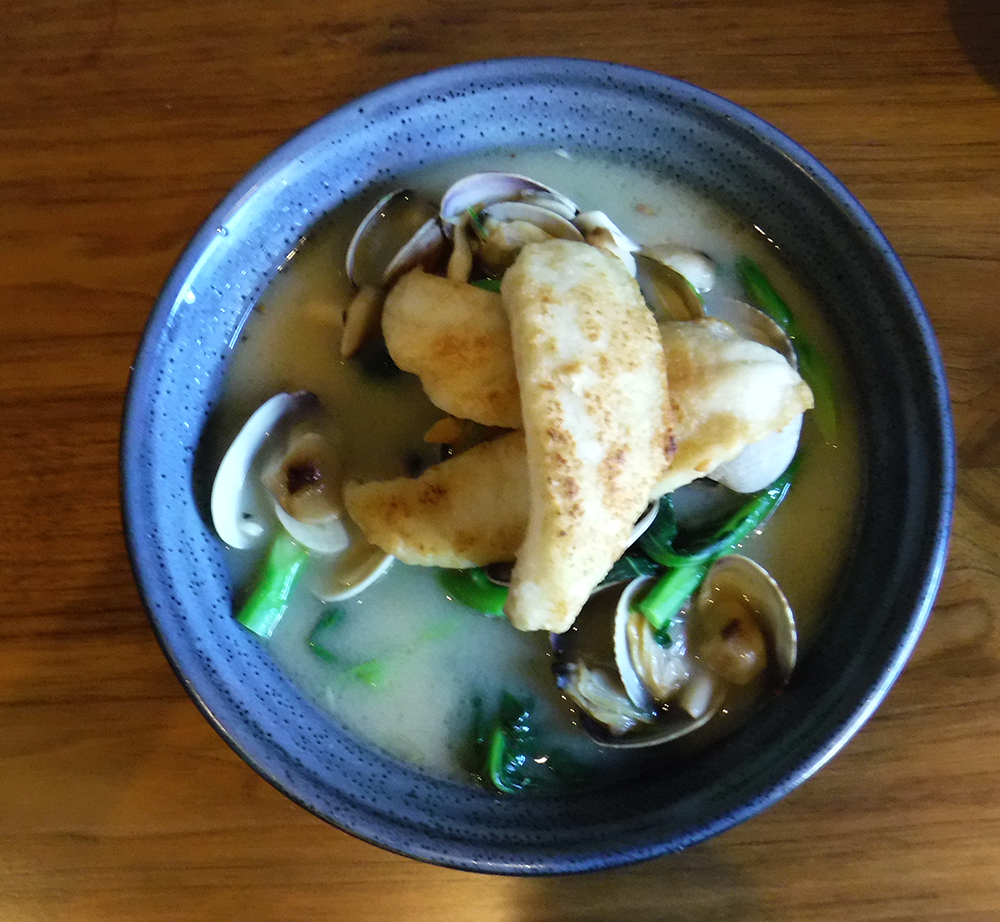 The Dessert Menu was filled with select, sophisticated items as well as whimsical selections. Sated from the delicious food, we selected the simple Polar Bar- Mint Chip Gelato, Dark Chocolate. What fun and so good.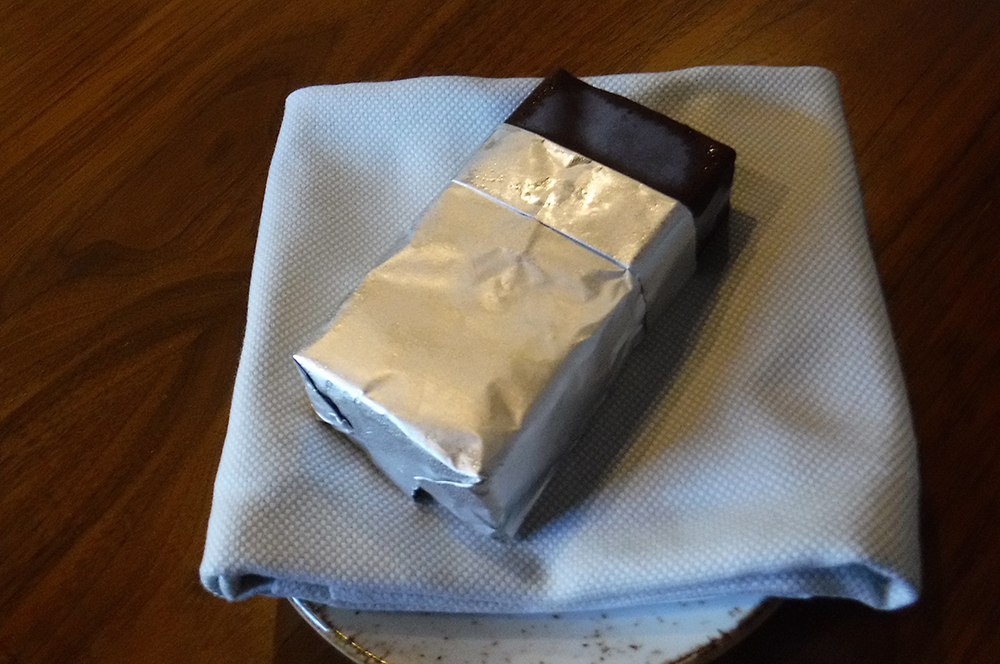 Impressive also is the large focus on sustainability and community, They reduce their environmental impact by composting over 300 pounds a week with their partner Waste Note Compost. Note the debut of their dog-friendly patio this year, Onward has teamed up with One Tail at a Time for the summer to whom they will donate a portion of proceeds from their new "Bone Appetite" menu of house made dog treats like sweet potato strips, frozen peanut butter and banana, and chicken and rice.
I asked Michael about his family and want to share his lovely words:
"I have to say I have the greatest wife and children and really a proud husband and father. Talking about success in life. I feel that when your children turn out better than you, you have succeeded as a parent and Tammy and I have done just that.
Tammy my wife really has a creative flair (Maybe that is where Madison gets her musical theater talent from) and did such an outstanding job with decorating Onward. The couch area in the bar was her idea along with all tile selections, light fixtures, tables, chairs and color schemes. Tammy is my wife for 27 years and has a nursing degree form Northern Illinois University.
Morgan 24 has earned both a undergraduate and masters degree (Quinlan School of Business) in business from Loyola University and scored 171 / 180 on her LSAT exam and will attend law school in the near future. Morgan speaks fluent Spanish and currently is running for me both Yugen and Onward Restaurants. She has a natural talent for business.
Michael 22 graduated from Loras College with a bachelors degree in Criminal Justice and minors in History and Sociology this year and plans a career in law enforcement. He is currently working at my real estate and washing dishes at Onward for summer employment.
Madison 20 has been performing professionally in musical theater since the 6th grade and is a junior at Loyola University studying Psychology and works as a nanny during the summer. "
Photos: B. Keer
For more information go to the Onward Chicago Website