Items are listed from most to least expensive.
Soundcast: VG5
Premium, powerful and portable Bluetooth speaker designed for durability and clear, amplified sound quality in any listening environment
Designed with a first-of-its-kind capacitive touch keypad and fuel gauge LED array that makes it simple for users to operate
Features aptX and AAC codec, which supports high-res streaming for high-quality Bluetooth audio and NFC pairing options
Engineered with a proprietary long-throw, down-firing 6" woofer and two 3" full range drivers with high SPL Neodymium motor design, aluminum cones and butyl rubber surrounds
Allows users to pair two VG5 speakers together for twice the volume and coverage
Features components for unbeatable durability, providing full protection against rusting, rain, snow and sun
Amplifies a multilayered sound for any listening environment
Light, 3.5 lb. weight allows for ultimate portability
$499.99 ($399 on sale at Amazon) Buy now!
Mobile Edge Graphite Collection
Mobile Edge's distinctive and stylish Graphite Line Special Collection represents a fresh, edgy take on seven of the most popular bags from Mobile Edge. They have been redesigned with premium graphite-colored nylon material. Sporting a sleek, modern look, these bags make the perfect gift for business-commuting, frequent-flying dads this Father's Day. Bags in the Graphite Collection come in a variety of shapes and sizes, including backpacks, messenger bags, and briefcases. The Graphite SmartPack Backpack is a no-nonsense backpack that fits devices up to 16 inches and is ergonomically designed and super lightweight. The Graphite Express Backpack is a little roomier. It comes with an integrated iPad/tablet compartment and a dedicated media/phone pocket for an mp3 player or smartphone with headphone pass-through. The Graphite Backpack or Graphite Premium Backpack fits devices up to 17.3 inches. Each includes dedicated, padded computer compartments and separate sections for files, folders, magazines, and other accessories. The premium backpack features additional storage space, a Cool-Mesh™ ventilated back panel, and a removable smartphone pocket.
$41.99-$129.99  Buy now!
POLISHED by Dr. Lancer
POLISHED by Dr. Lancer is a prestige men's grooming brand dedicated to helping men live better lives through quality skin care designed by men, for men. Polished began when two friends, renowned Beverly Hills dermatologist Dr. Harold Lancer and long-time patient, creative entrepreneur and popular TV/radio and host and producer Ryan Seacrest decided to bring to market a high-quality men's skincare product line, that delivered both results and value.
$48 Buy now!
Lucky Tackle Box Subscription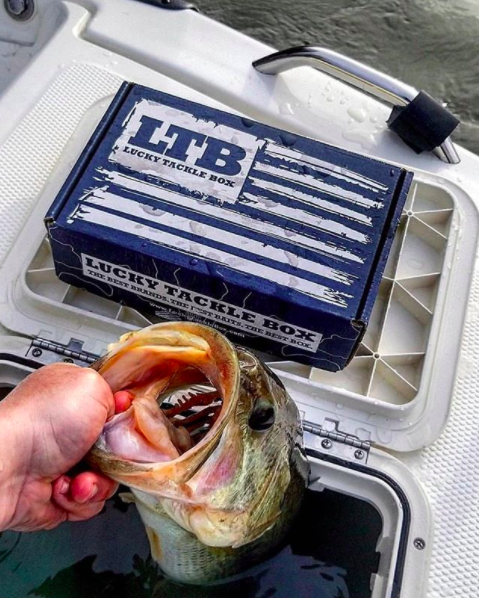 Do you have a fisherman in your life? Get them the gift of fishing ALL YEAR LONG with Lucky Tackle Box! Lucky Tackle Box is the premier fishing subscription box in America, where you can sign up and receive a monthly package full of the hottest lures, tackle and products in the sport fishing industry.
Lucky Tackle Box ships once a month, with each box packed full of some of the top fishing lures, tackle and accessories in the industry. LTB is all about education, so we create multiple, unique YouTube instructional videos and "how-to" articles each month to help subscribers learn about our products and become better fisherman. LTB has 10 different boxes for species ranging from Bass to Walleye, Panfish to Fly Fishing.
Fantastic gift for the whole family to get out into nature together or the person who just loves to fish, wants to improve their skills and try new products. Subscription plans are set up for 1-month, 3-month, 6-month or 12-month durations. Many top brands in the fishing industry launch their newest products in the LTB boxes each month and the retail value of the products ALWAYS exceed the cost of the subscription.
$16.99 – $46 Buy now!
Restoration by Charles Strickler
When Miles West discovers a mysterious treasure in an old car he acquires, he thinks his broken life is on the mend. But the 1928 Stutz Black Hawk Boat Tail Roadster contains a secret that has remained hidden for almost ninety years, left there by the infamous bank robber "Lefty" Webber. Jewels, old gold pieces and a coded journal force Miles to dig into the past. With the assistance of the resourceful Bramley Ann Fairchild, West sets out on an adrenaline-fueled adventure. They must evade ruthless Mafia boss Carlo Bello, who seeks to acquire the car and the treasure for himself, no matter the cost. Will West unravel the decades old mystery, rescue his friend, and help a man restore his family name? Or will he simply become another victim of the Roadster's murky history?
$16.95 Buy now!
Fifty Places to Surf Before you Die by Chris Santella
Fifty Places to Surf Before You Die is a beautifully illustrated guide to the most thrilling surfing destinations in the world. Covering quintessential beaches, including: Oahu's North Shore; Australia's Gold Coast; and of course, Malibu, California, the book also invites you to discover such unexpected gems as the Amazon and the Gulf of Alaska. From the frigid waters off Iceland's Reykjanes Peninsula to Nazaré, Portugal, where in 2013 Garrett McNamara broke a world record for surfing the tallest wave (78 feet!), Fifty Places to Surf takes readers on a wide-roving adventure, divulging the details that make each venue unique—and plenty of tips for those who aspire to surf there. Featuring interviews with seasoned surfing experts such as pro surfer Joel Parkinson and Billabong executive Shannan North, Fifty Places to Surf Before You Die is an essential travel companion for surfers of all levels who are looking to catch that perfect wave. (summary from Amazon)
$16.50 Buy now!
Back these projects today and send something new to the Fathers in your life!
Travel Blanket Perfect For Comfortable Travel / The Layover™
Wait, why does this blanket make traveling better?
Here's The Problem: Getting comfortable while traveling or on the go is really tough. You aren't likely to carry your grandma's super comfy quilt on a plane unless you want to look like you're headed for an adult sleepover. Blankets just aren't packable! You never know if the plane you are boarding will get drafty, if you will be stuck on a super long layover, or if you'll end up in a window seat up against the cold wall of a bus. We thought there had to be a much better way.
Here's The Solution: The Layover will change the way you look at travel blankets forever. They have incorporated a ton of neat features to keep you comfortable on the go.
$99+ Back now!
Feelgrounds™: The Ultimate Casual Barefoot Shoes
The first minimalist sneakers, that make no compromise between functionality and style. Feelgrounds™ are your casual barefoot sneakers built for everyday use, providing the most natural walking experience.
Enough Space for your Toes to Spread. Thin & Zero-Drop Outsole. Highly Flexible & Durable Materials. Super Comfortable & Lightweight. Breathable & Easy to Clean. Animal Free & Eco-friendly. Your feet are supposed to be strong & healthy! Feelgrounds™ – Let's make barefoot shoes cool!
$97+ Back now!
Replete
Everyone wants to be in control of their health but it has proven to be difficult. The current technology ecosystem is not solving this major problem.
$20+ Back now!
*All images courtesy of the companies in this guide
**Splash Magazines gets a kickback when you back the crowd funding projects in this guide.