Second City's e.t.c.'s 43rd revue presents Grinning From Fear to Fear. Since opening its first revue in 1983, Cows on Ice, The Second City e.t.c. has continued to produce edgy, thought-provoking, hilariously original shows. Notable alumni of The Second City e.t.c.'s resident productions include Aidy Bryant, Steve Carell, Stephen Colbert, Keegan-Michael Key, Jack McBrayer, Adam McKay, and Nia Vardalos. Revue features returning cast member Andrew Knox, along with first-time resident stage ensemble members Atra Asdou, E.J. Cameron, Mark Campbell, Laurel Krabacher, and Chuck Norment.
Since opening its doors 1959, The Second City has grown to become the world's premier comedy club, theater and school of improvisation, entertaining 1 million theatergoers a year around the globe. Alumni of The Second City's resident stages, touring companies, and theatrical divisions include some of the biggest names in entertainment, and in addition to the sold-out shows playing nightly on resident stages in Chicago and Toronto, the comedy empire has staged productions with a wide range of illustrious creative partners and theatre companies, including the Lyric Opera of Chicago, Hubbard Street Dance Chicago, The John F. Kennedy Center for the Performing Arts, Goodman Theatre, Center Theater Group Los Angeles, Portland Center Stage, Toronto Symphony Orchestra, La Jolla Playhouse, Woolly Mammoth Theatre, and even the Chicago Bulls.
Whenever I see a new show at Second City's e.t.c., it never disappoints. You are guaranteed entertainment, comedy, improv and sketch, which pokes fun at literally everything. Grinning From Fear to Fear left my friend and me laughing the entire evening. During the show, you encounter psycho killers (modeled after Hannibal Lector) to big pharma, coming out to your family to going crazy in your own nightmares. Some of the funniest skits included the awkwardness of meeting your girlfriend's parents for the first time (or for the past three years!), a family dog having to adjust to the newest addition of the household – a bullying cat who takes over and enjoys 420 moments and a daily "catnip break," and singing your lungs out to a believing-in-climate-change anthem, or a tap dance/song number about how drugs make you happy (like Lexapro). As for when you are trying to fall asleep at night? Just play the "Toss and Turn" gameshow: it's all in your head, and all you need to do is choose a door and you will be granted either a good night's sleep, or have to deal with awkward memories that trigger memories of anxiety.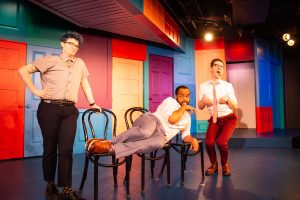 Then there were the historical parts of the show that are relevant today, such as the founding fathers (past their deadline) scrambling to finish the Bill of Rights deciding "we'll just put this down for now…they're bound to change it up later," and an improv moment with audience volunteers involving a spaghetti western duel in Ikea, the Swedish furniture store. Finally, I thoroughly enjoyed the comical, satirical homage to one of the best loved villains of all time, Hannibal Lector from Silence of the Lambs. But this time, you have a crazy white serial killer interrogated by a private detective, who gets a thrill out of getting rid of privileged, rich white guys ("…I collect the receipts from my victims…life has no returns!").
As for the cast itself, every performer was talented and showed their own comedic flare and talent on the 2nd City stage. Returning cast member, Andrew Cox, was one of the best parts of Grinning from Fear to Fear. He was a very talented comedian whose natural facial expressions and body improvisation stole the show. Other standouts for me were E.J. Cameron, who was just a comedic chameleon and could change into any character needed, and Atra Asdou, who stood out with her funny dialogue and sketch roles.
(L-R) Mark Campbell, Atra Asdou, E.J. Cameron, Laurel Krabacher
Second City's e.t.c.'s 43rd revue presents Grinning From to Fear runs throughout 2019. However, if you are a fan of Second City, and love fresh, new improv shows that poke fun at everything, then make sure you get to the show sooner than later!
Photos by Timothy M. Schmidt (unless otherwise noted)
The Second City e.t.c.'s 43rd Revue plays on Thursdays, Fridays and Saturdays at 8pm, Fridays and Saturdays at 11pm, and Sundays at 7pm in the e.t.c. Theater, located at 230 W North Ave, 2nd Floor of Piper's Alley, Chicago.
Tickets, starting at $21, are available at The Second City Box Office (230 W. North Ave, 1st Floor, Piper's Alley), by phone at 312-337-3992 or online at the website.