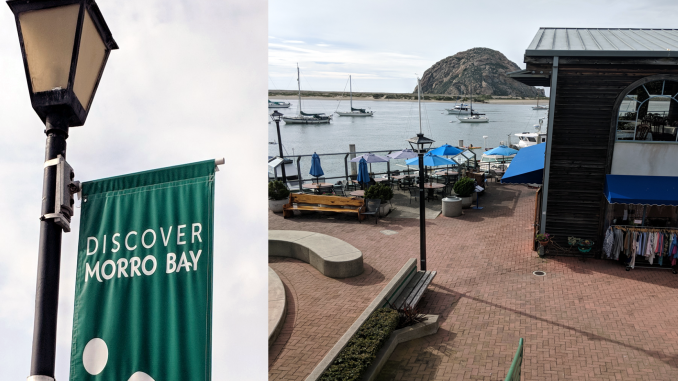 It has long been said that in matters of real estate the three most important elements to consider are location, location and location. Proof of the validity of that is abundantly evident when you visit magnificent Morro Bay, California located on the beautiful Pacific Ocean roughly half way between Hollywood and San Francisco. Today Morro Bay is home to just a little over 10,000 very fortunate residents and many times that number of annual visitors literally from all over the world. One of the great joys is to simply walk along the Embarcadero while breathing in the refreshing sea breeze and enjoying the beauty that surrounds you.
Across the bay is the world famous volcanic plug that is the bench mark for Morro Bay and the bay itself is home to dozens of vessels from small paddle boards which you can rent, to much larger motor yachts and sailing vessels. And yes, of course, there are sight seeing cruises available, Lining the Embarcadero our dozens of shops selling everything from typical tourist trinkets to fine art. There are also many restaurants most offering superb sea food. One restaurant I found to be especially enjoyable is not, however, a sea food restaurant , but rather a purveyor of mouth watering hand carved roast beef and some of the finest chili in the world. It is HOFBRAU located at 901 Embarcadero. Morro Bay, California and owned and operated by Stan Van Beurden who launched this great establishment with his father 48 years ago. Today Stan and his crew offer up great food with unmatched friendly service all with an eye popping view of magnificent Morro Bey.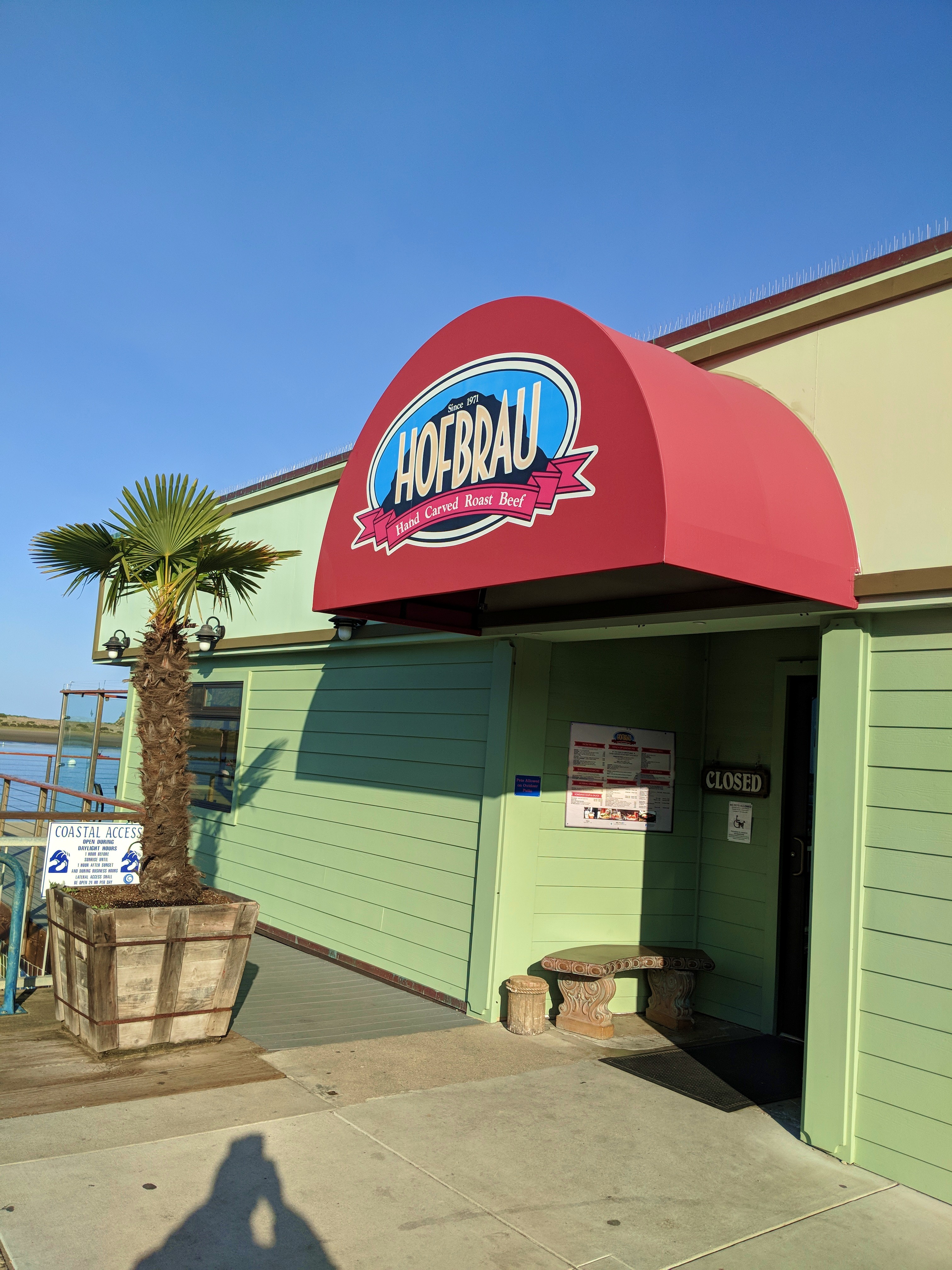 There are many eating establishments and not all are on the Embarcadero Dorn's Original Breakers Café is located at 801 Market Avenue, Morro Bay, California and offers a very fine restaurant with yet another but somewhat elevated view of the Bay along with a substantial menu of great food for breakfast, lunch and dinner. Another must try place is Giovanni's Fish Market & Galley at 1001 Front Street, Morro Bay, California. If it comes from the sea and is delicious it is at Giovanni's. They will cook it for you and serve it to you on their bay facing patio or you can buy what ever you want to take it home and cook it when you so desire. It is all fresh and delicious. Including lobster, crab, halibut, oysters and much more.
But with so much great food everywhere in town you might also want to take a little hike out to the Morro Bay Volcanic Plug. As you approach the plug you will have an option to walk along a beach on the ocean rather than the bay. If you take that route you will see thousands of sand dollars lining the beach along with some spectacular waves rushing the shoreline. The sights, the sounds the incredibly fresh sea air and the visions are all truly magnificent and invigorating. But there are other things to see and do near Morro Bay.
Just up the road heading north there is the delightful town of Cambria which offers up its own variety of shops and restaurants including one utterly amazing taco truck "Boni's Tacos" that serves up tacos and burritos almost worth the ride up from Los Angeles but absolutely worthy of the ride from Morro Bay. Cambria is also home to several vineyards most offering wine tasting of the wonderful Central Coast wines. We visited Stolo Vineyards and Winery at 3776 Santa Creek Road, Cambria, California. The day we visited Stolo there were two young ladies pouring the wine. Their knowledge and their warm positive attitudes made the great wine being served just that much better. A side trip very much worthwhile and yes we brought a couple of bottles back with us for enjoyment a little later.
From Cambria we went a bit further north to visit a beach known for Elephant Seals. These are absolutely huge animals some weighing more than 8000 pounds and capable of diving below 5000 feet in the ocean. And there they were, hundreds of them laying around sun bathing and just enjoying being the object of attention by hundreds of human visitors.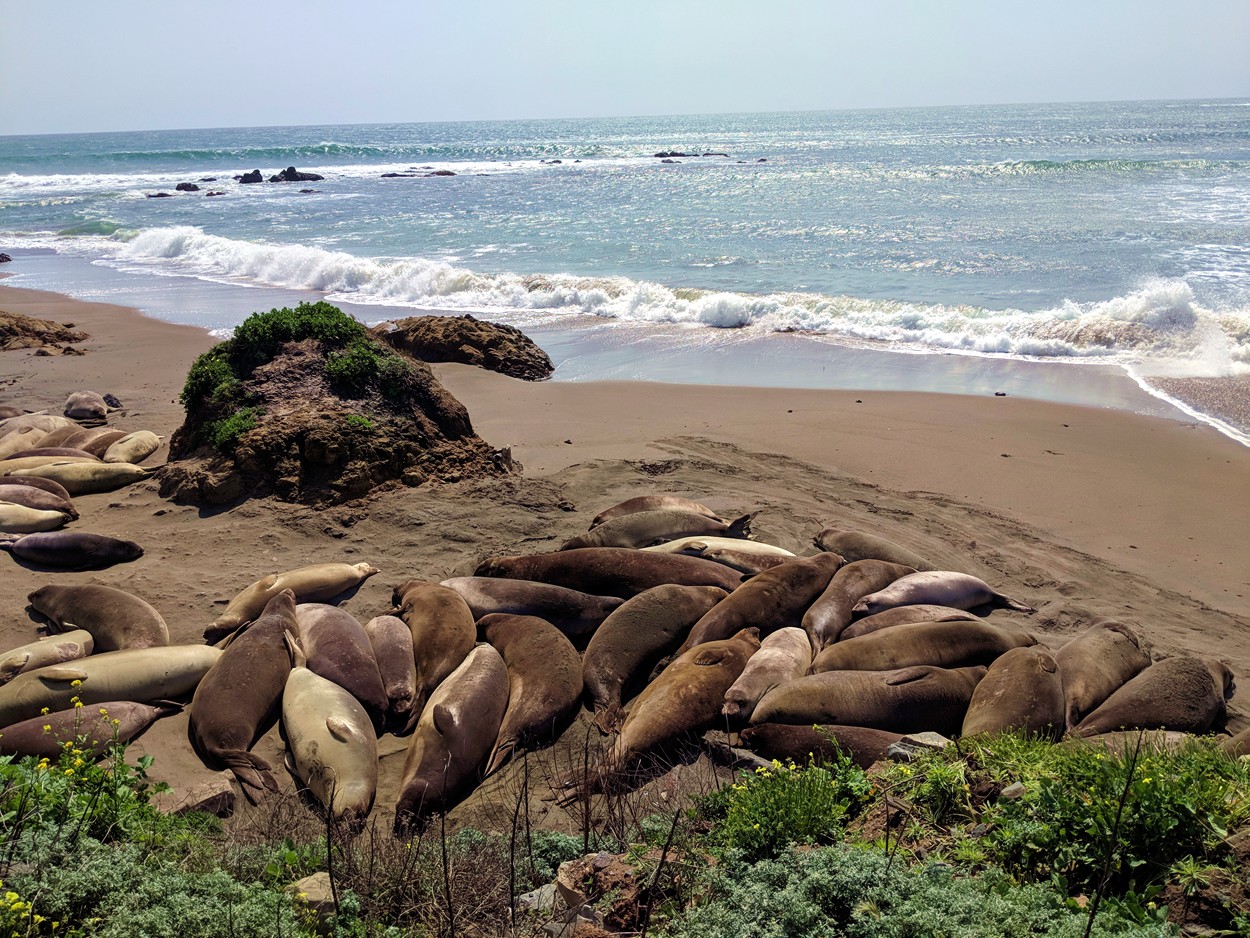 This was but a very tiny slice of a very impressive part of our world. Indeed within the boarders of the state of California there are 164,000 square miles of mind blowing diversity and often stunning beauty. There is scorching desert, stunning mountains and beautiful ocean views. While it is true that most of the people in our world if they think of California they will most likely think only of Hollywood and movies or San Francisco and cable cars that climb half way to the stars. But there is so much more and in my view Morro Bay is one of the most enjoyable places on earth not only for its magnificent natural beauty and great dining experiences but also and perhaps most of all for the abundant and sincere friendliness of its residents. Add to that the fact that from Morro Bay you can reach out to thousands of other great options. everything from Elephant Seals to wonderful vineyards and even a castle, the Hearst Castle to be precise. So if you are planning a trip to California and even if you live in California do yourself a huge favor and add Morro Bay to your to do list.
Photos: Ron Irwin
——————————————————————————————————————–
For a great read visit here: http://www.ronirwin.net/BooksbyRon.html.  And if you want to truly say "Thank you for your service" know that 20% of the net proceeds from all sales go to help American military veterans in need.