After opening act Monakr finished their set at Old Town School of Folk Music on February 21st, singer Matthew Santos asked the audience "are you ready for Dessa?" We responded with the universal wordless yell of concert crowds everywhere. "No, you're not," he replied with a smirk.
He was right.
We weren't.
I was first introduced to Dessa when her song "Call Off Your Ghost" was featured as the weather on the hit podcast Welcome to Night Vale (if those words mean nothing to you, don't worry about it). I found her again when she was featured on Lin Manuel-Miranda's Hamilton Mixtape, spitting fire on the cut Angelica track "Congratulations." So before that night I'd have called myself a casual Dessa fan; her music was in my rotation, but I wouldn't have said I was obsessed.
So much can change in ninety minutes.
Dessa is a singer, songwriter, rapper, and force of nature. She entered the stage to cheers and applause, only to request a do-over entrance, as she'd forgotten to plug in her microphone. "I'll do it again, but like a professional," she told us. It was only a minute into the performance and already the entire room was captivated by her charm.
Dessa is like a tiny awkward giraffe possessed by the spirit of an ancient warrior priestess, or possibly the goddess whom she worshiped. Quirky and hilarious in her intermittent banter with the audience—whether lamenting her spilled wine or delightedly telling the story of purchasing her shirt for the show—she is unwaveringly intense while singing, power radiating from her vocal cords and shaking your soul while the bass beat shakes your seat. Her music is raw and bloody but polished, ethereal but grounded, alien but deeply human. Her songs are both diary entries and anthems, deeply personal yet broadly moving, feminist and brutally honest. And in Old Town School of Folk music's intimate Maurer Hall, her performance felt like a kind of communion, not just a sharing of music but a sharing of self. If athletes leave it all on the field, Dessa leaves it all on the stage, pouring energy and emotion into every note, every syllable. Though shorter than the musicians on either side of her, she stood taller than everyone in the room, a dominatrix, a commanding officer, a queen.
If I had one complaint, and I do, it would be about the lights. My boyfriend, who has theatrical lighting experience and a much keener eye for that sort of thing than I do, noticed it right away. "They need two more lights focused downstage," he told me at the start of the opening act. "Uh huh," I said absently, happily absorbed in Monakr's captivating synth-pop sound. Once Dessa came out, though, and started moving around the stage with her mic, the problem became clear even to me: her face was in shadow a good third of the time, which is especially a shame for someone with a face so expressive.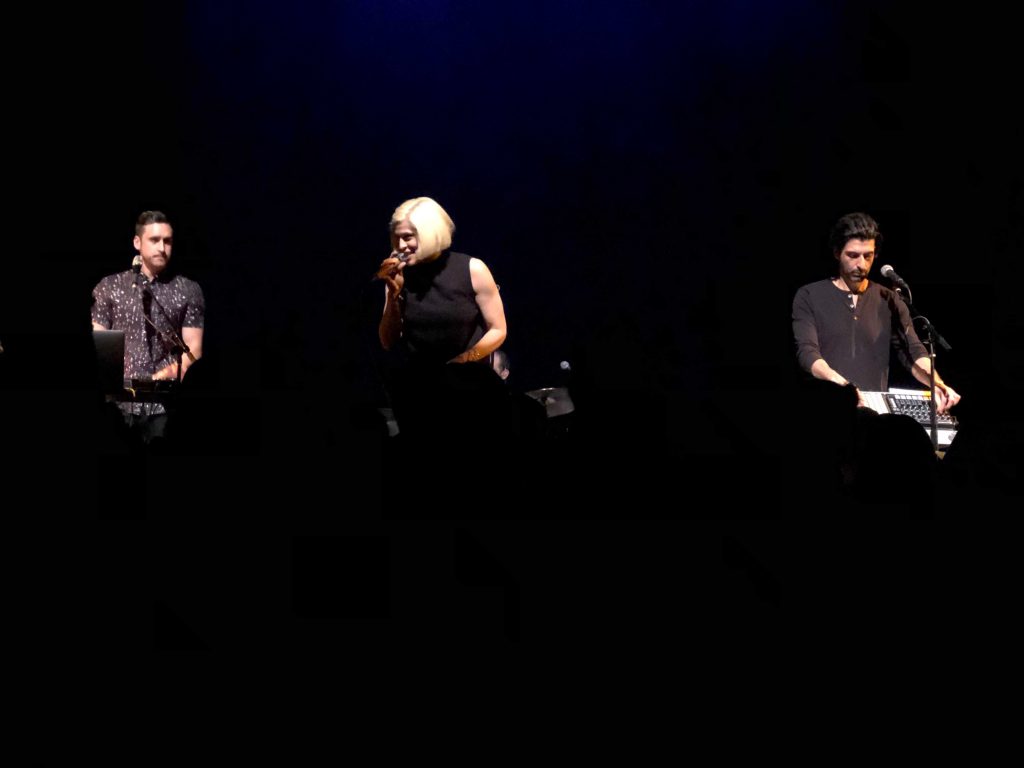 In conclusion, Dessa rocks. Find her on Spotify, or iTunes, or wherever you like to find your music, and check out Monakr while you're at it.
For more Dessa concert dates, visit her website. For a full listing of upcoming concerts at the Old Town School of Folk Music, visit their website.
All photos by Jessie Bond.