Max Bialystock you did it AGAIN!  From 1967, when I saw the movie "The Producers" with Zero Mostel and Gene Wilder and remember how fabulous it was and what a genius Mel Brooks is, I then went on to see it again, on/off Broadway. Nathan Lane and Matthew Broderick wowed on Broadway.  Whenever local theater came to town, I grabbed my passion for The Producers and saw it again. I now believe I have seen "The Producers" more than "The Way We Were" and that is a big deal!
There is no surprise that I, once again, had the great pleasure of seeing "The Producers" at the beautiful, spacious and comfortable Lauderhill Performing Arts Center.  Nathan and Matthew may  not have held the title roles, but Ken Clement and TJ Lamando and the entire supporting cast wowed the entire audience with their talent and antics.  Singing and acting was top-notch and the original story was told with perfection.
For those few who haven't had the pleasure of seeing any version of this gem, go catch it and spend your afternoon or evening, laughing away.  In fact, in today's political climate where 'politically incorrect' is not at all funny, you will find yourself laughing in all the wrong parts but never feel embarrassed because everyone is laughing with you. Believe me, when a good Jewish girl from The Bronx is laughing at "Springtime for Hitler", one of the highlights of the show, you can be best assured it's funny!
Mel Brooks' musical comedy "The Producers" won a record-setting 12 Tonys in 2001, including Best Musical – the most in the awards' history.  It also set the standard for outrageous, in-your-face, politically incorrect humor. Stage Door Theatre will present what Variety's Charles Isherwood called 'a rip-roaring, gut-busting, rib-tickling, knee-slapping, aisle-rolling … good time' musical at the Lauderhill Performing Arts Center and will run through February 10th.
If yesterday's audience is any indication about many people LOVE this musical, run, don't walk to get your tickets before this show ends.
The plot is simple and works like a charm:  Failed producer Max Bialystock and his reluctant accountant, Leo Bloom, cook up a plot to convince a group of elderly women to invest two million dollars in a horrendously offensive Third Reich-themed musical, which they know will be a sure-fire flop. This, they conclude, will leave them with the money, which they plan to use to retire to Rio.  But against all odds, the show is a hit, and Bialystock and Bloom have to deal with their success.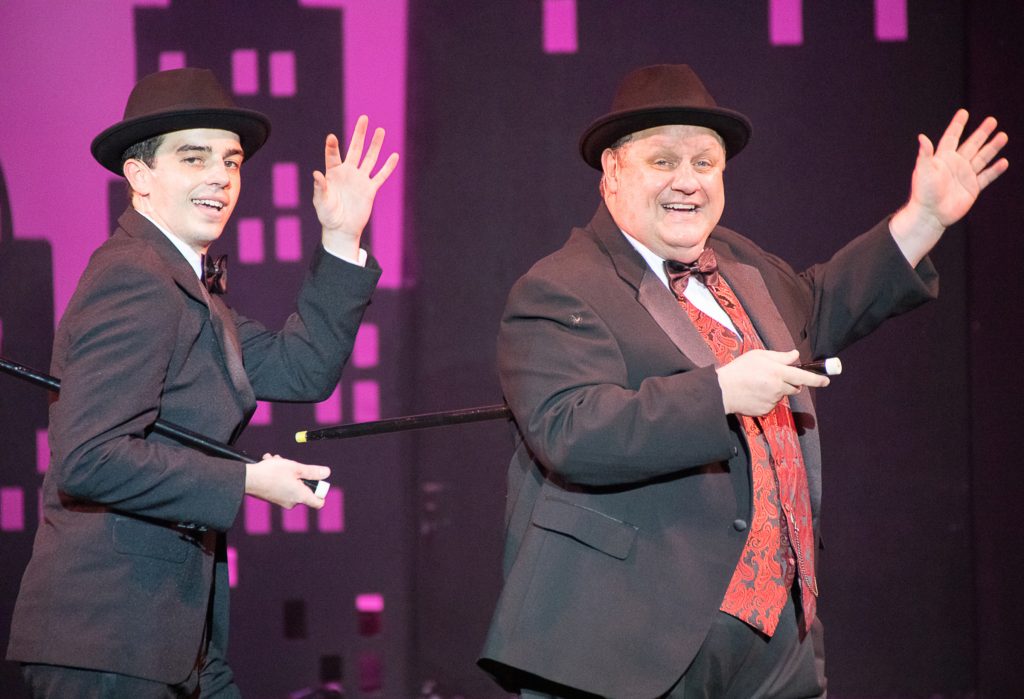 "The Producers" takes an absurd and politically incorrect look at a horrible time in history. It also takes a hysterical look at the "art of the deal" in theatre itself," the show's director, Clayton Phillips says.  "These days I feel we just have to laugh, or we just might go crazy. The Producers will make you laugh, for sure.  Laugh at the absurdities of life."
I ran home after the show and kindly asked Alexa to play The Album from the Producers!  She did and my afternoon was complete.
"This is a bucket list role for me," says South Florida's Ken Clement, who plays Max Bialystock in the production. "When Clayton offered me the role, I didn't hesitate for even one moment… I said 'yes' without a second thought!"   Ken, you were a fabulous Max in every way. This demanding role is not easy and you nailed it!
Phillips has also cast T.J. Lamando as Leo Bloom, Melissa Jones as Ulla, Larry Buzzeo as Roger de Bris, and Frank Vomero as Garmen Ghia. Other cast members include Michael Biggs, Allison Blanchard, Marty Craft, Versee Damien, Alexandra Nicole Garcia, Luis Gomez, Stephen Hohendorf, Caiti Marlow, Christopher Morucci, Cat Pagano, Vincent Pelligrino, Jacob Rice, Sarah Rose, Laura Titus, Dyllan Vallier, Alexandra Van Hasselt, and Shanna Woods.
David Nagy will serve as the production's Musical Director and Danny Durr is "The Producers' "Choreographer. Scenic Design is by Randall Parsons, Lighting Design is by Guy Haubrich, and Costume Design is by Lenora Nikitin.  The production Stage Manager is Nancy Clay.
Tickets for "The Producers" range from $48 to $58. (LPAC charges a $5 service fee per ticket, however if a package of four Stage Door shows is purchased the service fees will be waived.) Group rates are available, as are student prices (with valid ID). Tickets may be purchased by calling the box office at 954-344-7765 or 954-777-2055 (LPAC) or on line at Lauderhill website or on the LPAC website.
For more information about The Producers and/or Stage Door Theatre, please visit stage door www.stagedoorfl.org, or contact Derelle Bunn Executive Producer/Artistic Director, at [email protected] / 954-344-7765 or Carol Kassie ([email protected] / 561-445-9244).
The Producers
January 18 –  February 10, 2019
Book by Mel Brooks and Thomas Meehan
Music and Lyrics by Mel Brooks
Tickets:  $48 – $58
Tickets:  954-344-7765 / www.stagedoorfl.org
Showtimes:
Wednesday, Saturday, & Sunday at 2 pm, – Friday & Saturday at 8 pm
All performances at-The Lauderhill Performing Arts Center (LPAC)
3800 NW 11th Place
Lauderhill, FL 33311
Facebook: https://www.facebook.com/stagedoorfla/
Instagram:  https://www.instagram.com/stagedoortheatre/
Twitter:  https://twitter.com/stagedoorfla
All Photos: Courtesy of the Lauderhill Center for the Performing Arts