Five…Four…Three…Two…One…Get ready to countdown to 2019! Before you know it, one of the most anticipated nights of the year will be here. To make sure you don't get left in the cold,
A la Carte Entertainment has planned Unforgettable New
Year's Eve Partiesacross the Chicagoland area! The following
locations will host parties on Monday, December 31st:Drink
Nightclub, Lucky Star Bar, Moretti's Ristorante & Pizzeria, Alumni Club, Finn McCool's, and Famous Freddie's
Roadhouse. Au Revoir 2018!


SUBURBAN LOCATIONS:

DRINK NIGHT CLUB
871 E. Algonquin Rd. | Schaumburg | (847) 397-3100 |
DRINK NIGHT CLUB
Dance the night away at one of premier nightclubs in the area with 3 Levels, 2 Rooms of Dancing, Ultimate Video
Countdown 'til Midnight, 2 Balloon Dropsand Amazing Light
and Special Effects Show. There will also be 3 DJs: DJ-SPIN from B96, DJ Rich Ungos from Dance Factory Radio and DJ Dahmino.

$75 Gold VIP 4-Hour Premium Open Bar (per person)
Guaranteed Admission Premium 4-Hour Open Bar from 8 p.m.
to Midnight Deluxe NYE Appetizer Buffet from 8 p.m. to 10 p.m. $25 General Admission after 10 p.m. (per person) Based on Space and Availability For table reservations please call the
club (847) 397-3100

LUCKY STAR BAR
1175 W. Lake St. | Bartlett | (630) 830-7200 |
Lucky Star Bar
One incredible Country New Year's Eve Dance Party starring
"Dixie Crush" performing the biggest hits of today's country
music. Evening will also include Midnight Balloon Drop,
Explosive Video Countdown to Midnight and Dance Lessons with Estelle.

$45 Diamond Package (per person) Guaranteed Admission from 7 p.m. to Midnight3-Hour Call Open Bar from 9 p.m. to
Midnight Deluxe Dinner Buffet from 7 p.m. to 9 p.m. $35 Gold Package (per person) Guaranteed Admission from 7 p.m. to
Midnight 3-Hour Call Open Bar from 9 p.m. to Midnight
General Admissions after 10 p.m. (based on space availability)

No Cover after Midnight

New Year's FREE
It's New Year's Free! Have a high energy experience this New Year's Eve without going downtown and with NO COVER. New Year's Free is our amazing sound, light, and video show, dance floor and explosive countdown to Midnight! We are offering this at the following locations:

FAMOUS FREDDIE'S
510 S. Park Ave.| Fox Lake | (847) 812-8038
Famous Freddie's
FINN MCCOOL'S
72 N. Williams St. | Crystal Lake | (815) 356-1155 |
Finn McCool's
Open 'til 4 a.m.

ALUMNI CLUB
1540 N. Roselle Rd. | Schaumburg | (847) 519-7555 |
Alumni Club

Photos: Courtesy of Ala Carte Entertainment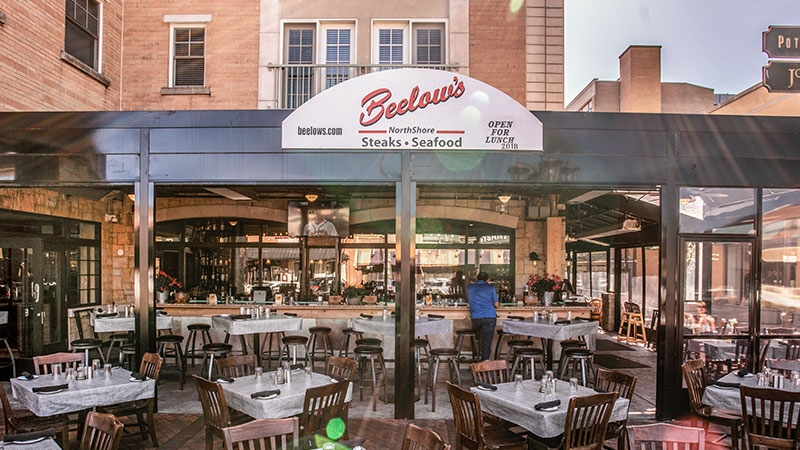 New Year's Eve at Beelow's
Monday, December 31, 2018
9:30 PM 11:59 PM
Beelow's Steakhouse 763 S Rand Rd Lake Zurich, IL 60047 (map)
Ring in the New Year at Beelow's Steakhouse! Featuring live music from 9:30-1am on our heated patio, cocktails, bites & more. Tickets are $30 at the door, or $25 if purchased in advance. Call to buy – (847) 540-0600. If you have reservations for dinner that night, tickets are only $20 to stay for the NYE party. A ticket includes live music, a cocktail, a champagne toast at midnight, and some of Dan Beelow's Bites!
Celebrate with us! 
New Year's Eve at Beelow's Ring in the New Year at Beelow's Steakhouse! Featuring live music from 9:30-1am on our heated patio, cocktai…
Ring in the New Year with Otherworld Theatre!

Otherworld's Wonderland Ball
A night of mystery, burlesque, food and more!
Monday, December 31st | 8pm-1am | Otherworld Theatre Journey down the rabbit hole and join us in Wonderland for an unforgettable adventure this New Years Eve to usher in 2019!

An Immersive theatrical event of dinner, drinks, burlesque, and murder mystery – we will assign you a fairy tale character for you to dress up as and play in a whimsical adventure.

—– The Premise —–

Once upon a time, there was a faraway land called the Enchanted Realm. The people of the land got along harmoniously for many centuries…that is, until Queen Black gained control of the Silver Tree Forest. It was not long before happy endings turned into nightmares, as the ruling Kingdom of Gullyshire suffered repeated attacks, and the villains began to gain control. The mystic mountains filled with nefarious monsters and were no longer safe, and wicked witches took over the charmed forest. Queen Black has shocked the realm and has invited all of the territories to the Dark Castle of the Silver Tree Forest in Wonderland to sign a peace treaty. She may have evil intentions. Nonetheless, you have been invited by Queen Black. This is where your story begins. ​

Tickets include: ​ Food and Beverage (cash or open bar depending on selected ticket)A murder mystery immersive eventBurlesque performancesChampagne toast