Thailand, known as "The Land of Smiles" for decades has been a special destination for Hollywood directors and production companies because of its great variety of locations, low cost for production, professional crews and now new incentives from the government. Special discounts are given to films not only shot but edited in the country.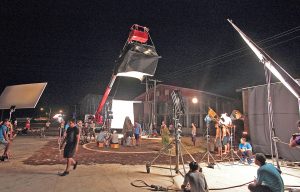 The most popular movies from the past….
* Hangover 2 – Bradley Cooper
* The Beach – Leanardo De Capri.
* Man with the Golden Gun – 007 Roger Moore
* Good Morning, Vietnam – Robin Williams
* Bangkok Dangerous– Nicolas Cage
* Kickboxer Retaliation– Starring Jean-Claude Van Damme & Mike Tyson.
I was fortunate to have worked on this film shooting production stills. It was challenging, a test of endurance with 12-14 hour days, 6 days a week for 5 weeks in steamy tropical heat, but I enjoy every moment of it! We had 2 excellent catering companies for both the Thai and American crew. That kept us going along with hydrating all day and electrolytes I was taking 3 times a day! The heat is extremely draining and shooting stills you have to be at every take, everyday, every night!
You're also capturing candid moments of the cast and crew. And then there are what is called EPK's, (electronic press kits) for marketing. This is where you'll film a cast member on the set between or after takes. These are then used, along with stills, on social media or entertainment shows!

Kanchanaburi Province – Bridge on the River Kwai area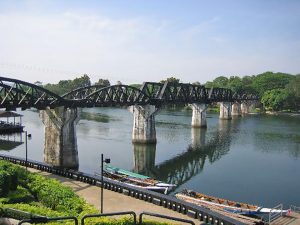 The first few days we filmed up in Kanchanaburi Province near the Bridge of the River Kwai.
Here we shot for 2 days and nights at the Promittr Movie studio, a massive 700-acre compound location where the historical Thai films series, The Legend of King Naresuan were filmed.
You can visit the facility today and see the excellent replicas of palaces and halls, pagodas and temples, ancient boats as well as ancient villages of Ayutthaya the former capital of Thailand.
Makkasan Station, Bangkok – Location 2
The Makkasan trainyard in Bangkok, with old wrecked cars and engines, made for great shots. The director loved the backdrops. "It's like marvel comic sets here without CGI." There was just a little problem with mosquitos when the sun would get low in the afternoons, all in a days work, show biz in the tropics!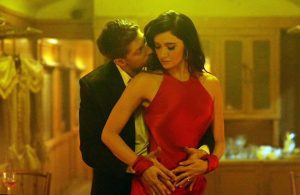 Nonthaburi, Bangkok Location 3
From there we headed back to a city north of Bangkok on the banks of the Chao Phraya river. In a vacant rice mill on the river an ancient Buddhist temple was constructed by local Thai craftsmen.
It was stunning and looked like a set from Tomb Raider. The line producer told me to have it build in the US would have cost over a million but the locals did it in 4 days, working around the clock, for under $35,000. Here we filmed for about a week in the temple, an interrogation room and two other sets.
This is where Christopher Lambert (The Highlander) joined the production for 3 days of shooting.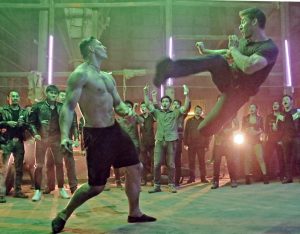 Another out of town location was another abandoned rice factory in a town called Min Buri, north of Bangkok.
The Grand Palace – Bangkok
The final day in Bangkok near the Grand Palace and railroad station.
When we wrapped I meet with the director, Demitri Logothetis, and asked him, "how did you like filming in Thailand?"
He said that the Thai production and film crew was as good as any he has worked with in the world. Dedicated, tireless, patient, true professionals. He wants to film here many times in the future.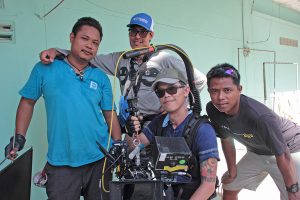 Future filming in Thailand…

Rumor has it Demitri, the director, is currently in talks with Gary Oldman "The Darkest Hour" to do his next film here in Thailand. That would be a further great boost to Thailand's film industry!