The superstar Russian soprano, Anna Netrebko, performed in a rare recital at the Lyric Opera House on Sunday, December 2nd, 2018, at 3pm. Her breathtaking, flawless voice, provided the audience and opera lovers alike with an intimate afternoon of a variety of beautiful songs and arias with piano accompaniment.
It was the first of only two performances of this recital that Netrebko is giving in North America this season. Netrebko collaborated with renowned pianist Malcolm Martineau, and with assisting artists mezzo-soprano Jennifer Johnson Cano and violinist Robert Hanford. Johnson-Cano joined Netrebko for two lovely duets.
Whether you have heard Ms. Netrebko at Lyric in her sensational 2013 debut in La bohème, or in one of her many Metropolitan Opera telecasts or broadcasts, or simply on CD or DVD, Sunday's recital was a wonderful and one time opportunity to savor her artistry live in person once again. And if you've never heard her before, the concert was the perfect way to discover one of the great voices and captivating artists of our time. She has dazzled audiences all the way from the Met, Covent Garden, and La Scala, to the Vienna State Opera and St. Petersburg's Marinsky Theatre.
How to define the Netrebko magic? There's her gloriously beautiful sound, which has gained amazingly in power over the course of her extraordinary career. There's her overwhelming dramatic involvement, which has created one memorable character after another onstage. And of course, there's the sheer dazzle of her personality that reaches out to pull her entire audience into her orbit, while also mesmerizing the ears that hear her breathtaking voice.
Anna embodies "joie de vivre," or "the joy of live". In any concert or recital, she makes very clear that she's having the time or her life performing for you, and that she hopes you're enjoying yourself as much as she is.
Ms. Netrebko presented an extraordinary program list of beloved music featuring composers Debussy, Dvořák, Fauré, Leoncavallo, Offenbach, Rachmaninoff, Rimsky-Korsakov, Richard Strauss, and Tchaikovsky. The selected body of works was appropriately selected for Netrebko's magical and thrilling coloratura vocals, as well as the recital's theme of "Day and Night."
The first half of the program paid tribute to the "Day," which featured a wondrous assortment of arias and poems set to music by Rachmaninoff, Korsakov, Strauss, Debussy, Charpentier, Tchaikovsky, poet Frank Bridge, and Leoncavello. Dressed up like a spring flower in her flowing cream silk dress with colorful roses created by Russian designer Vitaz, Netrebko put passion into everything she sang.
The various musical works of the "Day" consisted of morning, the sun, flowers in bloom, nature, and overall joy and happiness. Netrebko sang songs about love with joy in the first half, at times, her lovely  voice also sounded sad, which was so beautiful to my ears.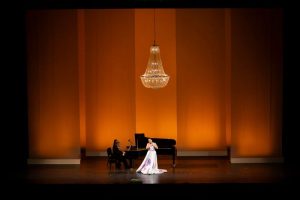 Soprano Anna Netrebko
The second part of the recital focused on "Night," in which Netrebko vocally expressed the musical lyrics and works of more Tchaikovsky, Korsacov, Rachmaninoff, Strauss, in addition to Faure, Dvorak, Moore, and Offenbach. This half was a stark contrast to " Day," as Netrebko sang arias referring to romance, nighttime, the moon, love, lullabies, sleepless nights, dreams, and silver. Her second gown of the performance was a stunning black ensemble with a sparkling spiderweb motif, created by Russian designer Yanina, which twinkled as she moved onstage.
It was a joy having musician Malcolm Martineau accompany Netrebko on the piano. He is extremely talented, and recognized as one of the world's leading accompanists of his generation. He and Netrebko worked well together onstage-their friendship was obvious. Johnson-Cano also assisted Netrebko in two beautiful duets: Ruggero Leoncavallo's Mattinata ("Morning," Opus 5) and Jacque Offenbach's gorgeous and well loved Belle unit, o nuit d'amour (Les contest d'Hoffmann, Act Three, Duet of Giulietta and Nicklausse). Johnson-Cano's luscious, rich mezzo voice was a marvelous blend with Netrebko's magical soprano vocals.
I want to also note other favorite pieces from the recital that stood out in particular to me. These included four well chosen selections from composer Richard Strauss, which represented lyrical beauty and sincerity of expression: "Morgen" ("Morning"), "Die Nacht" ("The night"), Op. 10, No. 3, "Wiegenlied" ("Lullaby"), Op. 41, No.1, and "Standchen" ("Serenade), Op. 17, No. 2.
The recital as a whole was a great opportunity to see opera diva, Anna Netrebko, as well as a marvelous introduction to newbies that had never encountered her fabulous singing and performance before. She concluded the recital with two encores: "Il Bacio" by Luigi Arditi, and "Cäcilie" by Richard Strauss, which were just as lovely as the selected program. There was a little something for everyone's taste musically, and the entire afternoon was a blissful experience of day and night.
Photos: Todd Rosenberg
Anna Netrebko in Recital came to the Lyric Opera House on Sunday, December 2. To buy tickets online for current and future events, visit the website, or call 312-827-5600.