On Friday, November 16, 2018, three groundbreaking contemporary dance companies performed on the Auditorium Theatre of Roosevelt University's landmark stage in the "Made in Chicago" 312 Dance Series.  Deeply Rooted Dance Theater presented Company Dance Education Director  Nicole Clarke-Springer's Until Lambs Become Lions, Kevin Iega Jeff's Church of Nations and Co-Company Founders/Artistic Directors Kevin Iega Jeff and Gary Abbott's Heaven. Visceral Dance Chicago presented Company Founder/Artistic Director Nick Pupillo's Soft Spoken. Ate9 Dance Company presented Artistic Director Danielle Agami's calling glenn with live music from Chicago-based percussionist Glenn Kotche. It was a full evening of exhilarating entertainment.
– Deeply Rooted Dance Theater
 The thoughtful pieces danced by this athletic and exciting ensemble are inspired by important moral/psychological/social questions. The dancers rarely touch each other, they perform individually, and each seems to be providing their own "take" on an idea or theme, in strong accord with the loud, rhythmic music. Special kudos to the sensual, fluid, floating costumes by Dereque Whiturs, Denise Nieemah Jeff and Nathan Rohrer; coupled with clarity of lighting by Christian Epps and Sarah Lackner, they dressed and brightened the action.
 Nicole Clarke-Springer's Until Lambs Become Lions, 2014, set to the Nina Simone anthem It's a Pity and a Shame starred four women dancers in an intriguing and dramatic emotionally-charged punch to the gut. Raw, intense, earthy, strong, they dance through, to, beyond the music.
Church of Nations, created in 1991, is a graphic and poignant physical depiction of the psychological states brought on and brought about by war. Choreographer Kevin Iega Jeff has been quoted as describing his response to a news broadcast in which President George Bush stated his spiritual advisor had told him "it was okay to go to war"; Jeff wonders, "Can we say that it's okay to kill people in the name of God?"  Intriguing music by Ennio Morricone and The Art of Noise propelled the dancers through expressions of outrage, shame and anger; in long black unisex culottes, to chants and spoken words, they employ stylized robotic moves.
Jeff and Gary Abbott's collaboration, Heaven, 2004, is a showpiece for the prowess of the company, uplifting, joyous, heartfelt. To the compelling, sexy beat of music by Raymond Jones updated by Sam Trump, the piece opens with a single dancer in a brightly colored gown; soon joined by the full company, amazingly alive, they use bold movements and celebratory gestures.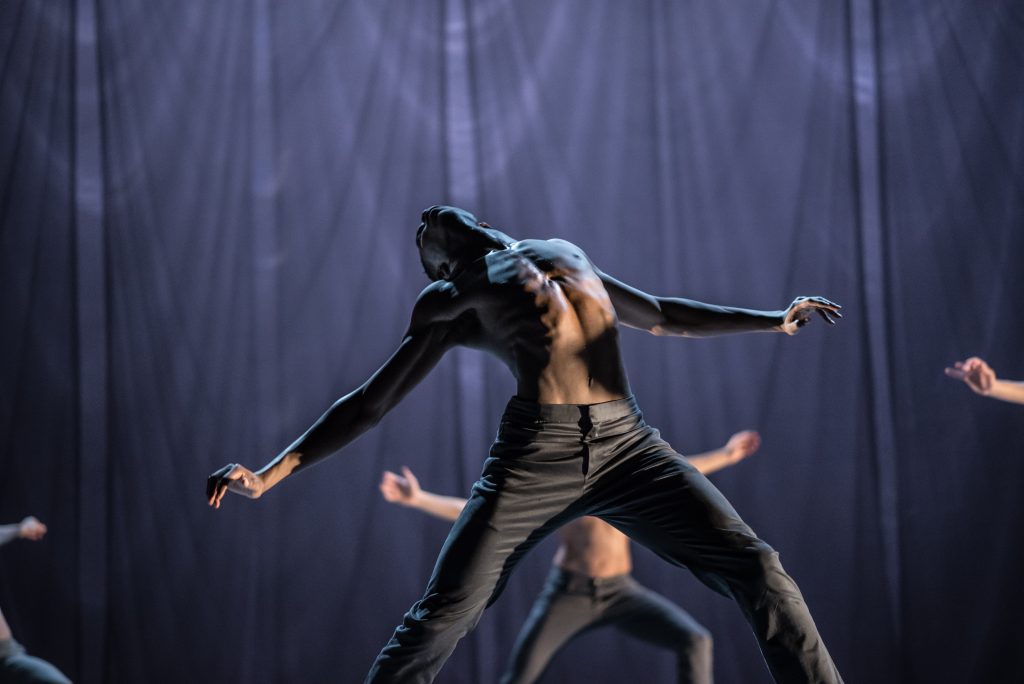 – Visceral Dance Chicago
Bookended between works with a definite political point of view and the sensory onslaught of Gaga taken to the extreme, Soft Spoken, 2018, was the centerpiece of the evening, a lyrically beautiful, gently humorous exploration of modern romance expressed in virtuoso technique. Choreographed by Nick Pupillo and commissioned in part by Pamela Crutchfield, this dance "explores the sensation of hesitating and holding back to what should be said in a series of relationships in different stages – beginning, middle and near end."
Draped in subdued greenish kirtles by Moriah Turner, softly lit by the genius of Nathan Tomlinson, the women looked like creatures from folklore; the men were their standard-bearers. The music by Colin Stetson and Arvo Part is entrancing, the torch songs by Frank Sinatra and Irma Thomas sounded both whimsical and mood-altering; kudos to sound design by Nick Pupillo and Chicago sound star (musician, composer, music producer, as well as writer/photographer) Johnny Nevin for a super-fluid, crystal-clear mix.
The piece opens with the dancers running across the stage and leaping into unseen arms as if to signify the chances we dare to take with our hearts. Next, lovely couples dance entwined, improbably graceful duets- provocative, erotic, elegant, and always in sync- at times, the music and lyrics allow for a sense of caricature.
The piece ends with the company members striding off into the audience and back. As usual with Visceral Dance, there is a constitutional maturity coupled with a firm commitment to the structure of modern ballet, without taking the forms too seriously.
Caitlin Cucchiara, principal, Visceral Dance Chicago, partnered with Braeden Barnes, offered this observation about the sense of youthful innocence and possibility inherent in the piece, "Braeden and I talked early on about the relationship embedded in the dance. Was it a secret affair? We decided that it was a harking back to first love, a whisper from the past about what we are all longing for. After this performance, somebody told me I had been smiling while I was dancing with Braeden".
– Ate9 Dance Company
Roselle-born drummer Glenn Kotche of the alternative band Wilco, dubbed the 40th greatest drummer of all time by Gigwise in 2008, formed the rhythmic backdrop for Israeli-born choreographer Danielle Agami's Ate9 in Calling Glenn, 2017. On vibraphone, drum kit with multiple accessories, wielding a bullroarer, or striking his sticks on the stage itself, he was not always physically in the foreground, but he drove the attention on stage, his music calling the dancers to action- or inaction!
Sometimes they sat on chairs attending Kotche, often they crouched, collapsed and squirmed on the floor; in a clever send-up of traditional duets, they climbed through each other's arms. Ultimately, they ended up in a mock fight at the microphone, pushing and shoving each other out of the limelight and also out of gender roles.
Ms. Agami, an aficionado of Gaga, the dance technique that focuses on expression of self over self-consciousness, has developed a talented company that, in this dance, demonstrated flexibility, showmanship, and an ability for dramatic posing but may have sacrificed intimacy and engagement. It simply felt like they were trying too hard- and for too long (70 minutes)- to be relevant and cute. Simple, stark costumes by Eli James of Ghost Apparel and lighting by Jeff Forbes on a black-decorated music studio set created a thoroughly high-tech feel.
For information and tickets to all the wonderful programming at The Auditorium Theatre of Roosevelt University, go to the auditorium theatre website.