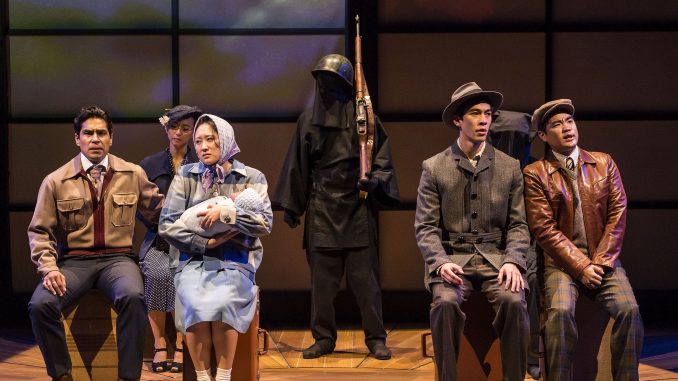 Playwright and director Luis Valdez has broadened his perspective even more since his renowned "Zoot Suit" hit the stage nearly 40 years ago. In its Los Angeles premiere, VALLEY OF THE HEART again explores America during World War II – but through the eyes of a Mexican sharecropper family and Japanese landowners who live and work side by side in Northern California during this chaotic period. VALLEY OF THE HEART is an epic odyssey about the Yamaguchis and the Montanos as they struggle to provide a future for their American-born children after the Great Depression. But it is also about their American children struggling to integrate their cultural heritage and their very American dreams.
Both families have reached a comfortable stasis with each other, recognizing their immigrant status and their similar goals. In fact, they're getting along so well that handsome Benjamin Montano (Lakin Valdez) starts to notice just how pretty young Thelma Yamaguchi (Melanie Arii Mah) is. And, let's be honest, Thelma can't help but notice Ben. It's Romeo and Juliet all over again. Then Pearl Harbor is bombed, and everything is scheduled for a drastic change.
The Yamaguchis are forced to leave their home and settle in a series of internment camps. Meanwhile, The Montanos take over the Yamaguchi's farm to prevent the farm from falling into the hands of strangers. What will hold the two families forever together? It just so happens that Thelma has discovered that she is pregnant, and she and Ben are quickly married. Even with the marriage, however, Thelma must still leave her childhood home with her father Ichiro (Randall Nakano), mother Hana (Joy Osmanski), and brother Joe/Yoshi (Justin Chien). Thelma and Joe can't understand why they have become "enemy aliens."
Despite their enforced separation, the couple try their best to maintain the love that drew them together. Even as Ben goes to Wyoming in the dead of winter to see his wife and child, he is immediately and understandably rejected by the interned Japanese in the camp – and even by his father-in-law Ichiro. Back in California, his brother Tito (Moises Castro) has joined the Marines, soon followed by his sister Maruca (Christy Sandoval) as she enlists in the WACs. In Wyoming, Thelma's brother Joe has also joined the military to prove his loyalty to the U.S., his birthplace. The war surges on, with funny, bright moments interspersed with tragic and dark. The world too goes on for both the Yamaguchis and the Montanos.
Director and writer Luis Valdez skillfully makes the immigrant journey both leisurely and incendiary. Although sometimes uneven, the cast is marked by stand-out performances by Lakin Valdez and Melanie Arii Mah. And a third star quickly rises to the fore. John Iacovelli's scenic design, coupled with David Murakami's projections, is spectacular, delicious, and worth the price of admission. Japanese and Latino influences abound, with sliding panels and bright spots of color, to name but a few. Lupe Valdez's costumes, Pablo Santiago's lighting, Phillip G. Allen's sound, and Edgar Landa's fights keep the tale moving to its inevitable end. Neither did writer Valdez forget about a legacy of song, with original compositions and arrangements by PJ Hirabayashi and Roy Hirabayashi and additional arrangements by Noe Yaocoatl Montoya. Luis Valdez has yet again given the audience a taste of the immigrant's dilemma. There are also parallels that are too obvious to be ignored.
VALLEY OF THE HEART runs December 9, 2018, with performances at 8 p.m. on Tuesdays through Fridays, at 2:30 p.m. and 8 p.m. on Saturdays, and at 1 p.m. and 6:30 p.m. on Sundays. The Mark Taper Forum is located in the Music Center, 135 N Grand Avenue, Los Angeles, CA 90012. Tickets range from $30 to $99. For information and reservations, call 213-972-7231 or go online.