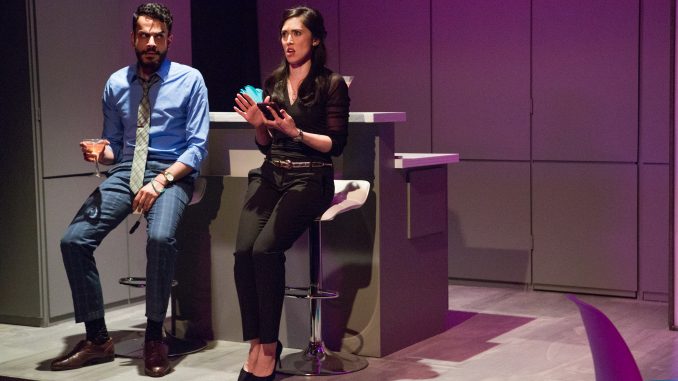 Linda, written by Penelope Skinner and stylishly directed by Robin Witt, is currently in its second extension at Steep Theatre, 1115 W. Berwyn, through September 15, 2018. Featuring strong performances by Cindy Marker in the title role of brave Linda; Destini Huston as long-suffering Alice;  Caroline Phillips as young, sane and loving Bridget; Peter Moore as bumbling/too-human Neil; Rochelle Therrien as mesmerizingly bitchy Amy; Ryan McBride, who brings a welcome touch of humour as buddy-boy Luke; Lucy Carpetyan as the hapless Stevie; and Jim Poole as the snarky Dave;  the play is delivered in British accents on a modern stage that doubles well as Linda's work setting and her home.
The script offers us a panoply of issues that justify female anger: revenge porn, a new-age program for self-realization proffered by a seductive male, bullying, sexual harassment at work, bulimia, self-mutilation, back-stabbing younger female competition, marital infidelity with a rueful, insecure paramour, notice taken of the lack of dramatic roles for aspiring young women actresses, self-loathing, and- most centrally- ageism.
That's a lot to bite off and chew, but for the most part, all the angst is handled deftly, and despite the fact that these life-problems are achingly familiar to modern audiences, and presented here in a never-ending rapid-fire succession, never does the playwright take the easy way out. There are no solidly likeable victims,  no quick fixes, no all-tied-up strands at the end.
As a matter of fact, in just a little over 2 hours (sans intermission) Linda's life goes down the tubes, but as it does, she holds on gamely, rallying, making last-ditch efforts, winning our respect, even if her efforts seem so obviously futile. The character of Linda opens and closes the play alone. She struts in with self-confident bravado and goes out much the same way, albeit in a storm. In between, she is racked by reverberation migraines as she is repeatedly betrayed, existing on the laurels of the past.
Linda is a 55 year-old executive in the cosmetics industry who wants to promote a beauty cream marketed for women in her age group. She is gainsaid by her former boss, Dave, and up-and-coming rival, the 25-year old Amy, formerly the instigator of an on-line shame attack in high school against Linda's daughter, Alice, who has become emotionally and functionally paralyzed as a result. When Linda won't back down, and makes the senseless error of having sex in a stockroom at The Swan Company, Amy comes into possession of- (what else?)-  a sex video of Linda that she propels across the company. How ironic that the catchword of Linda's proposed beauty project launch is "visibility"!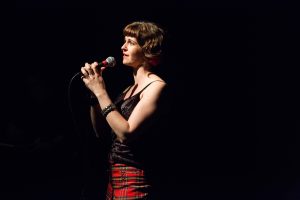 Indeed, the notion of "invisibility" is explored in numerous ways throughout the piece: there is the much bemoaned valuelessness of "The Older Woman" in men's eyes, the way Linda's shamed daughter hides in the house in a filthy skunk suit onesie, the desire of Linda's younger daughter, Bridget, to "be seen"- (be known?) in just the right dramatic role. As for the men in the play, not one of them seems to be a fully developed human being; husband Neil cheats in the marital domicile and then begs for forgiveness; Luke is a New-Age/Millennial robot; Dave is so treacherous that he reeks.
Linda is not a traditional "nice" person, either; she is very much human; she doesn't have enough time to be everything to everyone in her life. Her problems, too legion, may seem trite. But she is a struggling adult- and that's the point. Amid the incipient wreckage of her marriage and career, her failure to pay enough attention to her daughters, her constant mulish cluelessness about her career, she chooses to keep on fighting, even if she seems all-too-obviously doomed to fail; because she does, her daughters can, too.  Despite their flaws, due to the consistent direction, and the skill of the actors, you will care about these characters, and you will pay attention.
Kudos to scenic designer Joe Schermoly for a spare, workable set; to dialect coach Adam Goldstein for capturing the accents in which the play was penned and originally staged; to Izumi Inaba for spot-on clever costume design; to Thomas Dixon for meaningful sound design and music; and to  Brandon Wardell, for the illumination.
For information and tickets, go to in**@st**********.com
All photos by Claire Demos