Azure Mara Haven is one of the newest lodgings in the Masai Mara, established just one year ago.
The location and grounds are lovely, and it is situated on the Talek River which runs all through the Masai Mara Reserve- just a short distance from an official Kenya Wildlife Park entrance.
Masai Mara a beautiful and magnificent place where thousands of tourists travel thousands of miles to visit the plains and its thousands of wild animals.
Situated on the Talek River, the setting endeavors to bring you in touch with nature. Sitting on the restaurant patio  a delicious and varied buffet lunch is served.
You are likely to see a sly Vervet monkey stealthily jump out of nowhere, grab a piece of dessert, and disappear.
You might be looking down at the river and suddenly a large troop of baboons will come by, sometimes quite raucously squabbling with each other or just quietly playing with their offspring. You will definitely hear the sounds of many lovely songbirds perched in the surrounding trees.
You will feel luxurious  in your room, which is apartment-sized with entry room and sitting area as well as a large private patio.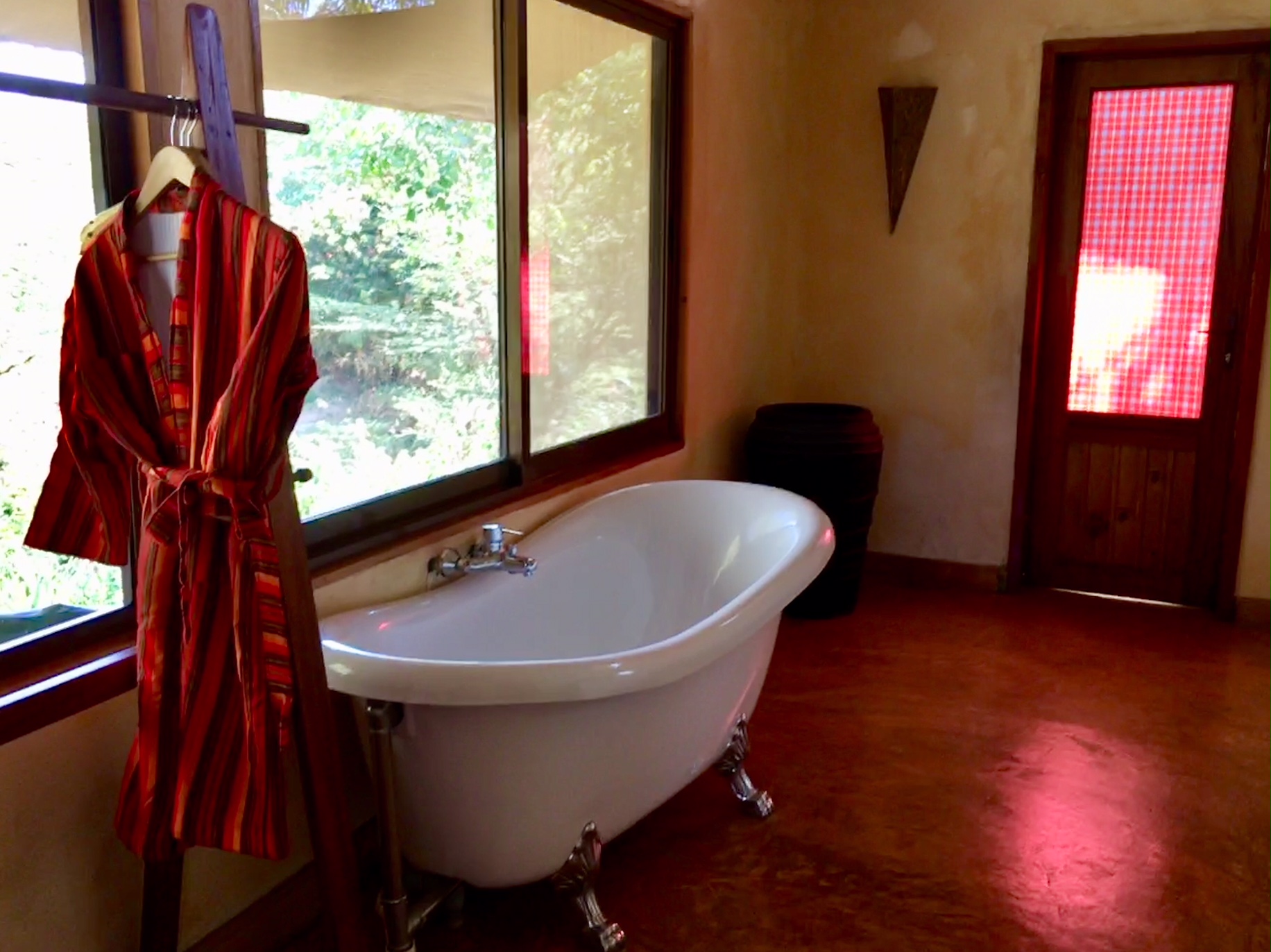 You will be accommodated with comfy large beds with impeccable duvets, many with a picturesque bathtub, and an outdoor shower where you can sing with your winged neighbors.
You will also be delighted by the collection of artwork throughout. Many hand-carved statues adorn the premises as well as original wildlife paintings and murals.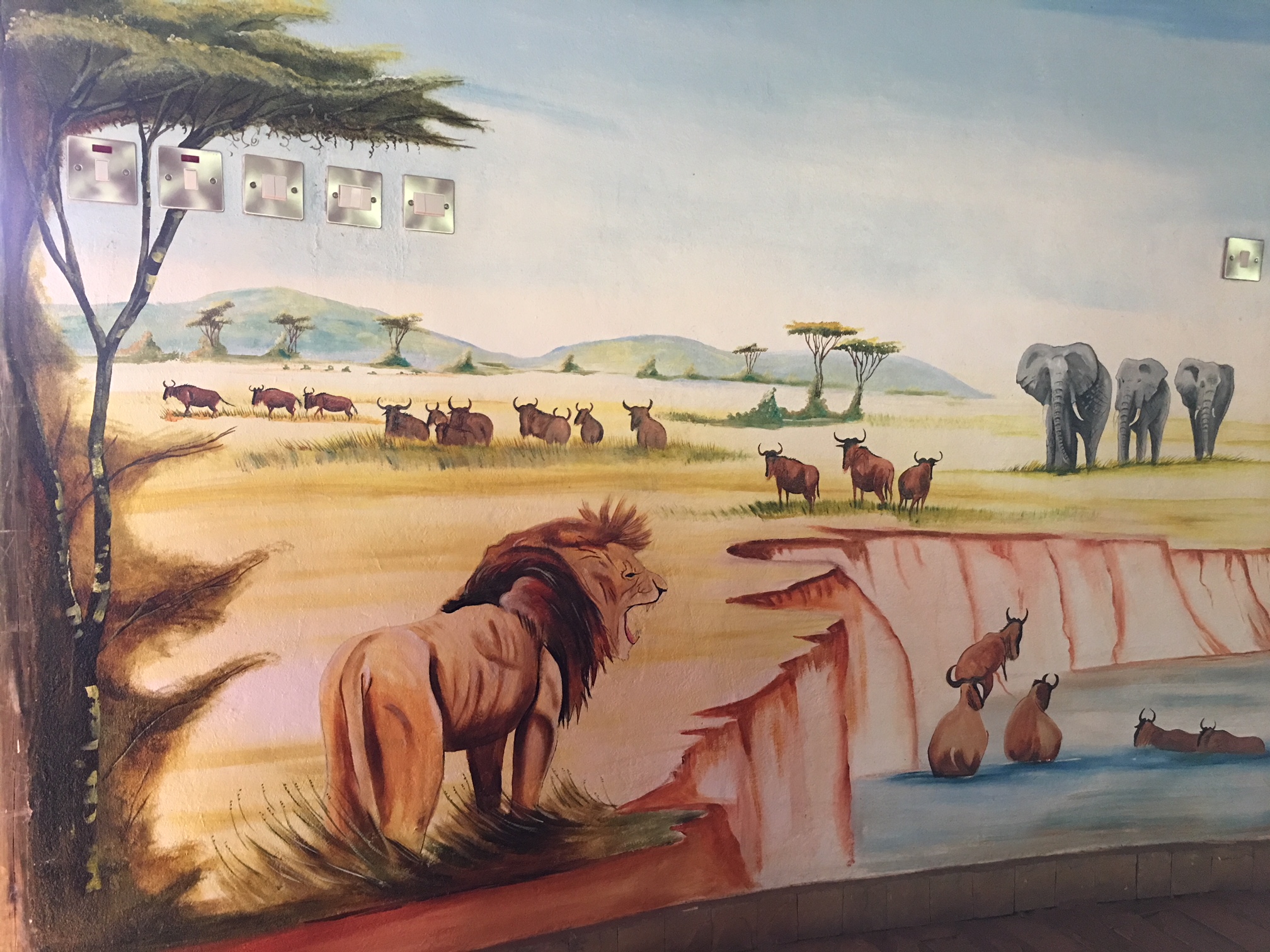 Someone has put a lot of thought and effort to have you enjoy your stay in style.
One of my favorite things about my room was the enormous picture window, which looked out on the upper part of trees as well as the river.
You can see everything from the comfort of your bed and be delighted by many thrilling songbirds in the morning.
An additional winning feature of this lodge is the care given to its large (4 acre) organic garden, which grows fruits and vegetables – everything from kale, tomatoes, cabbage and onions to orange, avocado and mango trees. So you know you are eating the freshest possible food.
During the seasonal rains on the Mara, the garden can become flooded. But the folks at Azure Mara Haven are undaunted: they replant and start all over again. And with the sunny weather and welcoming temperatures that usually prevail, the plantings comply and spring back quickly.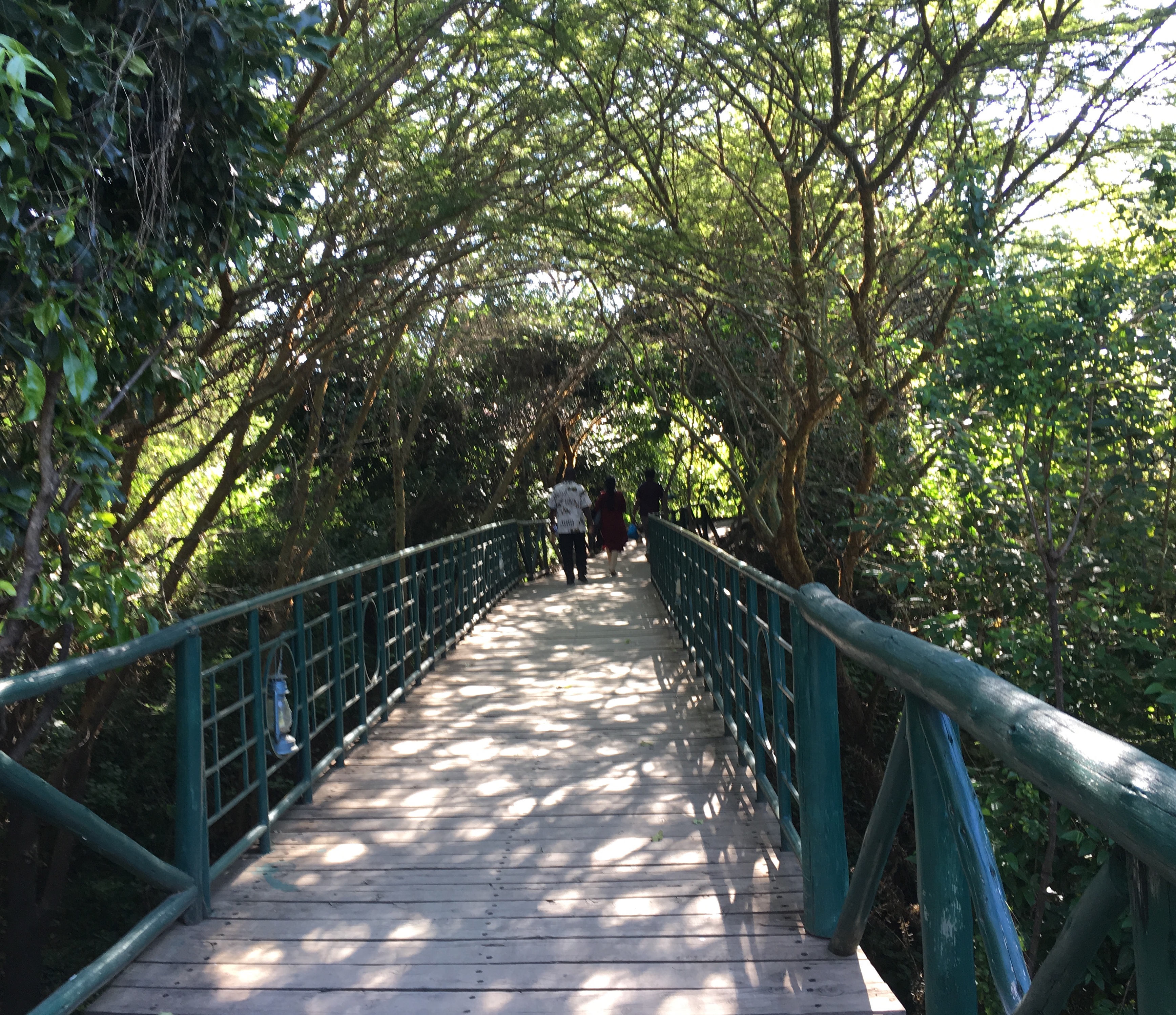 The lodging is in tune with the surrounding community. Unlike many establishments in Kenya, a majority of those who work at the Azure are local hires from the surrounding area.
The Azure Mara staff make sure that the filtered water from Azure's borehole has two pipes: one for the hotel and lodgers and the other to help the community. The owners also helped to establish and continue to support the nearby "manyatta," or small cultural village that tourists can visit to learn more about the Maasai tribal culture and their crafts.
In exchange, the Maasai community dancers and singers visit the lodge on alternate nights and perform their famous guttural singing and high-jump dancing for the guests. While doing so, they recruit a few of you to join in the fun with them while adorning them with a "shuka," or red cover blanket, which is part of their culture, along with their jewelry.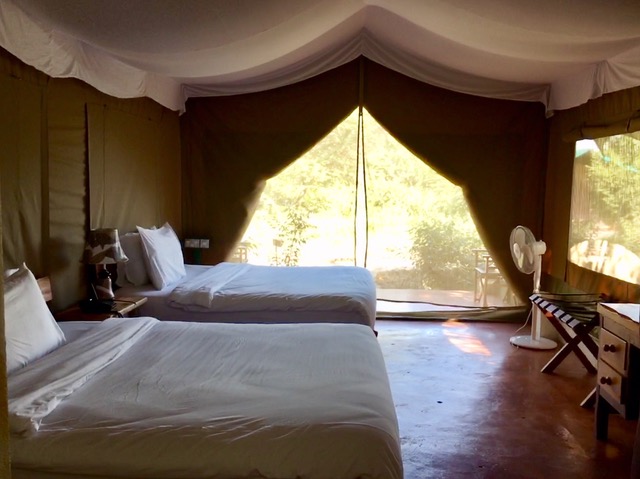 Compared to many lodgings in the Mara, Azure is considered both a beautifully designed spot and excellent for those on a budget. There are 19 guest villas. Some are large and accommodate large families or groups. There are also 16 tents of varying sizes, which are only half the price. Especially if you are in a group that is sharing rooms, you can find extremely reasonable prices.
As of now, the Haven is only accepting guests who are connected to driving safaris as they do not yet have their own safari cars. However, they do hope to do so in the not too distant future. Also in the near future is a plan to replace all plastic bottles with glass.
Perhaps what is the most lovely feature of the Azure Mara Haven is the staff itself. When anyone sees you coming, their face lights up with a big smile that makes you feel welcome. They act thrilled to have you there. And this seems to be true for all who work and stay there – everyone from manager George, to receptionists at the desk, to the Masai warriors who walk you to your villa at night, to chef Joseph.  They seem happy to do their best to make your stay fantastic.
Georja Umano is an actor, writer and animal activist, currently based in Kenya
All photos are courtesy of the author.
For more information, visit: