Broadway In Chicago, producers, and Authentic Brands Group (ABG), owner of Elvis Presley Enterprises, are currently presenting the premiere of HEARTBREAK HOTEL, a musical written and directed by Floyd Mutrux at the Broadway Playhouse at Water Tower Place, 175 E. Chestnut, Chicago, through September 9, 2018.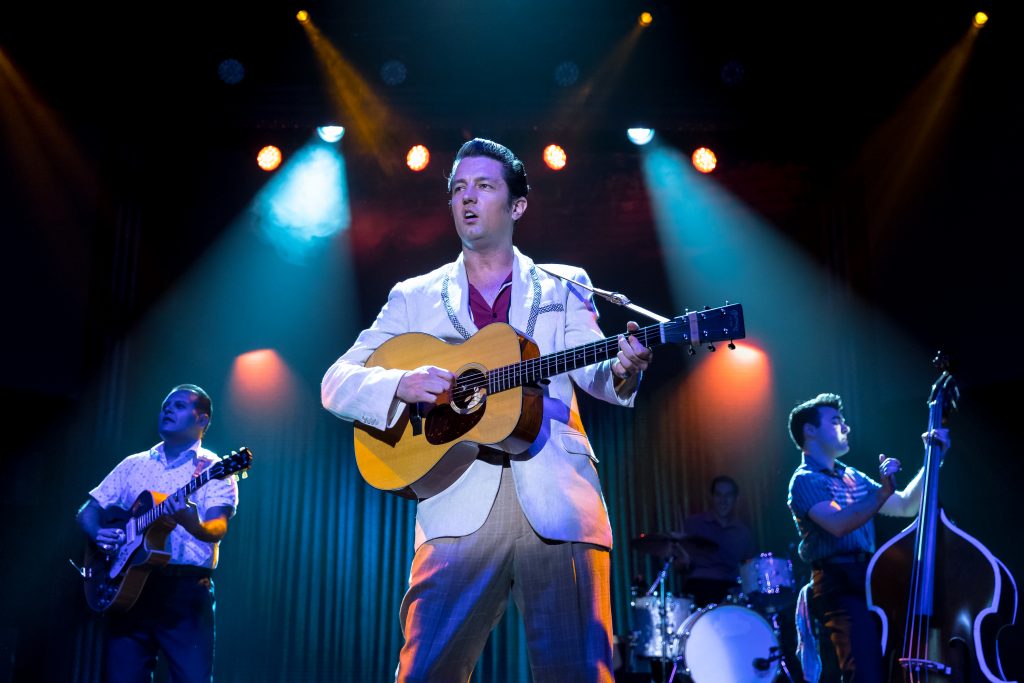 HEARTBREAK HOTEL, the prequel to Million Dollar Baby, tells the fictionalized story of Elvis Presley's early years with his band "The Blue Moon Boys", and their meeting in Memphis with Sam Phillips who signs them to a contract with Sun Records. The saga continues as Elvis' contract is bought out by the former carny barker "Colonel" Tom Parker, who propels "The Pelvis" into fame and fortune.
Upon a backdrop of nostalgic projections of the young Elvis and his swooning fans, with jazzy and colorful movable sets under bright lights, dressed with the rest of the cast in cute and authentic costumes and hairstyles, Eddie Clendening portrays Elvis, mostly singing only portions of the great songs. Clendening's looks are indeed reminiscent of the fabled crooner, he catches the endearing early shy quality, and he's a decent hip-swiveller, but, except for the really fun "encore segment", he lacks the fire, rhythm and sheer sexiness of Presley.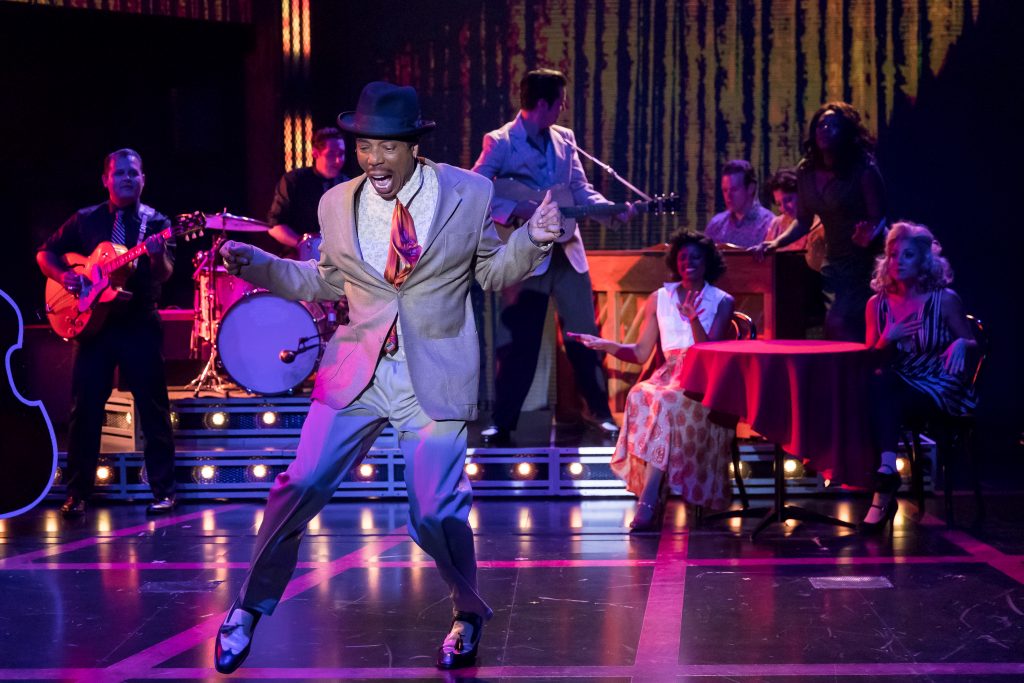 That is not the only problem with the show, however; it never seems to get a handle on what it's trying to put across. Is this a tale of betrayal and lost innocence set amidst the pre-civil rights era? The story of a man who is promoted too quickly and too crassly whose genius was therefore stunted? It was certainly an anthem to great music, as the female singers were spectacular and along with the "Chuck Berry, etc" character packed a fine musical punch in many iconic songs while the "backup band" rocked out.
HEARTBREAK HOTEL features some really fine/fun production numbers, memorable and beloved hit songs from the King of Rock and Roll, including "Jailhouse Rock", "Blue Suede Shoes", "That's All Right", "All Shook Up", "Shake Rattle and Roll" and naturally "Heartbreak Hotel". Frankly, abandoning the cobbled-together side story altogether and just showcasing the truckdriver turned rock and roll sensation and singing his heartthrob heart out along with his generational colleagues would've packed a much greater audience-pleasing wallop.
The truly talented company includes Jerry Kernion as Colonel Tom Parker; Matt McKenzie in a look-alike role as Sam Phillips; Geno Henderson singing and strutting with blazing style as Chuck Berry, Jackie Wilson, BB King, Ike Turner and others;  Matt Codina as Scotty Moore; Colte Julian as Dewey Phillips; Zach Lentino as Bill Black; Jamie Pittle as DJ Fontana/Drums; Erin Burniston as Dixie Locke; Darcy Jo Wood as Marion Keisker; Katherine Lee Bourné as Rosetta Tharpe and others; Takesha Meshé Kizart as Ruth Brown and others;  Andrea Collier as Sally Wilbourn and others; and Alicia McCracken Morgan as Gladys/ensemble.
Thanks to the production team including Birgitte Bjorum, choreographer; Adam Koch, scenic designer; Jason Lyons, lighting designer; Drew Levy, sound designer; Daniel Brodie, projection designer; John R. Banister and Keith Harrison, orchestrations and arrangements; and Tom Vendafreddo, musical director.
For tickets and information, go to theatreinchicago website
All photos by Brett Beiner