Therapy is…stigmatizing. Especially among the younger demographic. Being perceived as a freak and self-centered is something that binds humans together across various divisors such as socioeconomic classes, vocations, and ages.
But, it's time for a change.
Colette Forde, creator and star of INNIT, a stellar, fifty-minute play now playing at the Soho Playhouse, is on a mission to redefine the preconceived association of "weirdness" surrounding the quintessential psychologist session.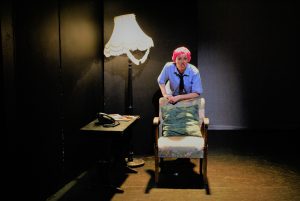 She wants to encourage people, especially students, to not be scared of opening up and talking about their struggles.
Ms. Forde stars as Kelly Roberts, a bold, vulgar, and broken teenager living in 90s Manchester. Born in Dublin, Kelly is scarred by alienation due to her birthplace. Her dysfunctional relationship with her emotionally unreceptive mother does not provide a source of comfort. Rather, it drives her deeper into her indecipherable misery.
Kelly dreams of someday being a singer and dancer like those on MTV, yet her goals are stymied by a crippling insecurity deeply rooted in her psyche. It is only through therapy that she is able to access the source of her issues and begin to self-actualize and mature.
The play is structured as a monologue, unraveling the mental disruption that is common across the teenage spectrum. Not fitting in, having unpleasant (and embarrassing) sexual encounters, and the consistent self-deprecation are just some of the things circling Kelly's mind as she dreads to continue each day of her proletariat nightmare.
"I want to destigmatize the idea of therapy" Forde said in an interview. Through this performance, she is certainly making some headway.
Forde's inspiration behind INNIT was predominantly driven by her personal life experiences. INNITis a daring exploit articulating the importance of seeking help and accepting having problems and being courageous enough to confront them.
What's remarkable is how Forde successfully conveys such a powerful message while incorporating 90s comedy and vulgarity, establishing a profound analysis of the mechanics of the adolescent psyche.
The real question: How does Forde do it?
Well, it's not really any of your business, innit?
Forde loves two things: helping children, and theatre. This production combines the two while keeping the audience constantly engaged and incessantly laughing.
The major theme Forde tackles in INNIT is the complex fear of being rejected and its effects on self-esteem. The play portrays Kelly's inability to sing in front of her psychologist, even though her voice is one that is meant to lead a choir!
The saddest part: Kelly knows she is good.
It is common everywhere: applying for new jobs, asking people out on dates, pursuing a new life direction. We do not fear our inadequacy, but rather, we cower at the thought of others believing we are inadequate.
Teenagers, adults, and children all feel it at varying levels in their lives. A selfish feeling of self-importance may almost seem narcissistic and pitiful. We are afraid of opening up, and consequently, allow our crippling anxieties to prevent us from achieving our dreams, let alone peace of mind.
Forde is on a journey to end this iconic adolescent struggle and empower the teenage demographic to grow strong. INNIT is her sardonic, hilarious, profound, and revealing artwork in doing so.
For tickets and more information, go to the SoHo website