The recent opening of the Mia Kora exhibit, "Frame It or Wear It" held at the grounds and Gallery of MatBronze, was the in place to be for art and wildlife lovers in Nairobi. As a newcomer to town, I felt privileged to be in the know about it. Hundreds of people partied with an open bar and outdoor barbeque. The artists were friendly and accessible.
Priya Shah, together with her partner Charanjeet (Chaz) Singh, is creator and founder of Mia Kora. She is a Kenyan-born artist who excels in creative wildlife art in both bronze and painting. She realized that when she completed a piece and sold it, only one person would be able to enjoy it. She decided that creating a new venue for the art may enable more people to appreciate it and the wildlife it portrays, while also helping to feed the artist and the artistic soul. This has worked out beautifully as she  started Mia Kora – "Frame It Or Wear It" and teamed up with other key wildlife artists. She then edits and transposes her and their work onto beautiful silk scarves.
Alexander Galley, one of the principal artists of Mia Kora and a well known Kenyan artist, was the emcee at the opening night. He explained to the crowd that this was a fundraiser for the Amboseli Trust for Elephants.
Members of the  AmboseliTrust Katito Sayialel and Silvi Nyambura were on hand to speak about and answer questions about the Trust, which was started in 1972 by Dr. Cynthia Moss. The researchers there can identify every elephant and family member who lives and roams in Amboseli Park. The researchers take extensive notes on the elephants' behavior.
Priya works with a core group of Kenya wildlife artists whose work was exhibited, with the paintings and photographs hanging side by side with the scarves. Everything was for sale. There was also a specially made scarf of cashmere based on a picture of Guryeer Sia, Laikipia Nights, which includes Austrian crystals as night stars, and which gleaned hundreds of dollars to go directly to Amboseli Trust.
A few of the artists designated their work to benefit other wildlife organizations as well. Karen Laurence-Rowe, popular and multi-award-winning artist (including Wildlife Artist of the Year 2012), conservationist and videographer, is known for her lifelong artistic and spiritual journey. Her work expresses her deep feelings about nature in accessible and charming ways.
Karen designated a portion of her earnings to the Reteti Elephant Sanctuary in northern Kenya. Reteti is a relatively new organization which is run by local peoples and strives to save every baby elephant in need and return them as soon as possible to their original families. Another portion of her proceeds were also designated to go to SavetheRhino.org for their frontline work to save the rhinos in Africa.
Gurveer Sira is the only photographer represented in the exhibit. His large closeups of elephants and crocodiles, among other subjects, are stunning and a huge presence in the room of painters.
Gurveer wanted all his charity donations to support Richard Bonham and Nick Brandt's Big life Foundation, which he believes is helping in so many ways to reconcile wildlife with communities, and he feels that their Maasai Olympics program is changing lives and cultures and improving the human-animal relationship.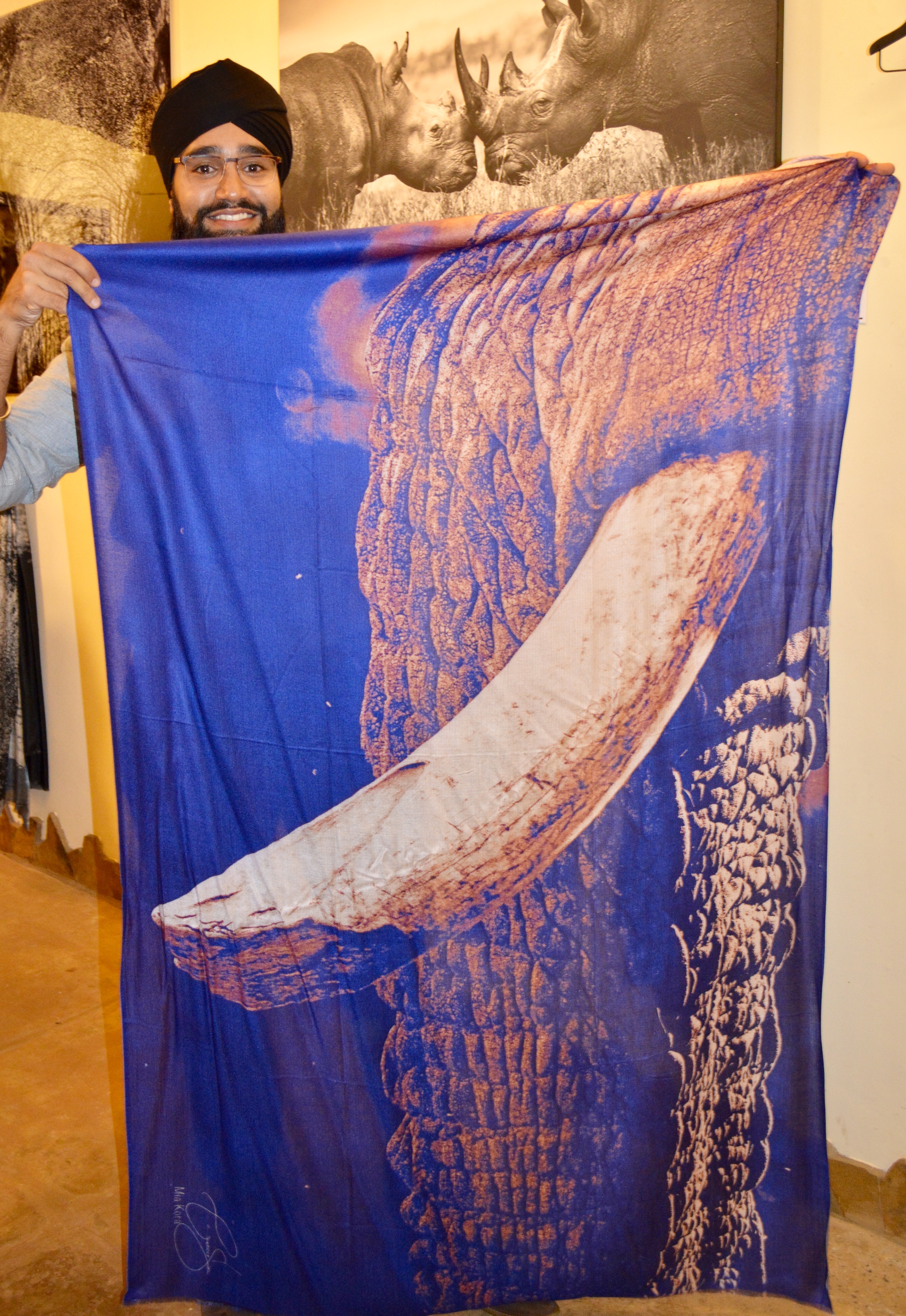 Davina Dobie is another fabulous artist of Kenya and South Africa, and fourth member of the Mia Kora permanent group. Davina's wildlife paintings are dramatic and astonishing. Her work Lewa is a gigantic oil with thick paint and rustic coloring and is a must-see. Definitely museum worthy. Her interests and works are extremely versatile. She encourages people to send their favorite photos of any topic to her through her website, and she will create beautiful art with them.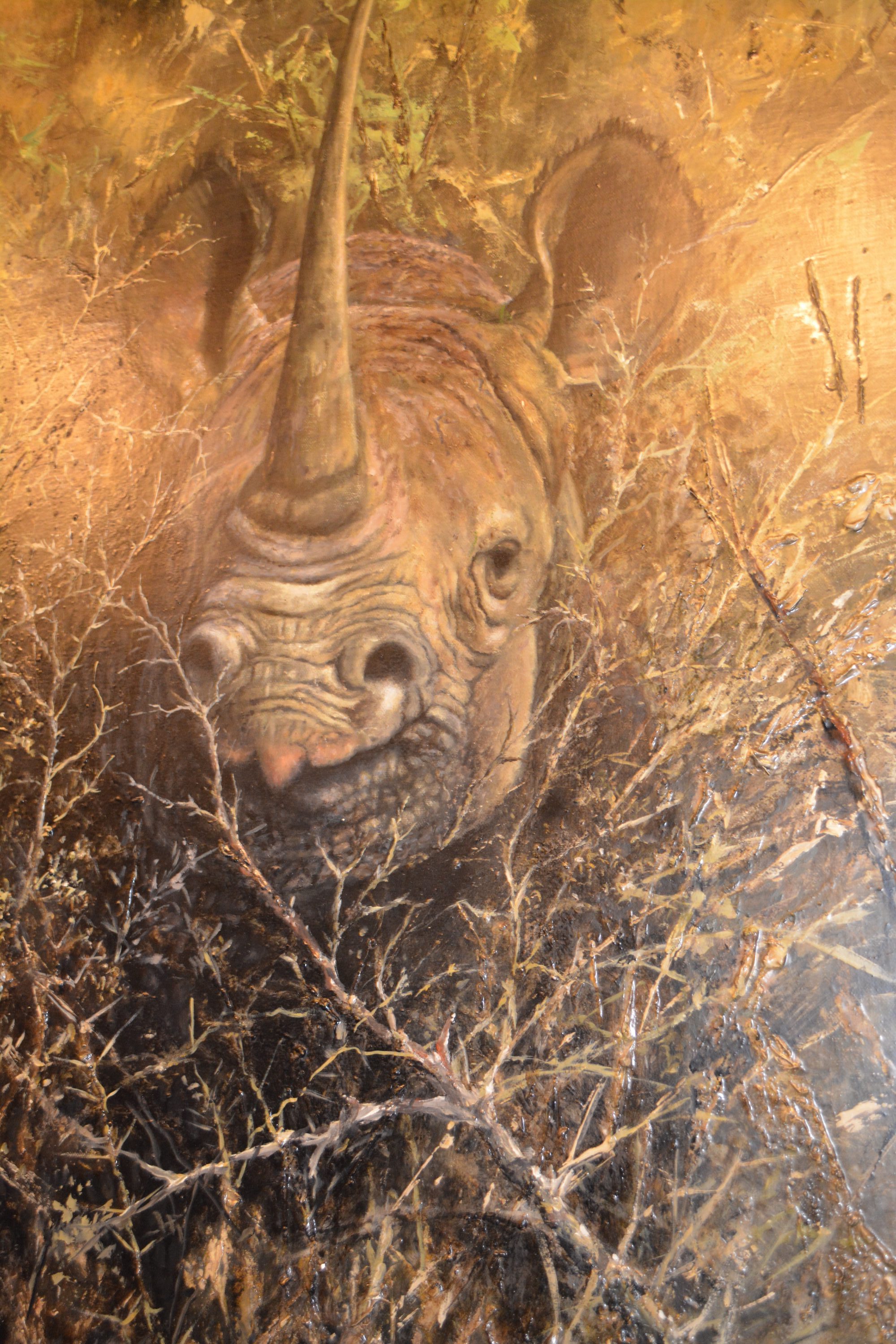 Alexander Galley and his father Philip Galley have been well known artists in Kenya for years. Philip's passing last year has left Alex to run their mutual art and business affairs. He and Priya aim to keep Philip's legacy alive by including his art in their scarf collections. Alexander is also a full-time pilot.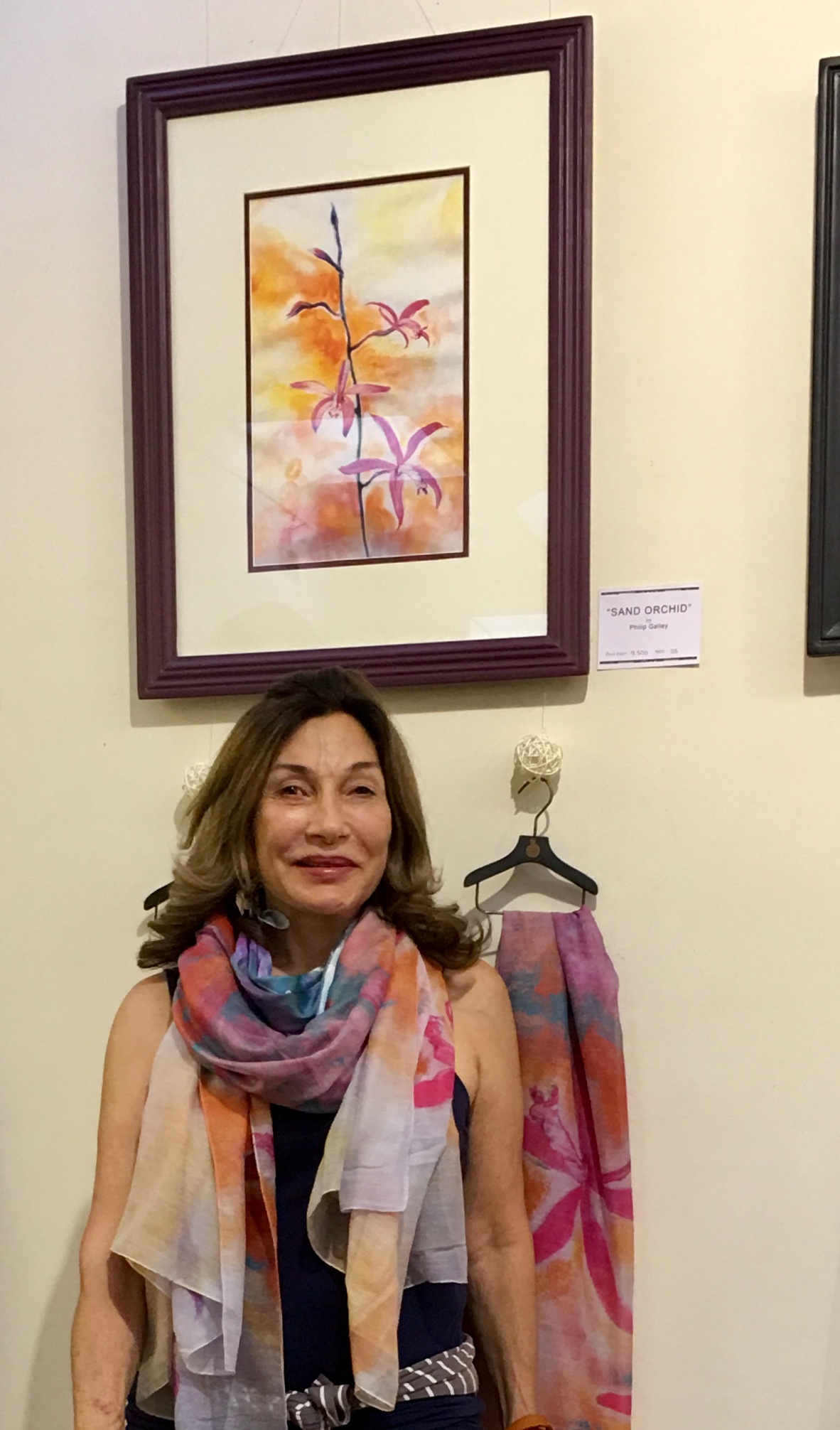 Denis Mathews, owner of the MatBronze Gallery, had once given Priya her first job out of high school. Denis is himself a masterful artist of bronze wildlife sculpture. From small jewelry pieces to enormous room-fillers, his work is indeed awesome and charming. Coming back to the Gallery the day after the opening, I was able to take stock of the wonderful artistic environment he has created – which also includes a café. I was especially thrilled to peruse his main gallery room, which is chock-full of his breathtaking bronze pieces.
Priya is soon on her way back to London where she currently resides. But she always returns to Kenya for inspiration and to give back to protect and preserve the beautiful animals and nature she grew up with.
Uncredited photos by the author
Georja Umano is an actor, writer and animal activist.