This past Thursday, June 7, at the Chicago Magic Lounge an energetic, magic-loving crowd gathered in celebration of the venue's one year anniversary for a sold out show. Recent renovations pay tribute to what once was a commercial laundry facility turned cutting edge 7,200 square feet building. Observing from the outside, the unassuming tempered glass exterior runs flush against an alcove featuring infamous magician's posters splashed across the sides of the brick walls. A solid black door with a small round window, submarine-inspired, leads into what appears as a laundromat. Continuing to enter inside the building, there is not another door in sight, only walls of washing and drying machines. A service bell stands alone at the closed window of the counter, beckoning you to "ring for service". Upon hitting the silver bell, no sooner does the 'ding' sound when the wall of washers and dryers opens up to reveal a dimly lit entryway with dark, tall ceilings that leads you to a bar on the left, a ticket counter towards the front and a quaint library to the right. One pull of a special book and the walls open once more, yet another secret room is revealed, a cozy and regal main stage bordered by blue with gold trimmings where the magic happens, warmly welcomes you.
The transformed venue provides entertainment and a unique experience. The art deco style space features a private room called the "654 Club" where up to 40 VIP guests are invited to get an even closer look of magic. Decorated with beautiful, original pieces of artwork from the Victorian era, the performance bar boasts up close magic tricks with humor sprinkled in. Delicious bar bites like 'Beef Tenderloin Sliders' served along refreshing signature cocktails such as 'How Houdini Died' keep you satisfied while you enjoy the magic show and chat with friendly magicians like Bill Cook, Jaime Aponte and Fred Paul Bailey. The group shared informative discussions about magic and the importance of reading to further one's magic education. Bailey recommends reading the "Complete Course in Magic" by Mark Wilson, a comprehensive book that serves well "for a kid getting started, it's a bit overwhelming." Bailey adds that people, "must read books that's where the magic is." One of this past weekend's featured magicians, Nick Locapo, agrees and suggests reading "The Great Deception" a book on Chung Ling Soo, an early 20th century master of deception.
The Cook County Board of Commissioners officially deemed June 7 as "Magic Day", prompting co-owner Joseph 'Joey' Cranford to declare to the audience that it is "the greatest trick I ever pulled, I created a day." Early entrance to the event started with a champagne reception where guests enjoyed a Q&A session with members of the Chicago Session,  Simon Aronson, David Solomon and David Finkelstein. The trio shared how they met one another, what their "go-to" tricks are, and agreed that being part of a group that offers constructive criticism is imperative for a magician's growth. Following the performance bar show, an hour of close up magic in the theater at each table dazzled and delighted patrons, their mouths gasping in amazement. The scene at the main stage show featuring local magicians John Sturk and Trent James was lively and full of resounding laughter. The magicians intertwined comedy and interactive participation from the clapping and smiling audience.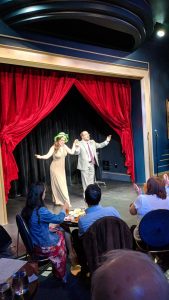 As the infamous escape artist magician Harry Houdini once said, "What the eyes see and the ears hear, the mind believes." Come check out the awe-inducing performances at the Chicago Magic Lounge open any day of the week and see it to believe it, this is magic you won't want to miss!

For a full schedule of featured magicians and events please visit the chicagomagiclounge website
Photos: Yvonne Pulido