What better way to write about the intricate ins and outs of any situation than to live it? Playwright Marek Glinski did just that and now pokes fun about – and little digs at – a job he once held in a tech firm. Glinski recalls vividly his job as a technical writer trying to interact with a quirky engineering team who only spoke in acronyms. What a great way to remember all those team members, a group of real live human beings with all the faults and foibles in all of us, as they tried to build solutions to problems which would rise above the messiness of their own lives.
Wili (Sharon Freedman) is a technical writer who has been hired to make sense out of the off-the-wall productions of a group of gossipy, flawed people who seem opposed to linear thinking. Her anger and frustration know no bounds – until she begins to interact with the characters on a personal level. There's Aditi (Poonam Basu), whose advanced pregnancy (and eventual delivery) causes lots of waves in this tight-knit but temperamental crowd. Sam (Anil Margsahayam) isn't sure he can handle all the pressure – and Brett (Don Cummings), Stephanie (Lizzie Peet), Chris (Christopher Reiling), and Brian (Andy Shephard) seem doomed to fall apart. As the relentless progress of technology marches on, it's pretty difficult for mere humans to keep pace.
But something happens soon after the introductions. Glinski's play, which was originally conceived as a way to criticize the system (and probably to give him the sounding board he needed to stay sane in an insane situation), starts to develop into a study of how people confined to a tiny space for many hours a day learn to adapt to each other and the setting. How they develop trust and become dependent on each other. PIGS AND CHICKENS may have started as a rant, but it ended up as an exploration of group dynamics.
Director Kevin Comartin helms the production with skill and the assistance of a talented ensemble. Amanda Knehans' scenic design is set smack in the middle of the audience, and pretty quickly the audience almost becomes part of the scene. Brad Bentz' lighting, David Boman's sound, and Maggie Clapis' costumes lend considerable authenticity to a cramped office where privacy is a myth.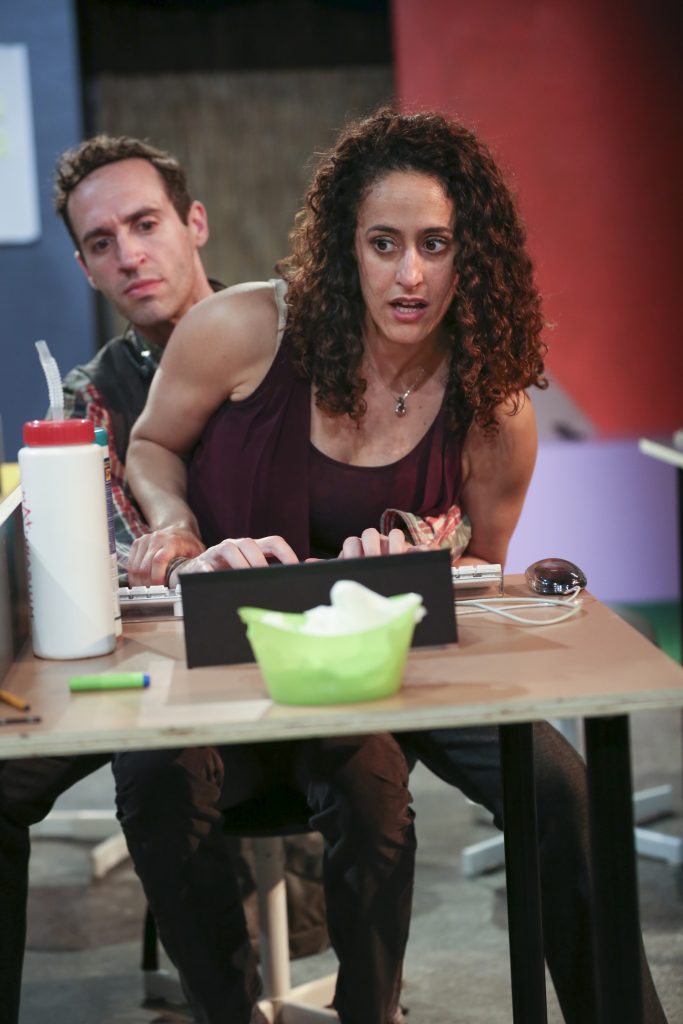 While PIGS AND CHICKENS is interesting, it seemed far too long and might have benefited from a one-act format (rather than the two acts with intermission). There was a tendency to make a point, and then make that point repetitively. The play appeared to focus on a single key idea, so that sub-stories were a distraction rather than an enhancement. The cast members might also have slowed their line delivery slightly in order to make their statements clearer and easier to follow – especially for a non-technological audience member. Nonetheless, the theme was intriguing and certainly timely in this, a rapidly expanding technological society.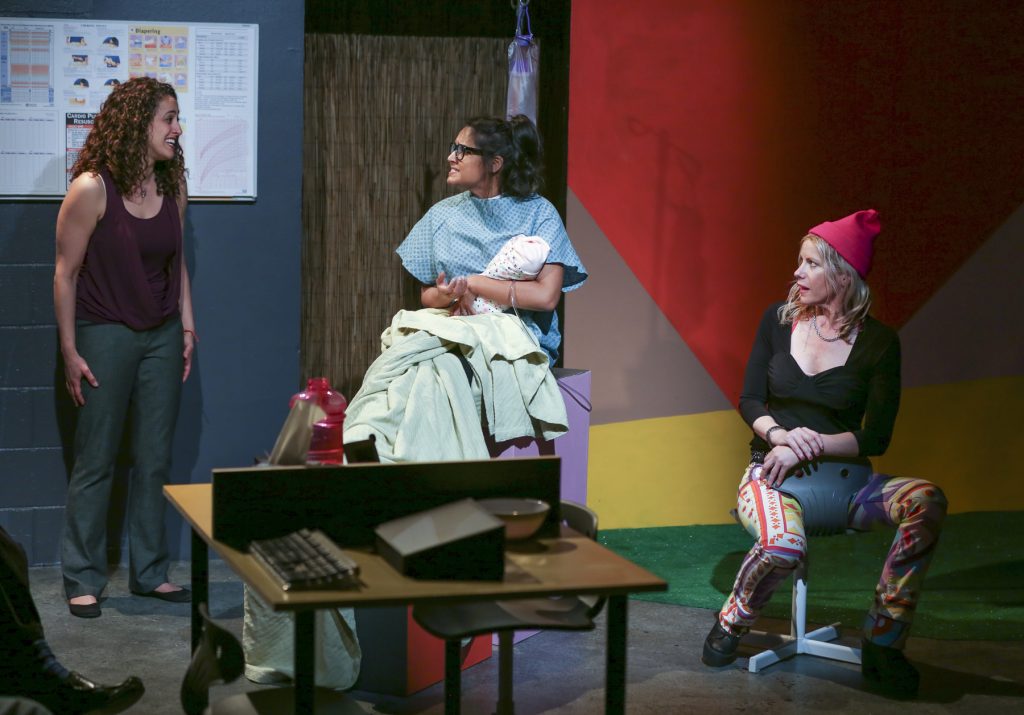 PIGS AND CHICKEN runs through April 15, 2018, with performances at 8 p.m. on Fridays and Saturdays and at 4 p.m. on Sundays (no performance on March 24 and an added performance at 8 p.m. on Thursday, April 12). The Ensemble Studio Theatre/LA is located in the Atwater Village Theatre Complex, 3269 Casitas Avenue, Los Angeles, CA 90039. Tickets are $15 to $20. For information and reservations, call 818-839-1197 or go online.