Spring is a great time to update your toy box, and find great products to surprise the kids with.  Check out some of these fun products to help ease those rainy days!
For older kids:
Monster Pencil Case Beast Box $9.99
These fun pencil cases have a soft shell with sturdy fabric for all the adventures it goes on! It's not too heavy and has plenty of room for all types of items from markers to pencils to crayons, or even a great case for small toy storage!  Each design is fun with it's own personality. Check out all the designs today! 
Foldscope $39.99
A Mini Microscope for the Masses – What if you could carry a microscope in your pocket?  What if every child in the world could learn and explore their world using scientific tools that didn't cost a fortune? Introducing the Foldscope (www.foldscope.com)– an ultra-low-cost microscope made from common materials such as paper. It is designed to be produced affordably, to be durable, and to give optical quality similar to conventional research microscopes. Foldscope can be used for both the simplest observations and for thorough scientific studies, and all places in between. Buy now!!
Techno Gears: Bionic Bug from The Learning Journey $19.99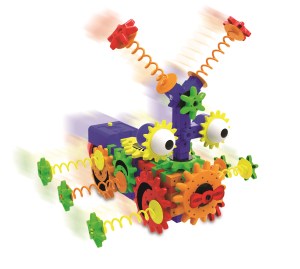 Kids love to construct and the Techno Gears Bionic Bug kit is the perfect way to encourage them to build. With its 80+ colorful construction pieces, power motor and more, this kit includes everything a child needs to build their own bug with motorized gears. The product aligns with the Science, Technology, Engineering and Math standards and allows children to introduce and experience the science of gear ratio.  Techno Gears Bionic Bug is for ages 6+. Buy now!!
For many ages:
Sneaky Snacky Squirrel Game and Book $31.99
Here is a fun way to practice colors with this game and book set! An award winning game perfect to help the development of your youngsters. Excellent illustrations and book to keep learning throughout the day! Bring Sneaky the Squirrel into your home today!
Alphabet Acorns $21.99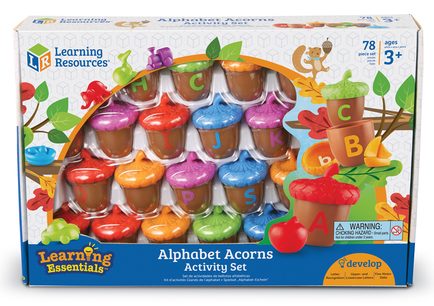 Getting ready to start learning the alphabet and their basic sounds?  Use the Alphabet Acorns to make it a fun game. Each acorn has a an uppercase and lowercase to match together.  As an added bonus each acorn will fit one little surprise to help with the letter sound! As your child excels you can even use the acorns to help start spelling simple words! Check out these fun acorns today! 
Pillow Pets $19.99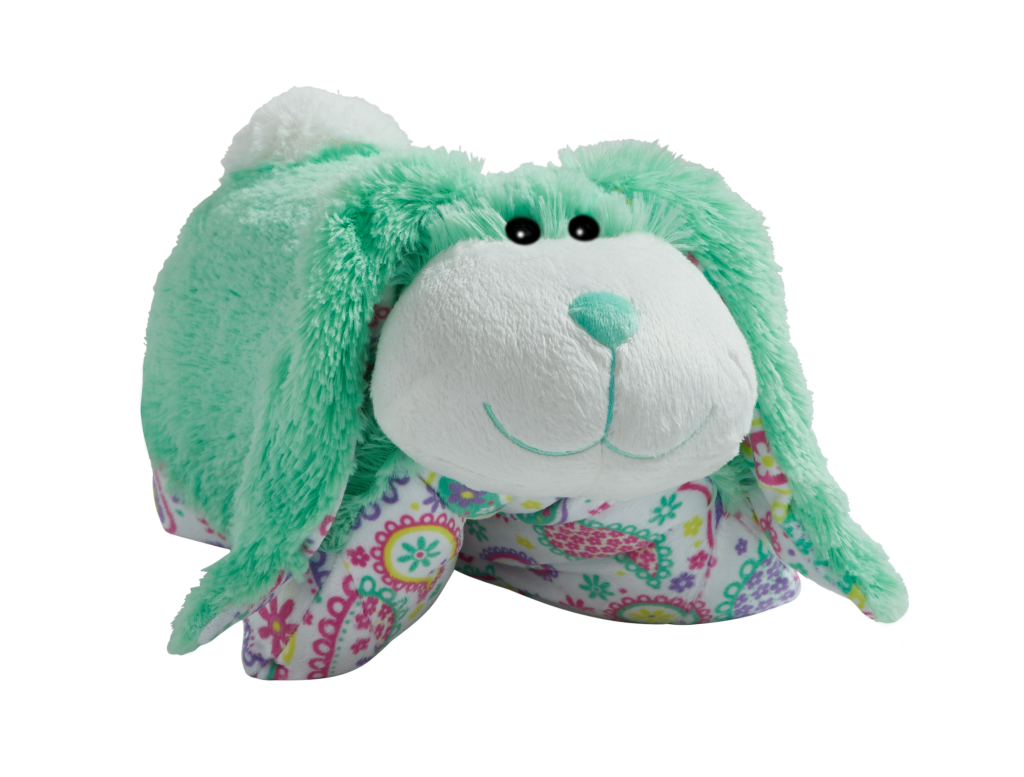 Perfect for the spring!  These lovable bunnies will bring joy and comfort to every child! Pillow Pets® Information: A super-soft chenille plush folding stuffed animal. So cuddly you'll never want to put it down! Starts out as your pal, then un-velcro its belly, and it quickly becomes your pillow.   All Pillow Pets® products are recommended for ages 3 and up. Get yours now!! 
Marcus & Marcus Bath Toys $11.99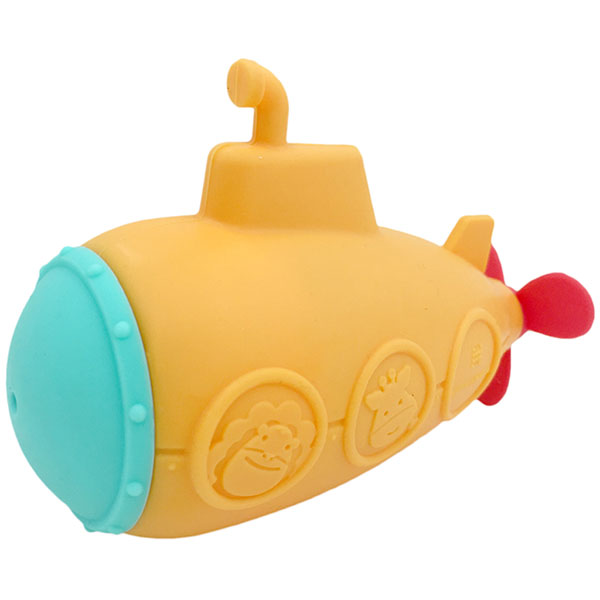 Marcus & Marcus silicone bath toys are perfect for your little ones. Each squirt is made of BPA free and phthalate free silicone. Choose from Marcus the Lion, Pokey the Pig, Lola the Giraffe, Ollie the Elephant and Willo the Whale. They also come in Submarine and Rocketship. Once you are done with playtime take off one end to let them air dry and keep them clean and fresh!  Check them out today!

Play tape $8 +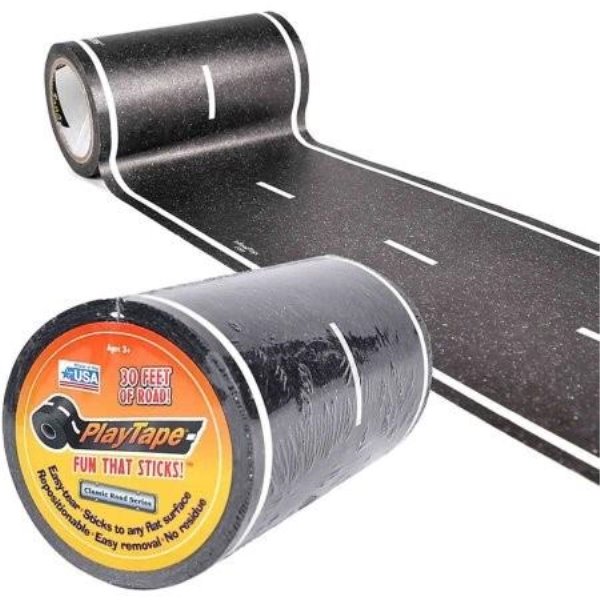 Play tap is made in the USA!!  All tape is safe for you children, floors, and walls too!  Perfect for all your roadway adventures. Build them along the floors and up the walls to keep their imagination going! The 4" roads are perfect for the popular toy cars out their like Hot Wheels and Matchbox cars.  Get yours today!! 
For babies and toddlers:
Cuddle Collection about $25/month prices varies
Make story time even more special with this monthly subscription box of sturdy board books that come with a stuffed animal character from the book. You can customize this collection by swapping out any selection with a book from our catalog. This book and plush combination is a unique baby gift perfect for a Baby Shower or baby welcome gift. Dragons, and Penguins, and Bunnies, Oh My!  Check it out today!! 
Baby Bib $40
This reversible and adorable baby bib is handmade by artisans in Bali using only sustainable materials and recycled fabrics. These Fair Trade artisans utilize the traditions of Balinese craftsmanship while honoring nature with the smallest carbon footprint possible. The 100% cotton bib is a perfect gift for a new parent who is welcoming their first little one into the world. The bib is available online at the World Vision Gift Catalog, and each purchase allows World Vision to address specific, unmet needs of children and families around the world. Buy now!!
Sophie the Giraffe $24.00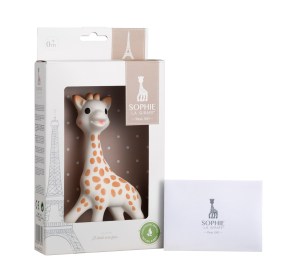 This lovable giraffe is sure to bring a smile to any babies face!  Sophie the Giraffe has been in the market for over 50 years. She is 100% natural rubber and painted with food grade dyes, to keep your baby safe while teething! Her squeaker will also keep your little amused! Sophie the Giraffe is made in France and is available today online or in a store near you!  

*all images courtesy of respective companies