Playwright and actor Ronnie Marmo had his hands full when he decided to chronicle some high points in the life of iconic comedian/student of life Lenny Bruce. Marmo managed to effectively profile the comedian, dead for over 50 years. Bruce himself scattered honest – and sometimes painful – observations throughout the late 40's and into the early 60's before his tragic death in 1966 when he was just 40 years old.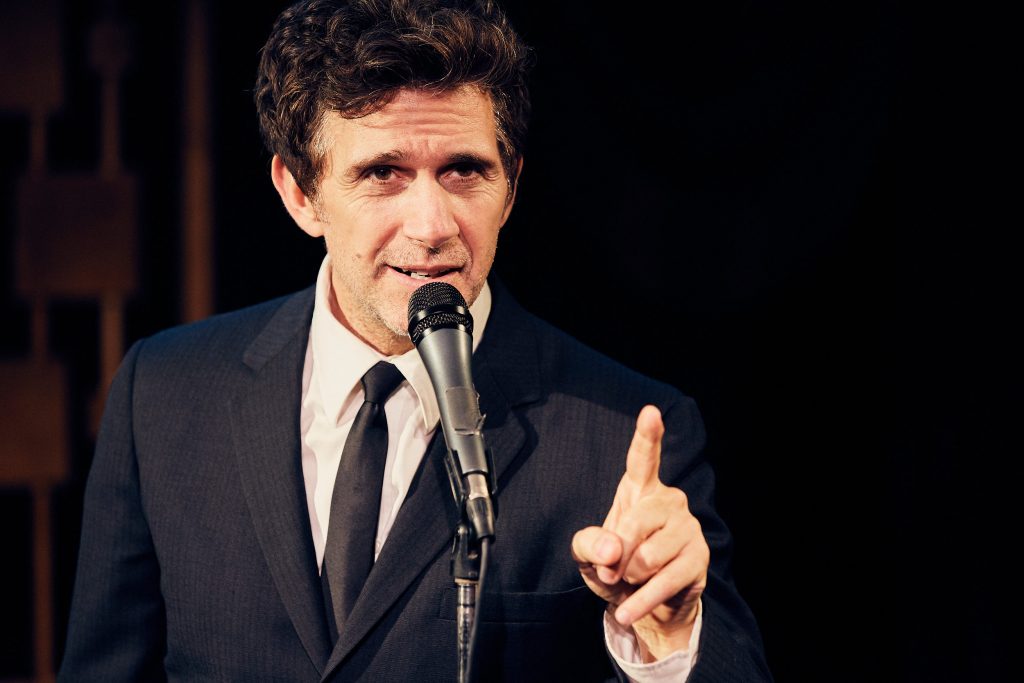 "I'm not a comedian and I'm not sick. The world is sick, and I'm the doctor. I'm a surgeon with a scalpel for false values…the `what should be' never did exist, but people keep trying to live up to it. There is no `what should be,' there is only what is." Lenny Bruce even verged on prophetic: "I'll die young, but it's like kissing God."
As Eddie Izzard remarked in a BBC radio documentary about Lenny Bruce, "Lenny Bruce's legacy is freedom of speech and telling it like it is, getting your life and putting it out on the table, telling everyone about it." Stephen Robb summarized Bruce's lasting influence: "The 40-year-old had revolutionized stand-up comedy, leaving an impact on the art form that endures 40 years after his death." Bruce inspired numerous artists, including Bob Dylan, John Lennon, and Simon and Garfunkel, as well as comedians who followed like Richard Pryor and George Carlin. Playboy Magazine's obituary immortalized the man convicted of and jailed for obscenity: "The last four-letter word concerning Lenny Bruce: Dead. At 40. That's obscene."
Directed by the talented and perceptive Joe Mantegna, Ronnie Marmo IS Lenny Bruce. In his solo tour-de-force, Marmo leads the audience through Bruce's turbulent life – a man always "fighting City Hall" while battling his own personal demons. In his stunning performance, chronology plays a secondary role to the emotional explosions which punctuated Bruce's life – and even his death of an overdose. His advocacy of free speech defined his professional life – and finally his very personal death. It is fascinating to consider that in 2003 – 37 years after Bruce's death – New York Governor George Patako issued him a pardon, the first posthumous pardon in New York State history.
Danny Cistone's production design is simple yet highly effective, especially when coupled with Matt Richter's lighting. In fact, the entire production team has done an outstanding job of portraying a man who even today remains a mystery to many. I AM NOT A COMEDIAN…I'M LENNY BRUCE is a beautifully drawn group effort which shines. It is not surprising that the show is currently in its eighth extension at Theatre 68 and has – thus far – played from June 2017, with its current extension through January 2018. This is a must-see show. However, an audience alert must be added. This is definitely an adults only production. Despite much of the gritty content (including some nudity), however, the show is remarkably tasteful. As Lenny Bruce himself reiterated, this performance is about words, not actions.
SPLASH SELECTION
I AM NOT A COMEDIAN…I'M LENNY BRUCE runs through January 27, 2018, with performances at 8 p.m. on Fridays and Saturdays. Theatre 68 is located at 5112 Lankershim Blvd., North Hollywood, CA 91601. Tickets are $35. For information and reservations, call 323-960-5068 or go online.