An irreverent and rollicking review of all things Christmas, SANTASIA is currently in its eighteenth year – and fast becoming a holiday tradition. From coast to coast – yes, Santasia was a certified hit in the Big Apple too – Santasia continues to delight and entertain. This is a series of short – and hysterical – sketches which tap into any and all traditions at this time of year, some old, some very old, and some new and shiny. There are those happy but elusive childhood memories, some ridiculous and some poignant – that come to everyone's mind during the season.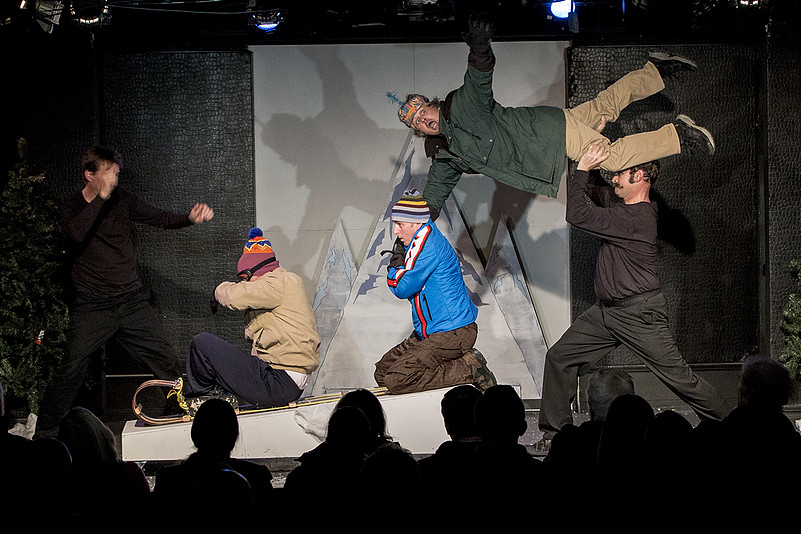 Who can forget those silly fights with siblings – or those laughable events with mom and dad which can never be repeated? SANTASIA has no compunction about doing exuberant take-offs and parodies on old and contemporary themes – Brokeback Mountain, The Full Monty, and Hamilton will never be the same. Cartoons and short videos are interspersed with real live idiocy. Remember what it's like to string those Christmas tree lights? Or wait for the perfect gift hidden behind the Christmas tree? Or guess what's in that big sealed box with the bow?
Brandon Loeser, Shaun Loeser (yes, they're brothers), Lon Gowan, Darren Mangler, Tony Nunes, and Jim O'Brien all work really hard to remind you what Christmas is all about – or on occasion what the holidays aren't about. This very talented ensemble knows just how to tug at the heart strings – or tickle the fancy, sometimes at the same time. Or maybe even shed a gentle tear. Shaun Loeser doubles as the director – and a fine director he is who has the pulse of the season well in hand.
But SANTASIA is definitely a team effort. Choreography director Tania Pearson-Loeser and assistant choreographer Rachel Loeser make this motley crew look almost graceful – but only for moments at a time. Musical director/composer Stacey Quinealty adds that certain something to the holiday spirit. Wynn Zucchero's lighting keeps scenes moving, while animator Michael Granberry can't help but let his keen sense of humor intrude on almost anything seasonally iconic. Shaun Loeser's set is beautifully nostalgic, and Tania Pearson-Loeser's costumes are simply perfect. In other words, after eighteen years, these guys got it just right.
Audience Alert: Even though it's all about the holiday season, SANTASIA is definitely an adult event. Some of the humor would go right over the heads of children (let's hope so). At the same time, SANTASIA is an adult must-see for the holidays. The production has just about everything – fun, clever humor, laughs, raunchy jokes, weird jokes, music, dancing, and some gentle memories.
SPLASH SELECTION
SANTASIA runs through December 25, 2017, with performances at 8 p.m. on Thursdays through Saturdays and at 3 p.m. and 8 p.m. on Sundays. The Whitefire Theatre is located at 13500 Ventura Blvd., Sherman Oaks, CA 91423. Tickets are $28 (online) and $40 (at the door). For information and reservations, call 818-990-2324 or go online.