Courtesy of the Latino Theater Company, the Los Angeles Theatre Center hosts a very special trio of talented ladies – who just happen to be Latinas. Directed by Geoffrey Rivas, THE LATINA CHRISTMAS SPECIAL features Diana Yanez, Maria Russell, and Sandra Valls – three first-generation Latinas – who remind us what Christmas is really about. They weave tender, touching, and uproarious holiday tales of their families intertwined with their own proud Hispanic heritage. As they recount their traditions, customs, and family anecdotes during Christmas time, we can't help but fondly recall experiences we had with our own families during the holiday season.
Besides reminiscing about family memories around this special time of year, the three writer/comediennes manage to turn some very serious recollections into very funny accounts. But even as the audience laughs, there is often a thoughtful note that sometimes creeps in. As in all really potent humor, the foundation is true-to-life and pulls at our heart strings, reminding us that tears and laughter can co-exist. And these three Latinas expertly do just that. As you might expect, Mama plays a big role in their remembrances. Whether she's telling her girls how to behave or supporting their decisions or slowly fading away – Mamacita is obviously a major player in their lives and recollections.
THE LATINA CHRISTMAS SPECIAL is a rollicking review of Christmas at the houses of each of these three women, one a Cuban-American born in Miami (Diana Yanez), one a Mexican-American with a Mexican mother and Lithuanian father (Maria Russell), and one a Texas-born Mexican American (Sandra Valls) who just happens to be gay. Suddenly, cucarachas, Farrah Fawcett, and tequila assume center stage.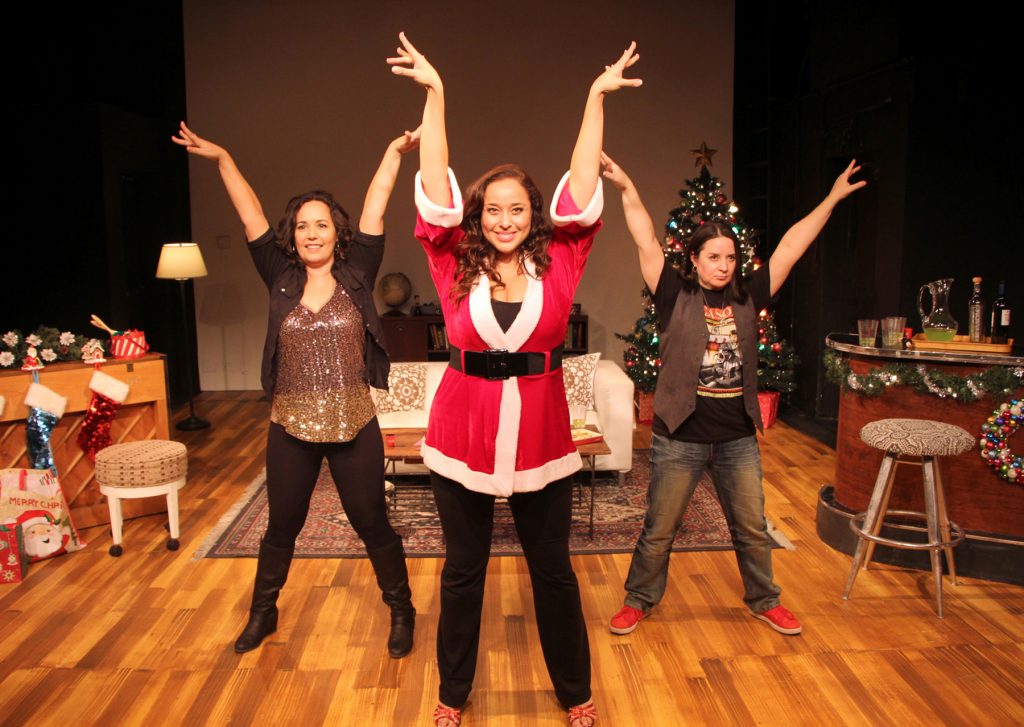 Audience members who share a Hispanic background will relate to every moment of this hilarious show; their loud guffaws on opening night confirmed just how much they related to the trio's memories. But even people from different backgrounds will enjoy the happenings onstage. Yanez once remarked that she watched "all those TV Christmas specials" as she was growing up, even though there were no visible Latinos in them. Reminiscences like these are clearly universal. THE LATINA CHRISTMAS SPECIAL reminds us that people are people, regardless of any particular cultural heritage. This is a production for anyone who has ever celebrated a holiday or had a family. It is entertaining, amusing, and the perfect holiday treat. Now in its third year, this show is on the way to becoming a holiday tradition.
Kudos to set designer Michael Navarro, who has created a cozy holiday setting to showcase these three talents. Noah Gamboa's lighting, Ivan Robles' sound, and Yee Eun Nam's video projections add to the Christmas ambiance. Even though each of the exuberant stars performs her own personally written piece, the three also gently bounce lines off each other as they stroll down a holly-decorated memory lane.
THE LATINA CHRISTMAS SPECIAL runs through January 7, 2018, with performances at 8 p.m. on Fridays, at 2 p.m. and 8 p.m. on Saturdays, and at 3 p.m. on Sundays. Only on Monday, December 18, there is an 8 p.m. performance. The Los Angeles Theatre Center is located at 514 S. Spring Street, Los Angeles, CA 90013. Tickets range from $32 to $37. For information and reservations, call 866-811-4111 or go online.