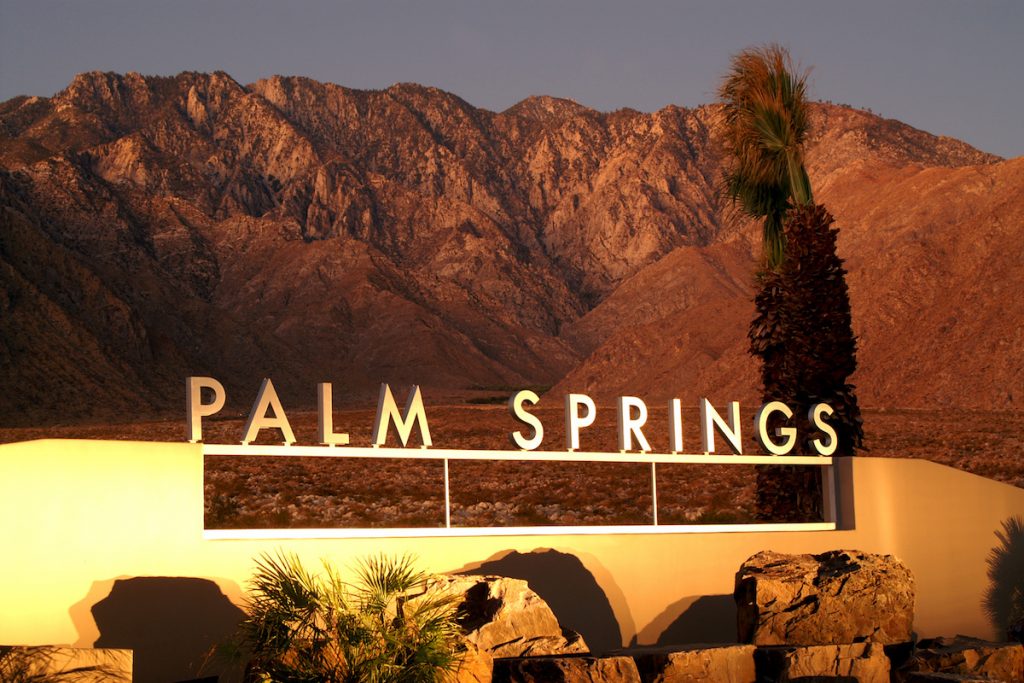 As a journalist and online magazine editor, one of the many perks of my job is that I am privy to some pretty fantastic, and rather exclusive, event invitations.   Recently, I was presented with the opportunity to take a two night trip out to Palm Springs with my husband to celebrate our ten year wedding anniversary.  At the time, we were both neck deep in work, and did not have the foresight to plan a major destination getaway.  So, when offered the chance to take a few desperately needed days away with my husband to explore the city of Palm Springs and later write about my experience for Splash Mags, I immediately jumped on it.
After an easy two hour drive to the desert, we arrived at our hotel- the Willows Historic Palm Springs Inn. I have traveled to Palm Springs and the Coachella Valley dozens of times in the past, and have stayed at a plethora of mid-century modern, hipster resorts channeling the glory days of Rat Pack, Bob Hope and Rusty Nail cocktails. However, the Willows Historic Palm Springs Inn is by far the most unique and utterly romantic hidden gem of a hotel that I have ever experienced in my lifetime of visits to Palm Springs.
Willows Historic Palm Springs Inn exterior
Recognized as one of the ten oldest historic sites in the city, The Willows Historic Palm Springs Inn was originally a winter retreat, built in the early 1920's by William Mead, one of California's most prominent business moguls.  Since its construction, the estate has accommodated some of the most prominent figures of the 20th century including Shirley Temple, Marion Davies, Mary Pickford and Dr. Albert Einstein.  In the mid 1990's, the estate was purchased by its current owners, Dr. Tracy Conrad and her husband Dr. Paul Marut, and it underwent an extensive multi-year restoration, bringing it back to its original luster and period authentic glory.  Once the renovations were complete, the Willows was reborn as a highly exclusive, luxury boutique hotel unlike any other within the region.
With only eight available guest rooms at the Inn, we chose to stay in the beautifully appointed, and sincerely romantic, Marion Davis Suite.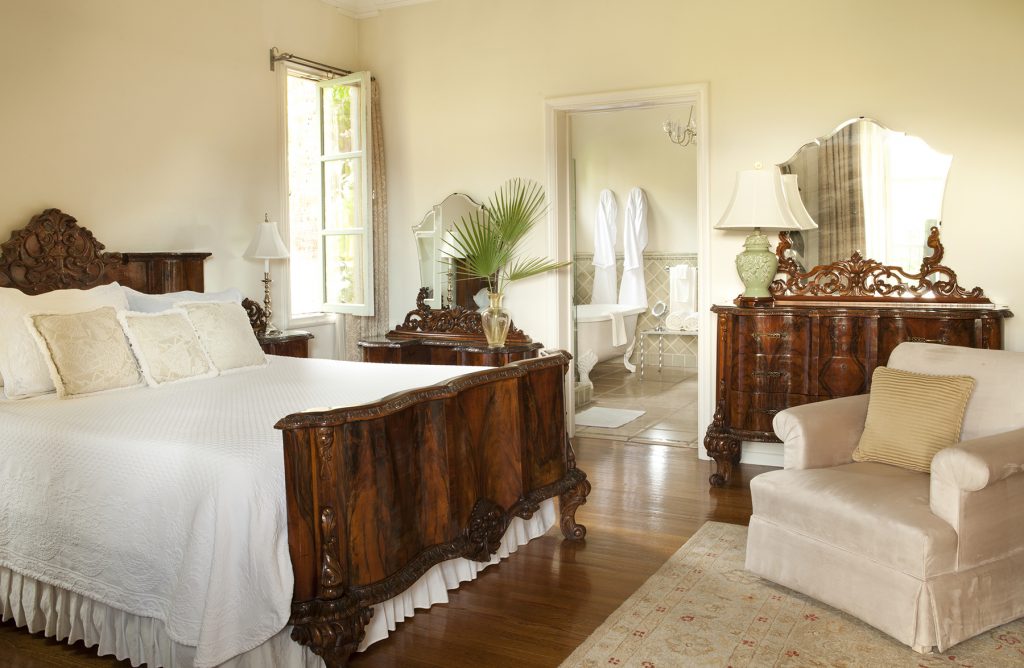 Marion Davis Suite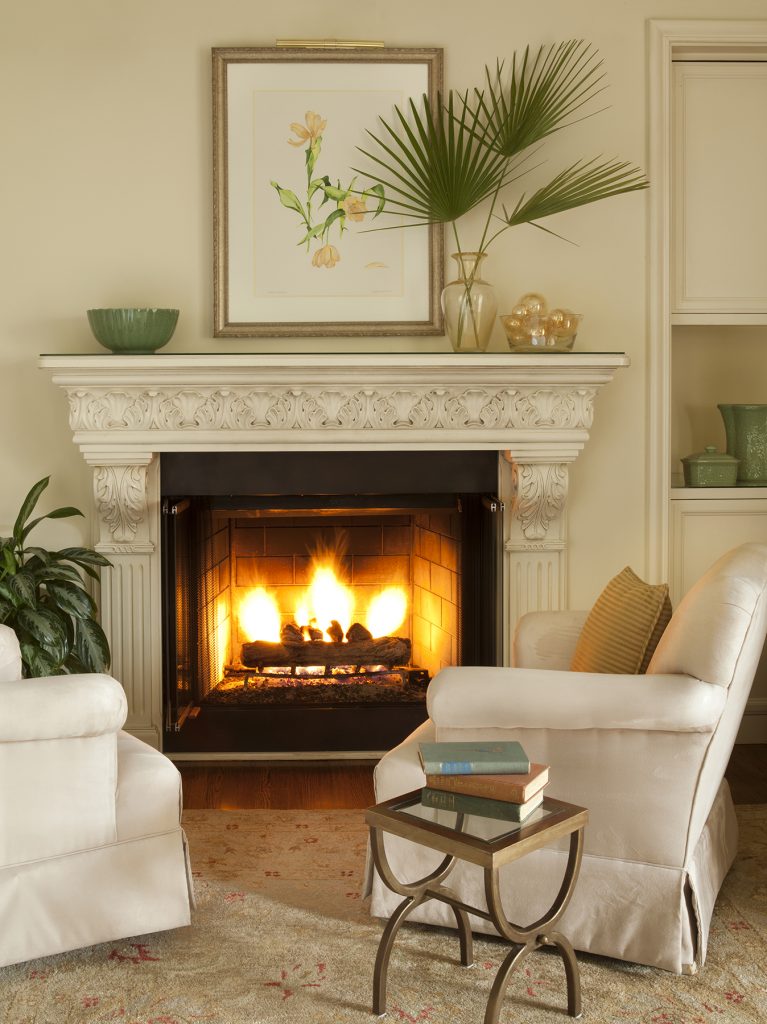 Marion Davis Suite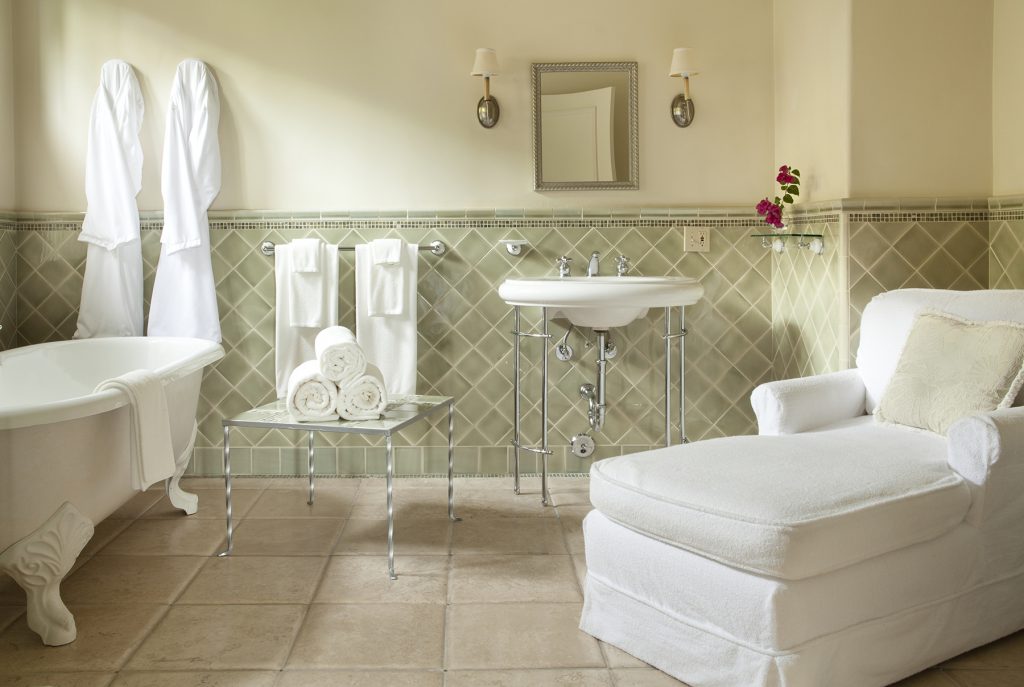 Marion Davis En Suite Bathroom
Once we unpacked our bags and had a quick disco nap, we got dressed and made our way to the Inn's main parlor room where we were greeted with a lovely hosted wine and cheese reception, and mingled with some of our fellow hotel guests before departing to Lulu California Bistro for dinner.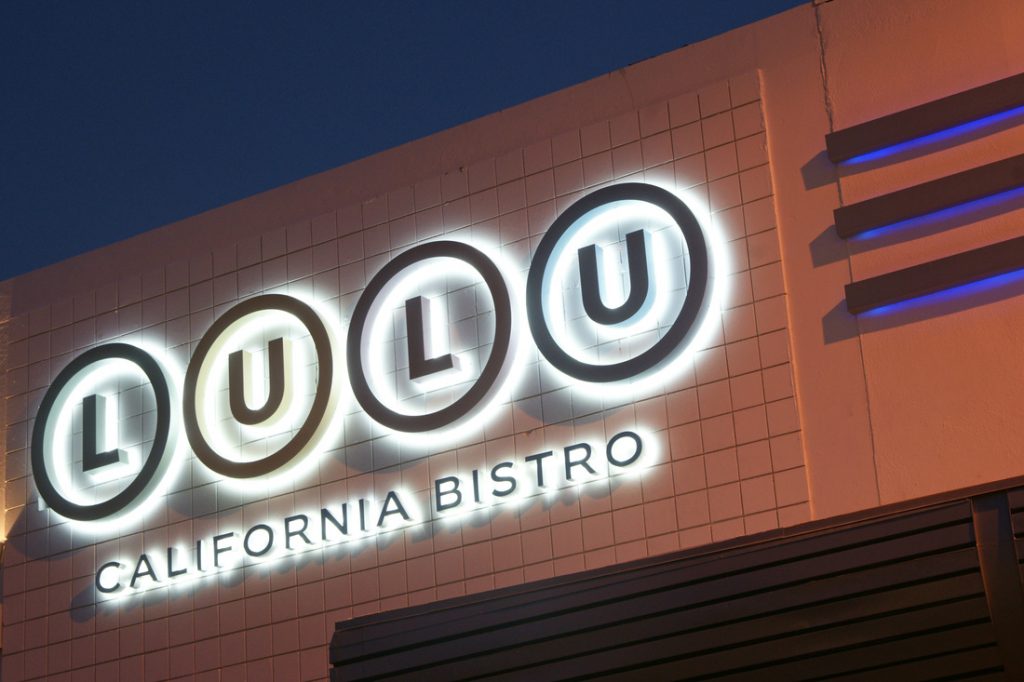 Lulu California Bistro – Exterior
At Lulu, we gorged on an indulgent meal of Oysters Rockefeller, Rack of New Zealand Lamb and Filet Mignon. I also tried their Oyster Shooter consisting of premium vodka, a dash of hot sauce and a freshly shucked oyster.  I mean…why not?? It's ok to be a little gluttonous on your wedding anniversary, right?  We then topped off our meal with billowing puff of hand spun cotton candy for desert before we waddled our way back to the Willows Inn for the evening.
After one of the most restful night's sleep I have experienced in months, my husband and I threw on our flip flops and headed to the dining room patio where 1930's period appropriate music played over the sound system, and we were treated to a Sterling Silver coffee service plus delicious three course breakfast.
Breakfast at the Willows Historic Palm Springs Inn
After our morning meal, we got ready for our day, and joined a group to tour the Willows' sister property- the O'Donnell House. Located on top of the mountain, directly above the Willows Inn, the 4,100 square foot O'Donnell House is another registered historic Palm Springs property which was meticulously restored to its original 1930's period grandeur by both Conrad and Marut.  Available for private event rental, it's a perfect choice for a truly chic and unique Palm Springs wedding, as management will not only allow each member of the wedding party to get ready in one of their eight beautifully appointed guest bedrooms, but they may also stay overnight on the property and awake to a truly spectacular desert sunrise.
O'Donnell House – Exterior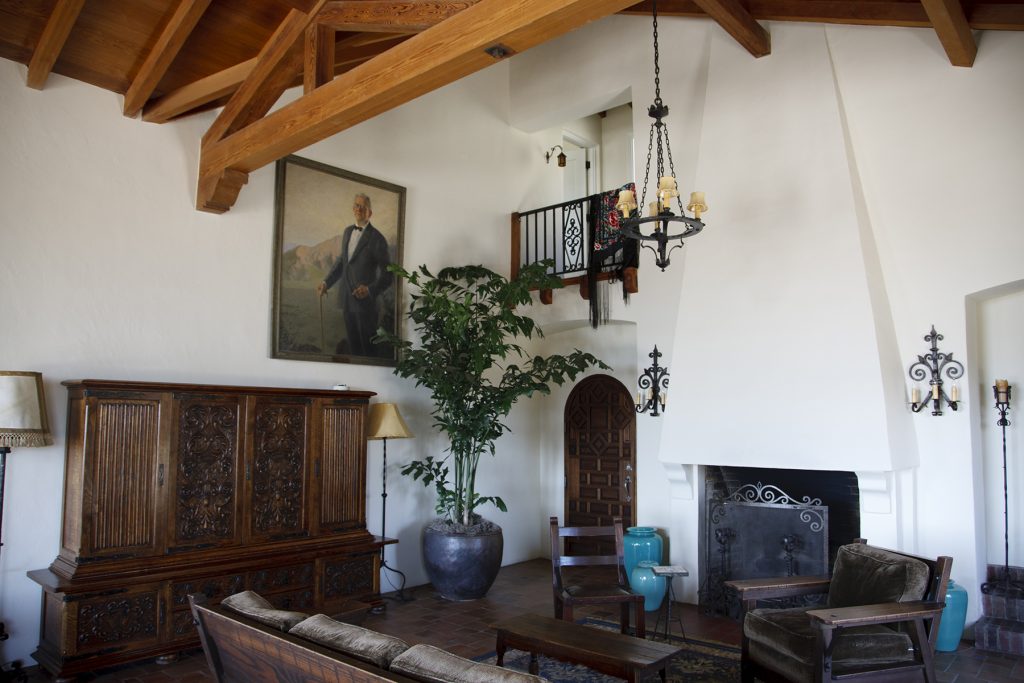 O'Donnell House – Great Room
When our O'Donnell House tour was complete, we loaded onto a golf cart and drove to Spencer's Restaurant for lunch.  Rated by Tripadvisor as #6 of 235 restaurants of Palm Springs, I opted for their signature Main Lobster Club- a triple-decker behemoth of a sandwich consisting of Maine lobster chunks, thick cut smoked bacon, lettuce, heirloom tomato and sliced avocado.  It was really really REALLY good.  Sending my deepest thanks to the Palm Springs Bureau of Tourism for our hosting our truly memorable meal.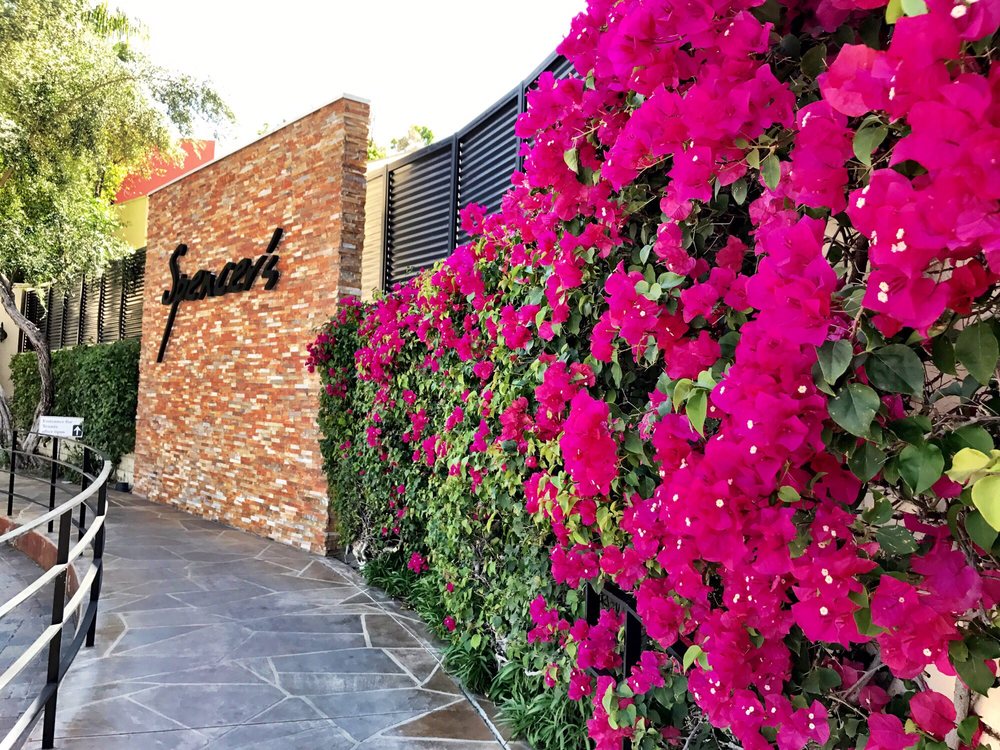 Spencer's Restaurant – Exterior
After lunch, I headed back to the Willows for the afternoon, I brought my laptop down to the pool and enjoyed a bit of sun bathing while catching up on some sorely procrastinated work. At 5:30 sharp, we congregated once again in the parlor for the Inn's daily wine and cheese reception, and then headed to Kaiser Grille for dinner, hosted this time by the Greater Palm Springs Convention and Visitors Bureau.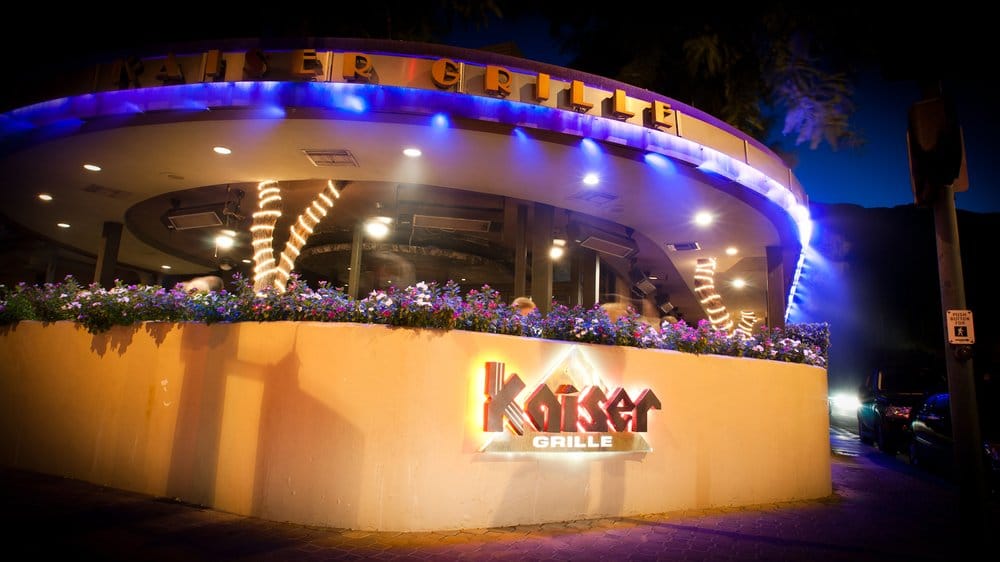 Kaiser Grille – Exterior
Although our trip thus far had been a non-stop, gormandizing food fest, and we had long passed our maximum dietary fill, we wanted to give Kaiser Grille the old college try, and so chose the Pan Seared Crab Cakes with Fire Roasted Corn Salsa and Remoulade, the Kaiser Signature Blackened Cajun Prime Rib with Au Jus and Creamed Horseradish Sauce and the Seared Barramundi Sea Bass with Lemon Caper Sauce.  All was truly delicious and it was great fun learning about the beautiful Coachella Valley from our evening's hostess.
After dinner, my husband and I wanted to hit a local bar for a night cap, and so we grabbed a couple of the ladies within our media group, and made our way to Bootlegger Tiki Bar , a Speak Easy/Tiki Lounge hybrid specializing in fantastic tropical handcrafted cocktails.  My husband and I consider ourselves "Tikiphiles", as we seek out the local Tiki Lounge in each major city that we visit; Bootlegger did not disappoint.  The atmosphere is awesome, the craft cocktails are really delicious and it will definitely become a go to destination spot for us during our future Palm Springs jaunts.
Bootlegger Tiki Palm Springs
Our trip to the desert, and our incredible stay at the Willows Historic Palm Springs Inn, was undoubtedly one of the most memorable of recent history.   Now that we have experienced the pure luxury, precise attention to detail and truly impeccable customer service that the Willows Inn has to offer, it will forever be our destination spot of choice when visiting beautiful Palm Springs, California in the future.
Photos courtesy of individual venues, and venue YELP accounts.
Tracie May-Wagner is a Los Angeles based publicist and a fashion, lifestyle and luxury editor and journalist.
IG: @tramaywag
Website: May-Wagner Public Reations