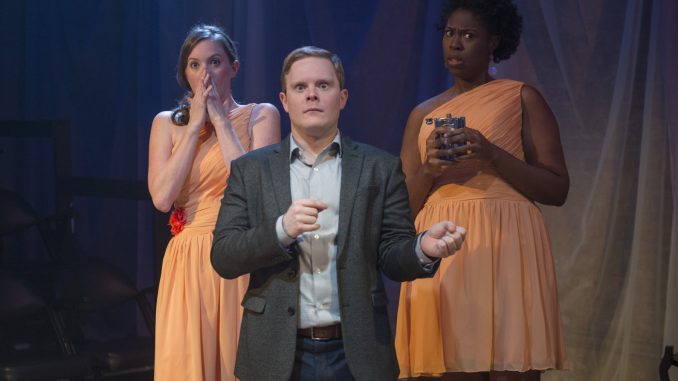 "I want my room decorated like this," I blurt out as I enter the space where Significant Other, the first co-production between About Face Theatre and Theater Wit, is being performed. Elegantly draped bolts of pastel chiffon, cinched with artificial pink blossoms, transform a plain, brick-walled room into a matrimonial paradise, and I can't look away. I find my gaze wandering to the set periodically throughout the performance, which is a powerful testament to just how gorgeous Jeff Kmiec's design is, because Significant Other is not a show that's easy to look away from.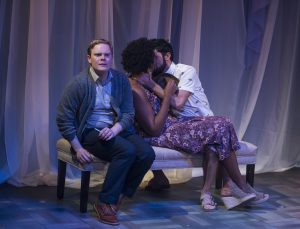 Significant Other is one of those plays where a plot summary does no justice to the power of the storytelling. It's true that the play is a comedy about a young gay man, Jordan, who struggles with questions of self-worth and his place in the world as he watches each of his female friends get married, but it's also true that fireworks are pyrotechnic devices that produce colorful light. The description is technically accurate, but it just doesn't capture the breathtaking reality.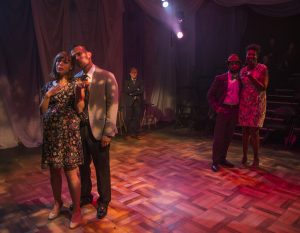 Harmond's script is every bit as dazzling as a fireworks display, one that hits dozen of gorgeous shades in quick succession: gut-bustingly absurd humor, biting social commentary, the thousand tiny heartaches that build into a devastating emotional climax. What impressed me most in the script was the smart and surprising use of point of view, a literary device not often central in playwriting. Each married couple's first dance, which would typically be the center of attention in a wedding story, takes place offstage, with the focus instead landing on the friends who stand on the sidelines watching, their reactions more important than the ritual itself.
Jordan's various dates are played out not in real time but as he recounts them to his friends, the scenes flowing seamlessly from the events to the retelling, with pauses for commentary from various parties. The effect is that of sitting in on a casual hangout among friends, the audience a receipt of Jordan's direct thoughts and feelings on his romantic encounters in a way that allows for a unique and personal connection to the character.
Of course, with an actor like Alex Weisman in the role, it would be difficult not to fall in love with Jordan. I, along with much of Chicago, was introduced to Weisman in Victory Gardens' production of Hand to God, but boy, was my memory a poor record of how spectacular he is. Weisman is a master of strong acting choices; even his smallest gestures and vocal inflections create moments of side-splitting hilarity or quiet devastation, and he is captivating to watch.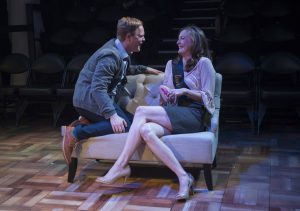 He's surrounded, too, by a supremely talented cast of women. Cassidy Slaughter-Mason is a hilariously fucked-up Kiki, hitting her most off-color moments with unabashed boldness; Tiffany Oglesby is pitch-perfect as the grounded but unconventional Vanessa; and Amanda Drinkall brings depth and complexity to the sweet Laura, most impressively in a climactic argument with Jordan in the second act. Keira Fromm's direction is brilliant as always; her blocking makes creative use of the space and is no doubt a driving force behind this magnificent production.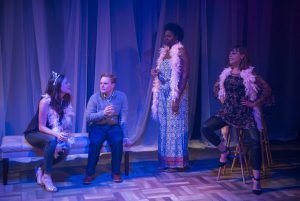 The best plays stay with you long after you leave the theater. In a fitting twist of fate, I'll be attending the wedding of a close high school friend this weekend—the first, I'm sure, of many high school and college friends to walk down the aisle. I have no doubt that as I'm driving to Ohio, sitting in a church, dancing the night away in a fancy dress and heels, I'll be thinking about Significant Other—about what marriage means in a world of increased acceptance of queer identity and shifting gender roles. What traditions are worth saving? And where do each of us fit in to it all?
Ticket Information
Location: Theater Wit, 1229 W. Belmont Ave., Chicago
Regular run: Friday, November 10 – Sunday, December 10, 2017
Curtain Times: Wednesdays, Thursdays, Fridays and Saturdays at 7:30 pm; Sundays at 3 pm.
Tickets: Regular run: $20-38. Discounts available for groups of 10 or more. Tickets are currently on sale at the About Face Theatre website or the Theater Wit website, by calling (773) 975-8150 or in person at Theater Wit Box Office.
All photos by Michael Brosilow.