LA Opera's spectacular, contemporary production of Georges Bizet's The Pearl Fishers is a masterful, artistically relevant, and beautiful event. The season began with Bizet's Carmen, a global favorite and perennial showcase. Now it is contrasted with his lesser-known, less-produced The Pearl Fishers. First produced in the mid-1800s when Bizet was only 24 years old, the opera displayed his innate genius and won him awards, but not commercial success. He was badly critiqued for his youth and alleged influences, which unfortunately shut down this glorious work for 20 years. Later this opera was rediscovered and reimagined on stage after Bizet's premature death. It had not been seen in LA since the early 80s.
Not only does this production bring out the excitement of the original music and the timeless themes of love but it also brings remote characters and their environment directly to our feet with modern themes of global warming and women's subjugation behind the veil.
This vision of The Pearl Fishers is brought to life with some of the greatest artists of our time. Kudos to Penny Woolcock the director of this production who explains in the program that her interpretation is based on her belief that "since art is an encounter and does not exist in a vacuum, then new narratives and geographies can be reimagined to seek to make the space between audience and singers more energetic and alive."
The LA Opera Orchestra conducted by Placido Domingo brings out the exotic sounds of the setting of modern-day Sri Lanka with its symbols, tambourines, and wonderful woodwinds. Some of the most glorious music written finds its home here.
The most famous duet, a song of brotherhood and friendship between tenor Nadir and baritone Zurga is familiar and often played in classic reperotories. The audience is treated to the sounds of Javier Camarena as Nadir, in his LA Opera debut. With his gorgeous lyrical tenor, is noteworthy as only the third singer in 70 years at the Metropolitan Opera to be granted an encore. Alfredo Daza, a popular baritone at LA Opera is Nadir's opponent-ally,  balancing his friend's character and creating a magical sound. Daza has one of the most beautiful baritones in the company.
Nino Machaidze is perfect as Leila, the haunting Hindu Princess whose prayers have the power to save the townspeople from tsunamis and hurricanes, and to bring lustful men to their feet. She is the epitome of a star with her beauty and her innate acting ability. She shows emotions with her whole being. These qualities are topped by her unbelievably glorious soprano, which mellows and rounds even the highest notes. Her aria is also one of the most memorable I've heard.
Because of prowess not only of the original music but the talents of Machaidze and Camarena, their love duet parallels and in my mind, possibly outranks the famous duet male duet—which seems fitting due to the story line of love winning out over male domination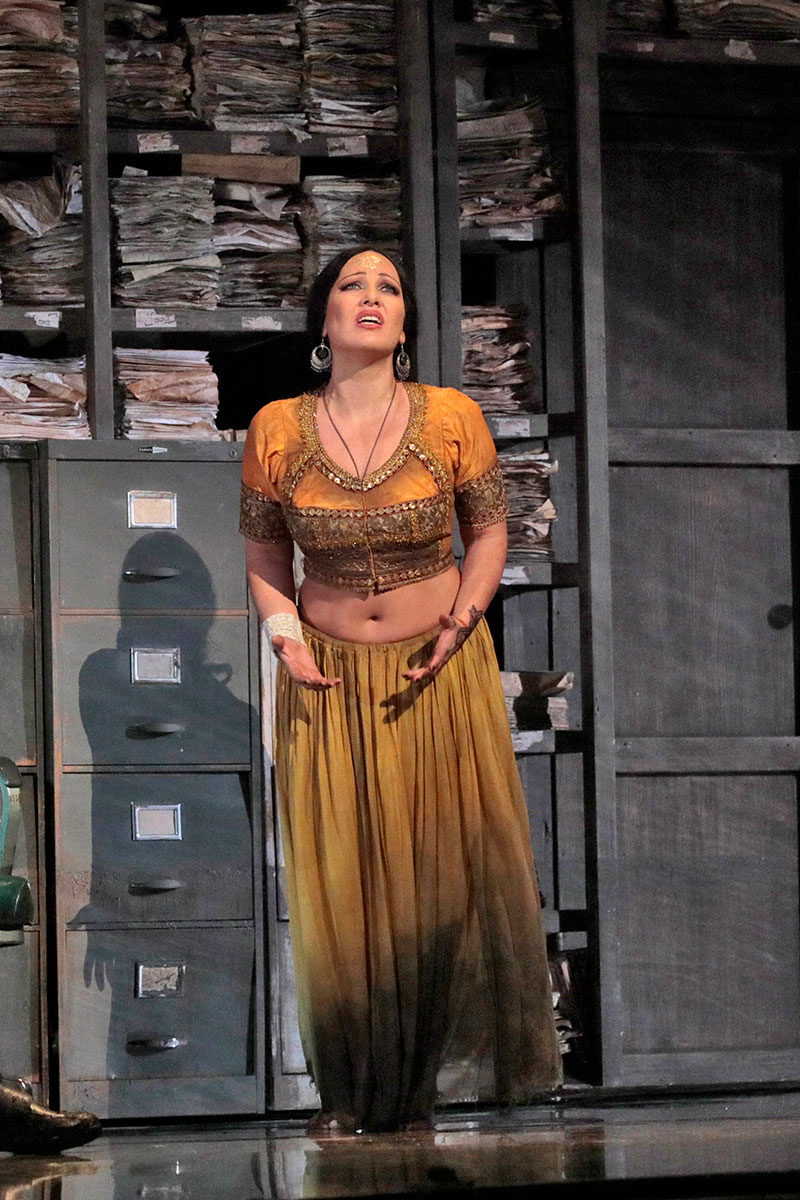 The townspeople, the fishermen, are an active presence with a strong engaging sound. The LA Opera Chorus is always spot on, and here they take stage as a principal robust and entity. Their powerful blended voices add immeasurably to the overall story.
Another great element of this production, the atmospheric conditions of storms at sea, is wonderfully mastered by 59 Productions. According to program notes, these effects "create and integrate animation, film and video into live performance and real-world environments." The ongoing movement takes place at water's edge. The waves of the sea as well as the clouds in the sky looked so real! When the hurricane came the waves overpowered the set, and it felt thrilling and scary. This was then juxtaposed with video of devastation of towns and villages such as we have seen much of, of late, from the devastation of record-level hurricanes.
LA Opera's The Pearl Fishers is truly not-to-be missed thrilling on every level. To quote Director Woolcock again, "Despite its genesis the preoccupations of The Pearl Fishers are fiercely contemporary. Climate change and rising sea levels have made ten million people homeless in Bangladesh Delta alone and they survive on a wing and a prayer. Injunctions in which women must remain veiled in male company are not a thing of the past. We still fall in love with people we're not suppose to fall in love with, and irrational behavior is not the exclusive province of others."
My hope would be to have a recording and a feature-film quality video of this very opera-THIS production  with these performers for posterity.
Photos by Ken Howard provided by LA Opera.
Georja Umano is an actor and animal advocate.
LA Opera at the Dorothy Chandler Pavillion
135 North Grand, Los Angeles 90012
213 972 8001
Sun. Oct. 22 at 2pm
Wed. Oct. 25 at 7:30
Sun. Oct. 28 at 7:30