LA Opera's opening night of its 2017-18 season has ushered in another version of Bizet's Carmen. Carmen is and has been considered a great opening act for the season due to its extreme popularity. It's been ciited by many as the most popular opera in America and possibly the world. It has more recognizable and upbeat music than nearly any other opera.
Along with this choice of Carmen, this year LA Opera is putting much effort into outreach. New operagoers are being recruited among those who may have never experienced opera before. Due to LA Opers's efforts, ticket sales are up so much so that a new performance has been added already for this run. (See schedule at the end of this article.) The outdoor big-screen broadcasts are doubling this season. On September 23 there will be free simulcasts on big screens not only on the Santa Monica Pier but now also at Exposition Park. If you have ever or never seen opera or Carmen, this is a wonderful opportunity.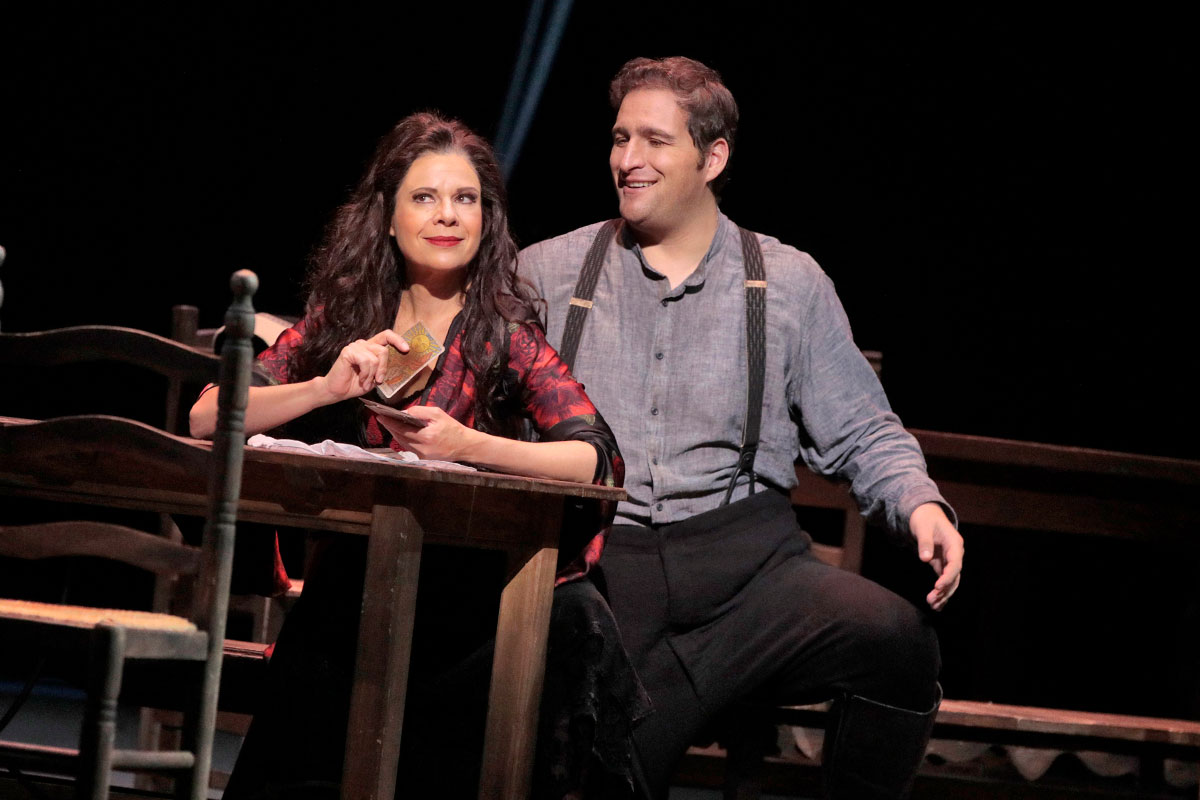 The current production is my fourth Carmen viewing at LA Opera: 2004, 2008, 2013 and now. As the LA Opera likes to say and this production especially proves – opera is "more than the sum of its arts." Here, besides a wonderful story, stagecraft, costuming, acting, singing, comedy, rousing score – to top if off, the audience is treated to flamenco dancing as well.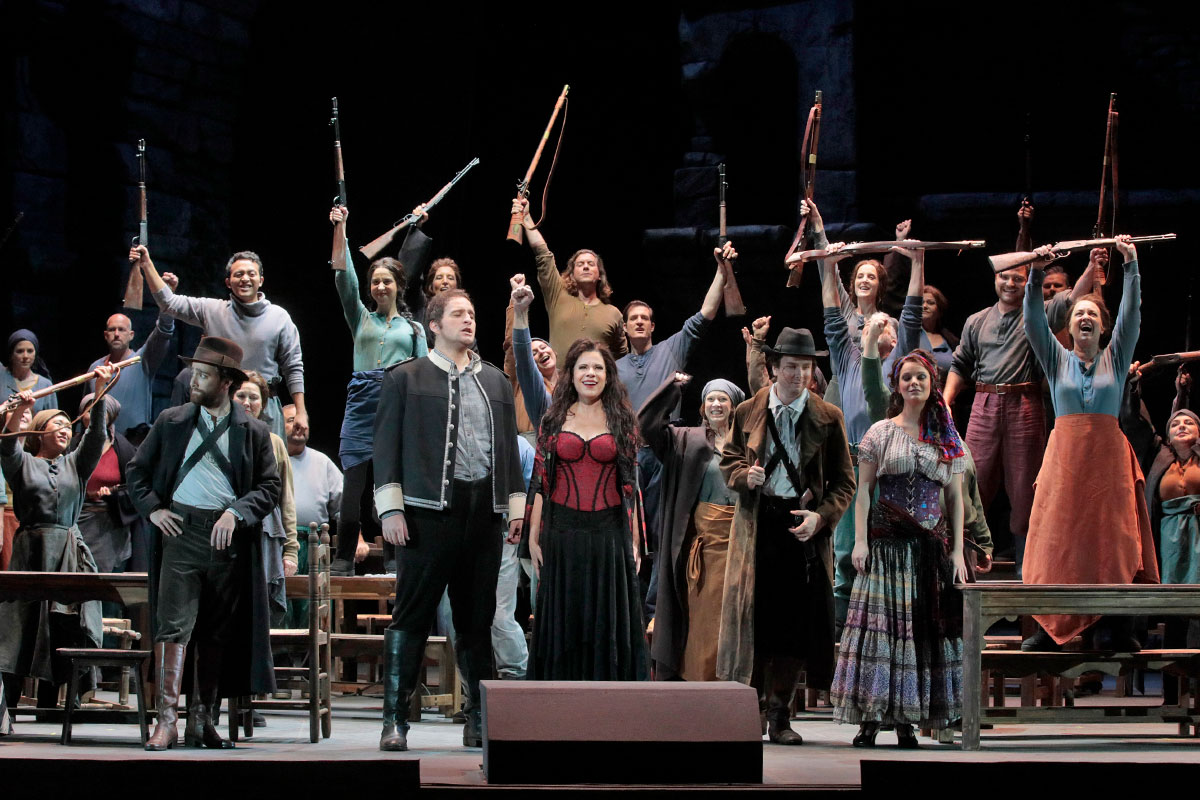 Gerardo Trotti's set designs were created originally for Teatro Real in Madrid are still being used and hold up nicely. LA Opera goers are treated to four mammoth set changes which greatly help to set the tone and tell the story. From the pastel plaza in Seville filled with happy children and busy people to the dark gypsy sets in a cavern and in the mountains, which help tell of hidden lives and outlaws, to the posh setting for society people to enjoy the bullfight, each set is magnificent in its depth and ambience.
The costumes have shifted. The continued use of pastels in the plaza works beautifully. The children come and imitate the soldiers and they are charming. The crowds come and sing and give the feeling of a vibrant town.  A huge chorus, a children's chorus, as well as dancers  are part of the splendor of the storytelling. They are all at their best and charm us from the get-go.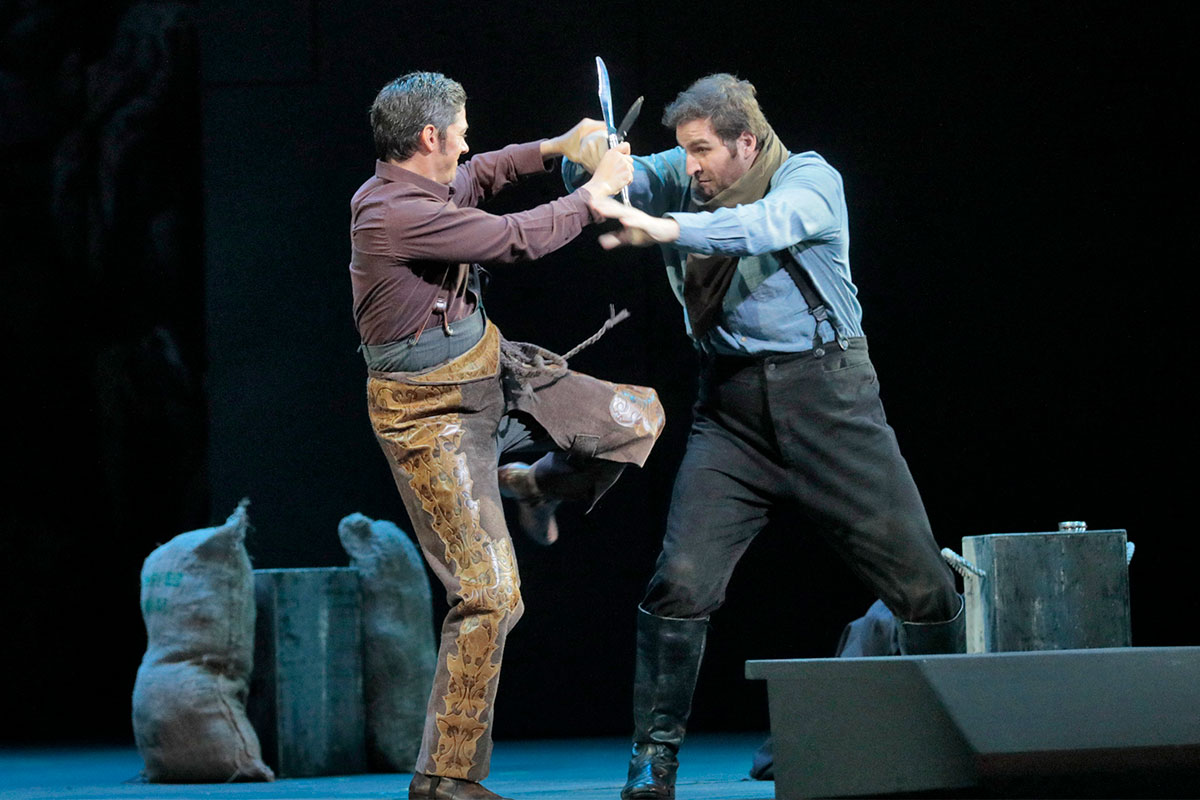 The rest of the costumes have been simplified, especially the gowns for Carmen. I must say I do miss the more flamboyant ones. However in the final scenes the crowd and especially the dancers are wonderfully and colorfully decked out to match the swirl and energy of the dance.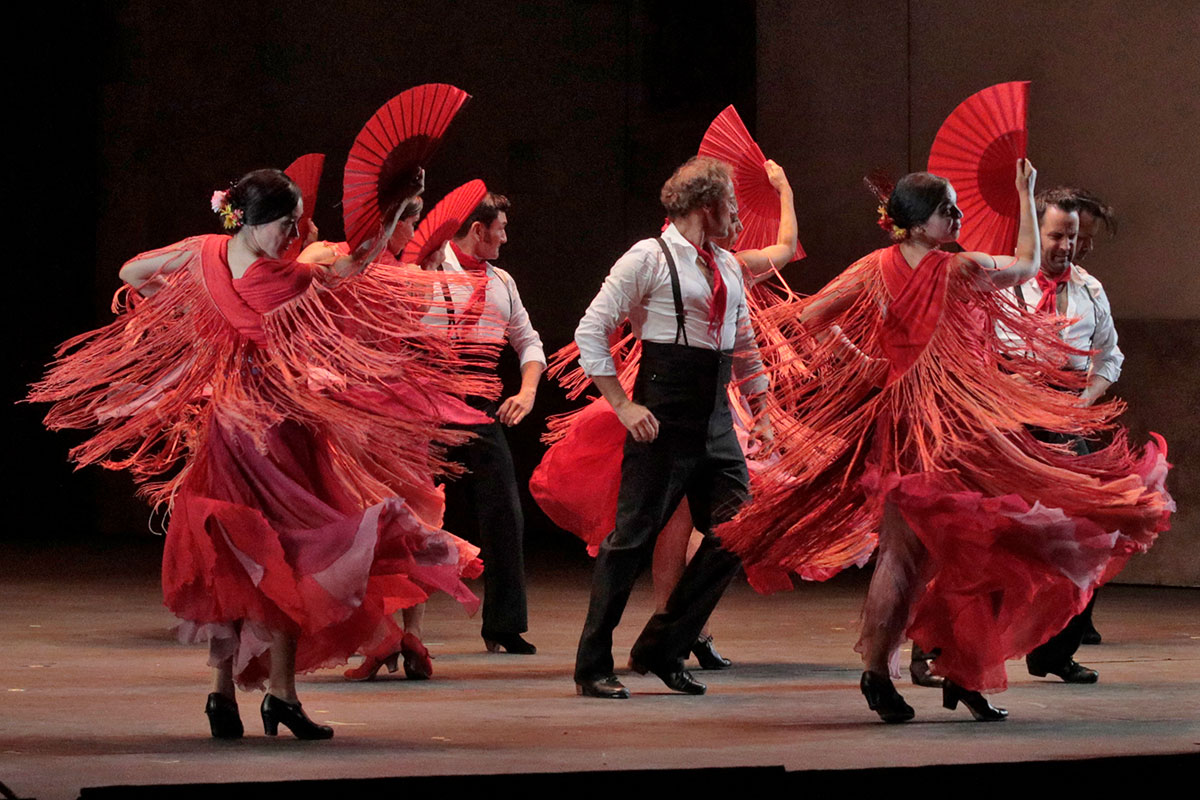 This production's director, Ron Daniels, as well as the star performer Ana Maria Martinez have likewise shifted the tone of the story. Rather than a hot blooded, sexy, playful and gorgeous lover of life, (as we had in spades in 2008 with Vikoria Vizen), we now have a more cold blooded and calculating Carmen. The impression is that men are but trinkets to her, to be used and thrown away, and whatever semblance of love she may have for them is not evident. There is not much physical affection or sensual play on stage – it is more of an intellectual strength game. Carmen must always win and get what she wants.
Even Martinez' voice is not so full and lush as one would expect although it does rise to the occasion in her most poignant moments and death scene. And yet Carmen is able to bewitch both the simple minded Don José, played on opening night and most of the run by the awesome tenor Riccardo Massi, as well as the superstar bull fighter Escamillo, played with humor by Alexander Vinogradov – and get them both under her spell. (Brando Janovich steps into the Don José role on Sept. 20, 23, and Oct. 1.)
Carmen is basically the same person in the beginning when she cuts another woman's face in a fight as she is on the arm of her latest trophy man. In her mind it is all in the name of being free. Although selfish, it is a liberating stance for a woman, especially back in 1875 when Carmen first appeared on the opera scene.
In the 2013, version it was Ildebrando d'Arcangelo as Escamillo who stole the show with his sexy Latin looks and charisma in a production that seemed almost devoid of Iberian flavor by contrast.
In our current production, Massi's portrayal of Don José is the true showstopper. In many ways he is more of a leading character than Carmen. He goes through extreme changes of the heart, played out emotionally and musically before our eyes. He presents the unassuming home-boy in the beginning, and as Carmen's influence grows, his jealous nature comes to the fore. As he eventually realizes he's sacrificed everything for a cold-hearted uncaring woman, it drives him to murder. This is thrilling to watch as he brings it all to life.
Even though bullfighting is traditionally part of the Spanish culture, just last year thousands of citizens of Madrid protested against it. Millions want the practice shut down and it will go down. Yet lyrics of the lively and compelling music of "Toreodor" describes the animal cruelty to horses and bulls thrillingly. These words are getting a bit less thrilling as today's audiences realize more and more that bullfighting is a huge injustice to voiceless species.
There is much to like and admire in Carmen. I suggest you grab your friends and check it out at one of the free screenings or if possible, get tickets and enjoy it live.
Photos by Ken Howard provided by LA Opera.
Georja Umano is an actor and animal advocate.
LA Opera at the Dorothy Chandler Pavillion
135 North Grand, Los Angeles 90012
213 972 8001
http://www.laopera.org
Thursday     Sept. 14 – 7:30pm
Sunday         Sept. 17 – 2:00pm
Wednesday Sept. 20 – 7:30 pm
Saturday       Sept. 23 – 7:00 pm** Simulcast FREE SM Pier
& Exposition Park
Thursday       Sept. 28 – 7:30 pm
Sunday         Oct. 1     — 7:30 pm